Peggy's bathroom was your standard condo layout,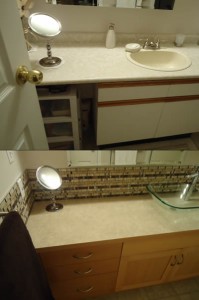 a longish counter meeting up with the toilet before arriving at the tub/shower, located at right angles to the counter. The counter had the sink offset to one side and had absolutely no storage due to a floor heater in the way.
The layout was perfectly fine; the lack of storage under one end was not, and the finishes – well, the 80s are known for their improvement in mass production, not for the art of design – nuff said.
After initially meeting with Peggy and discussing her likes and dislikes, as well as seeing what the rest of her condo looked like (her kitchen was in the same state as the bathroom and was part of this initial consultation), I went out and sourced materials for both her kitchen and bathroom.
Since the topic of this post is the bathroom, that is what I am focussing on; however, if you would like to see photos of her kitchen, you can see them on the DesignHouseBC portfolio page.
Colour and Materials
Peggy had beautiful Douglas-fir floors in her kitchen and as a continuum of material, I suggested we use Douglas-fir for the new cabinet doors and drawers. The actual cabinet boxes were in excellent shape and didn't need replacing so rather then gutting the whole thing, we simply replaced the drawers and doors with new, custom-made ones and installed a new cabinet in the gap between the wall and sink cabinet. The new cabinet consists of three drawers that stop short of the heater.  A filler strip runs the vertical length of the vanity.

The counter was an old fashioned marble-look laminate and I suggested we replace it with a high definition laminate that had the same beige hues as the bathroom flooring. I also found a stunning tile for the backsplash that was a splurge, but as not much was needed, it was affordable. The tiles consist of marble, mirror and mother of pearl mosaics. A real show stopper!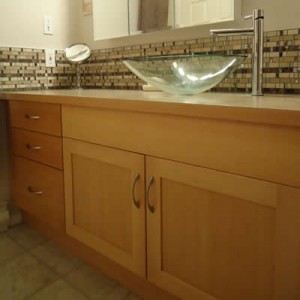 With the materials confirmed, I sent Peggy shopping for a new sink and faucet. I had brought along a brochure featuring an American Standard glass vessel sink that was square in shape with rounded corners. Peggy needed to see it and make sure it was to her liking – luckily it was.
With both her kitchen and bathroom being updated, and December just around the corner, we all agreed to do the kitchen in time for Christmas but leave the bathroom until the New Year. The bathroom was completed on January 13th and I am absolutely delighted with the outcome.
Towels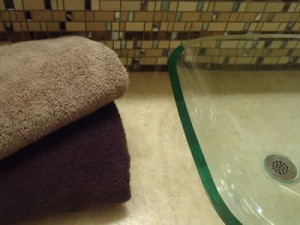 When I went over to Peggy's to take photos of the "after" kitchen, I brought along these samples of towels.  They make the perfect finishing touch for her new Zen room, and don't they just look luxurious perched on her counter? Towels are often overlooked items in a bathroom renovation. Homeowners make do with what they have, but just as with a wall colour, they can make or break the final effect. In my mind, towels should always be part of a bathroom makeover, no matter what the renovation budget is.
Phase Two
The kitchen and bathroom reinvention has been a huge success and we are continuing at Peggy's place on a few additional projects, one of which is a new Douglas-fir medicine cabinet, custom-made for a precise fit within the allotted space. All the Douglas-fir used in her bathroom is locally harvested and locally milled before being planed, cut, jointed and joined in our own cabinet shop. For monthly updates on our projects, as well as a list of LocaLHomeSpot.com's most popular weekly Facebook posts, go to the DesignH blog .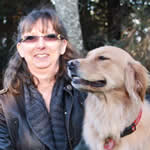 Evelyn M, Associate of Interior Design
250-204-4417
www.EvelynM.com
Evelyn M Interiors/Design House BC
Evelyn M Fine Art
See all articles by Evelyn M