Mi–Jung Lee is an investigative journalist and has worked for CTV News in Vancouver for 18 years. She anchors CTV News at Noon and at Five. Mi-Jung graciously spoke with us about her cancer diagnosis, what she learned about breast density and her efforts to raise awareness.
When did you start having mammograms?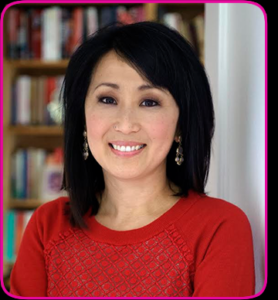 In British Columbia, it used to be recommended that women start getting mammograms at age 40. They have since changed that to every 2 years starting at age 50, but I started at 40 and got mammograms regularly. I was conscientious about that.
Please tell us about your diagnosis.
In spring 2013, I found a lump in my left breast and decided to get it checked out. It was cancer. I was surprised because I had a mammogram recently in the fall of 2012…  it hadn't shown anything.  I learned about my breast tissue being dense and that I was one of many women with dense breasts. I also learned that dense tissue makes it difficult to detect cancer and that it's a risk factor in itself.
What treatment did you have?
I had two lumpectomies and they kept finding that the margins were not clear (cancer cells were still left behind) and so I had a mastectomy and reconstructive surgery.
After your treatment, you began sharing information with women about breast density. Can you tell us about that?  
When I came back to work, I did stories on my breast cancer (video link below). I interviewed Dr. Paula Gordon and she explained what dense breast tissue can do. I learned of a US  awareness and advocacy group called areyoudense.org and how they were pushing for more transparency so women could find out their breast density. I started putting pieces together and wondering why women in Canada didn't know more about this. I did a story about dense breast tissue. I was glad that I was able to raise some awareness about what was happening in the United States. A lot of women came up to me and were thankful; they had never heard of dense breast tissue and how it can be a risk factor. I felt through my own story and by highlighting what was done in other jurisdictions that I could shine a light on this. I have spoken at various events for cancer fundraising and cancer research, and wherever possible, I raise the issue of dense breast tissue and I let people know.  I have noticed there is a large range of awareness from zero to quite a bit. I felt I was in a good position to share my story and hopefully educate other women and I'm glad that an advocacy group like yours (DBC) has been able to pick up the ball. I'm very interested in seeing what happens.
What would you like DBC followers to know?
Like a lot of people, I may have taken my good health for granted and may not have been diligent in doing routine self-breast examinations. For me it was kind of like I stumbled upon the lump.  I can't drive that message home enough – to be proactive. Don't just rely on your mammogram. Rely on checking your own breasts and get as much education as possible, including on the matter of dense breasts.
Watch: Mi-Jung's news segment on why her mammogram did not detect her cancer http://bc.ctvnews.ca/mi-jung-lee-why-my-mammogram-didn-t-find-the-cancer-1.1707795
DBC Note: Our thanks to Mi-Jung. DBC is advocating in British Columbia for density notification and additional screening for women with dense breasts. In BC, you can find out your density by completing and submitting this form:  http://bit.ly/2r1gtcI
For more information visit www.densebreastscanada.ca
If you would like to help us raise awareness of this important issue, please message us at info@densebreastscanada.ca  Thank you.
See all articles by Dense Breast Matters