This morning I awoke with a jolt. A vicious cramp in my left hamstring  is definitely not my favourite way to start the day. I had become increasingly aware, over the past month or so, that my derriere was trying to communicate some discomfort to me – a result of too much sitting.
A couple of nights before this rude awakening, I had actually had a discussion with someone about pains in the butt. I was informed that a recent article has declared that sitting has now become the "new smoking" – the danger of too much sitting translates into a heightened increase of many diseases, not limited to just heart disease.
I think I lead a relatively active lifestyle for a woman my age. The days I don't walk Sydney to work (45 minutes each way), we have twice daily healthy walks of at least a half hour. On weekends I spend most of each day in the garden. However, I am now asking myself if this is really enough. My body is sending me messages and I must start listening.
Do you find that you are also sitting more these days than in previous years? Even if you do engage in regular daily exercise, researchers are now beginning to suspect that this may not be enough to counteract the effects of too much sitting during the rest of the day.
Whilst sitting, your muscles are not contracting (especially those big leg, butt and back muscles). This results in a slower metabolism.
What should one do, you ask?
Well, move more and move more often. Sitting on an exercise ball instead of a chair requires more energy and will help strengthen your core muscles. Also, take breaks and take them often. Do not sit for more than an hour before getting up and moving around.
I have been sitting on my exercise ball writing this article. It has been about an hour; it is now time for me to get up and move. How long have you been sitting?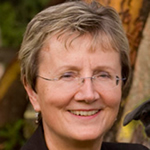 Louisa Zerbe
Financial Advisor
Edward Jones
Visit Louisa's web page

See all articles by Louisa Zerbe