Roy went to a Seniors Health Show in Nanaimo last week and was very enthusiastic about a project he had come across there. It involved a chair that a man, Jon Pimlott, had designed to enable a lady with mobility issues to access the beach in Parksville. The next day Roy had created an article to be posted on Seniors 101's "Island Voices" page. The article included photos and a video. When I watched the video I was reduced to tears. To watch the sheer joy experience by this lady as she felt the sand beneath her toes was so emotional but this paled for me when I realised that I knew her.
Diana La Monte and I had worked together in Qualicum providing elder care. I had moved to Chemainus in 2013 and we lost touch. Diana had been attacked and seriously injured whist she was working, providing care to a resident in a facility; so much so that she has been unable to work since that tragic day.
Please watch the video below and share the joy that Diana experienced at that magical moment on Parksville beach.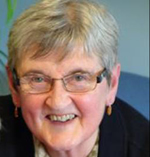 Trish Summerhayes.
Owner/Publisher Island Woman Magazine.
See all articles by Trish Summerhayes