In the clearest, broadest sense, Arts Gabriola "A creative, engaged, and inclusive community sustaining Gabriola's vibrant island culture, oversees the importance of arts in community and individual development—both social and economic".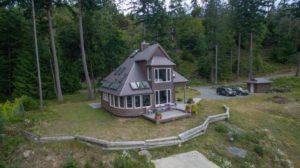 When I was scanning the scape looking for gifts for buyers and sellers of real estate properties here on Gabriola, I discovered right before my very eyes, Allana Thorne, creator of The Thorne Crate Co.  Established in 2012 as a start-up she focuses on quality Gabriola-made juicy items stuffed into nifty baskets, all wrapped up spiffy so you can see right through to all the goodies you're about to devour, sniff, or caress on your skin.  Simple, re-usable, Vintage-inspired packaging sets this unique business apart from the rest.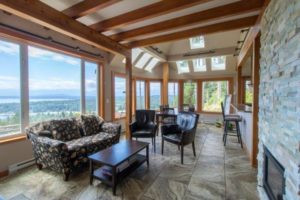 Whether it be our local food, art or superlative crafts from our local region, we enjoy to the broadest extension public sculpture, writers, music, dance, and theatrical of almost all genres.  If it wasn't that I'm also a full-time REALTOR®, I do believe I would engage at a much deeper level my love of the freedom of expression – an all-encompassing art form in itself.
Back to gift box stylist extraordinaire, Allana is my public relations right-arm.  Thought I'd include here a few small-batch makers which inspire and represent our Gabriola, while developing new relationships on and off Gabriola or their own making and with the Gabriola Chamber of Commerce.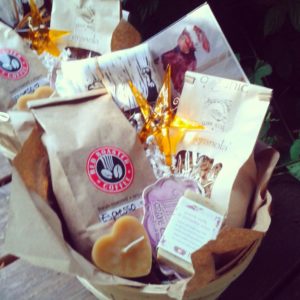 Fact is, from St Johns, to Nipissing, Edmonton and Calgary, Red Deer, Fort St John, Coquitlam, Vancouver, and all points in-between from our east coast to west coast of Canada, we are, I am supporting the grass root endeavours of our very special island, Gabriola.
And so I rambled there a bit.  Consistently, excellence in quality and product presentation working with Gabriola artisans:  Red Roaster Coffee Co, Slowrise Granola, The Happy Hippy Soap Company, Black Bird Studio, Paige Coull-ceramist, Panacea Herbs, MaddArt, Tammy Hudgeon- Mixed Media Artist, Zena Rogak – Artist, Tied up and Dyed, just to name a few.  You'll see more of what I speak.  Astounded!  Always.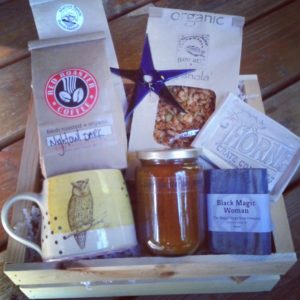 Hold one of these masterpieces in your arms as you're about to welcome a new home-owner and you'll feel as I did.  Special.  Really special. 
And then one day, I was completely surprised with being presented a Thorne Crate Co basket made especially for me!  Truth be told, I couldn't bring myself to delve in.  I wanted to savour, peak through, and sniff those delicious, organic – good for me treasures.
Ask me why I love Gabriola!  I'm Carol Martin, REALTOR® and I'd be delighted to hear from you.  Ask a question, I'll always answer you.  Ask my opinion?  Brace yourselves – you'll get it!  carolmartin@telus.net www.RealEstateOnGabriola.ca  250-247-9333   1-866-528-9333

Carol Martin – Personal Real Estate Corporation
Royal LePage Nanaimo Realty Gabriola
250-247-9333
1-866-528-9333
Email Carol
Website
See all articles by Carol Martin