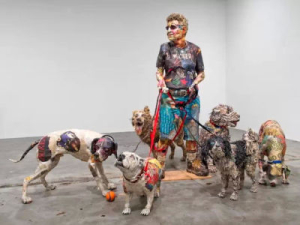 With upcycling being the new "IT" word, and recycling materials seen as a way to create fun and fabulous designs for both interior and exterior lifestyles, Pinterest and other sites are being bombarded with zillions of upcycled designs that are really not much better – and sometimes worse – than the original product. This is a shame because it leaves the impression that upcycled generally means junky. Yet there are so many amazing designs out there – some of them avante garde – that are truly inspiring, such as this oh-so-fun paper mache installation called "Linda the Dog Walker" by Will Kurtz. Aside from newspaper, the only materials used to create this masterpiece are wood, wire, tape and miscellaneous discarded dog accessories.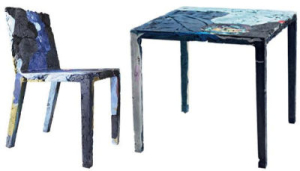 Avante garde does not have to mean "seriously out there" creations. Case in point – this simple modern expression of upcycling by Casamania called the Rememberme Table and Chair. Made from discarded clothing such as jeans and cotton shirts, the collection embodies the ideals of sustainability within a clean and simple modern profile.
Upcycling does not have to mean using discarded materials.  Take for example, this collection of accessories in the photo to the right – can you guess what the main ingredient is? Human hair, that's right – human hair that has been purchased from growers who grew their hair specifically for the purpose of having it upcycled into another product which in this case is Studio Swine's collection and corresponding video of the process called Hair Highway.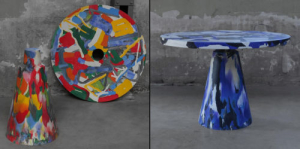 Discarded plastics are a huge problem in modern day landfills, and many product designers have taken up the challenge to create unique and interesting furniture, accessories and artistic statements from previously used plastics. What I like about The Melting Pot Table is the way Dirk Vander Kooij has not completely melted each plastic object, instead allowing hints of its former life to still be seen through the various coloured shapes.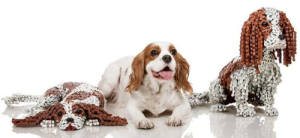 Since I started this article with an awe inspiring artistic statement, I thought I would finish with one as well. These adorable pooches are made from a material that is anything but adorable. Any ideas? These sculptures are made by Nirit Levav out of bicycle parts, mainly the chains – such industrial materials but how amazingly like the real dog, seen in the middle! These two sculptures are just a couple from her Unchained Collection, all of which are portraits of dogs and can be seen, just like this one, next to the real pooch.
If you're interested in more upcycling ideas, check out my previous Island Woman post entitled Upcycling to Incredible Furniture.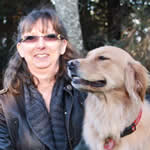 Evelyn M, Associate of Interior Design
250-204-4417
www.EvelynM.com
Evelyn M Interiors/Design House BC
Evelyn M Fine Art

See all articles by Evelyn M