Within my heart I always knew at some point I would write about those magical days leading up to the reunion with my daughter   whom I put up for adoption shortly after her birth.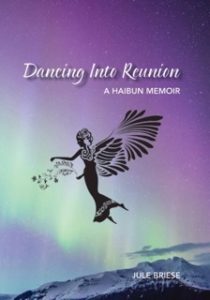 Almost 20 years later the first 32 copies of Dancing Into Reunion have just arrived by courier.  I am so very pleased with all aspects of this book. I am also sincerely  appreciative of those who encouraged me. My first experience of venturing into publishing has been a satisfying and a rewarding one.
A professionally made CD featuring three songs I have written and sung as part of my healing journey reconciling the grief of loss is presently being duplicated.  A CD will be inserted into the back cover of each book.
The idea for writing this book has been percolating for a long time. It took a recent fall workshop centered on memoir to draw my attention to the Japanese literary format haibun. Reading Terry Ann Carter's haibun memoir On The Road To Naropa" created an aha moment.
Suffice to say finding a publisher was challenging.  Self-publishing with the help of a publisher was too costly for my budget.  This manuscript with its 35 pages was more in the category of a chapbook!
I decided to publish on my own. A friend who is a graphic designer took the challenge of the layout and cover design. We found the perfect northern lights photo and   dancing angel symbol on a website. The rights to use both symbol and photo for the cover have been paid for the price of $50.00. They can be used 500,000 times!!!!
It wasn't difficult to find similar type books to use as a pattern for acknowledgements, preface, copyright details etc.
Editing was handled by a few of my friends who are writers. The format of the book made this doable. It is amazing though what is caught when the manuscript is checked from print not computer. 
I feel very fortunate to have chosen Island Blue Printorium Book Works for the printers. Island Blue has a great website to help those wanting to publish on their own. I learned how to get my ISBN number and the importance of a properly done barcode from both their website and in telephone conversations.
The idea of recording my songs has always been a dream of mine. My Angels led me to Glass Wing Studios in Errington and the rest is history.
Dancing Into Reunion my haibun memoir has come to fruition. The challenge now is how to market it in a cost effective way? A t-shirt promoting my book with the a digital print of it's cover on the front hopefully will draw some attention. Word of mouth, open stage venues, facebook and writing articles such as the one you are reading can be helpful. I am discovering local bookstores have consignment contracts, which can be costly. I also trust my Angels  who have been my inspiration to guide readers to Dancing Into Reunion.
Should you be interested in knowing more about my book or my first experience into publishing or perhaps even buying a copy you can reach me through tranquilshorescreative@gmail.com
Namaste
Jule
See all articles by Jule