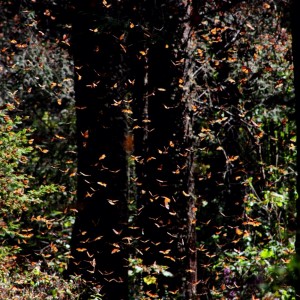 Butterflies can make quite a racket. Not a big noise, but a persistent whir as they flap in the sunbeams, in the millions. When they start to flutter, the air is filled with orange flecks against the dusky beams of sun that filter through the pines. Observers like myself who have struggled up the mountain path to see them are transfixed as they land on a hat or an arm or on the ground around. Millions of Canadian expatriate Monarchs in a blizzard of colour. It's a wonder of nature.
Millions? Well, no one knows how many there are in this tiny acreage high in the forested mountains of Central Mexico. Without dispute, however, is that this year there are fewer than last year. And last year there were far fewer than the year before … The dwindle has been going on right back to the 1970s, when astounded scientists concluded that these critters were leaving Canada and flying in a 50 mile wide flock for more than 3000 miles to land on the same tree that their ancestors left three generations ago, the spring before. As they flutter back and forth across three countries, they lay eggs on Milkweed. It's crucial for the Monarchs but noxious to the farmers, and as usual, commerce wins. At the same time, the hungry Mazahue indigenous people, who revere the Monarchs as the souls of their ancestors, still carve away the beautiful forests bit by bit. No big trees? No clusters of butterflies hugging each other to keep warm through the chilly Mexican nights. It is a gradual, but definite, extinction. My grandson may never be able to marvel at this spectacle.
The journey to this Monarch cathedral began in pre dawn San Miguel de Allende. Our group of two dozen adventurers shivered and shared our expectations and fears as we waited for the Audubon Society van. Getting there would be half the fun, we were assured by our cheerful Mexican guide Roderigo. For five hours, we wended our way through the states of Guanajuato and Michoacan, stopping for many bathroom breaks. We would pool our pesos to pay our way through turnstiles at the Pemex Station "sanitarios". Toilet paper was on a shared roll fastened to the wall, or passed over in a wad by a smiling attendant. Potties often came without seats. No plumbing in Mexico can stand up to the assault of toilet paper on top of everything else, so we found the bin and dropped it in. Back on the van, packed lunches were handed out, maps of the route were passed around, and program notes were offered as we rolled along. "Those fields grow all the strawberries you see in Canada", or "under those greenhouses, next Christmas's poinsettias are well on their way". We watched a video. We dozed.
Our overnight stop was a small hotel nestled at the bottom of a canyon and famous for its mineral pools. Led by a nimble Mexican guide, we took a jungle walk past fissures in the earth oozing mineral waters to a bridal veil of a waterfall, observing the plants that evolved to be tomatoes and avoiding a particularly virulent form of poison ivy. I preferred paddling in the mineral pool, waiting for its promised boost of well being to kick in, not to mention clearing up my bug bites and healing unstated "internal wounds". Meanwhile, a birder floating on his back in the pool beside me began to whistle, "a pygmy owl call", he said. Soon the trees were full of nervous birds of every colour. I knew they were there, could hear them chirping and pick out hues and shapes, but could not see what so thrilled the excited birdwatchers in the group, splashing beside me. "See the blue ringed nut catcher!", said one. "Oooh, look, over there, a yellow rock warbler", cooed another. I contented myself by admiring the yellow butterfly being chased by a dragonfly over my exposed stomach, and the rain of purple jacaranda blossoms drifting into the pool with every breeze.
The best part of the canyon hideaway, though, came after dark. We were instructed to take our blankets and pillows out to the central lawn, where we were given grass mats to stretch out and told to look up, in silence, at the darkening sky. Music was played as we marvelled at the emerging star show, punctuated with meteors and the dots of satellites and planes on their way to Mexico City. For an hour or more, we resonated with nature, till the night chill set in and we went off to bed in our rustic cabins on the edge of the jungle.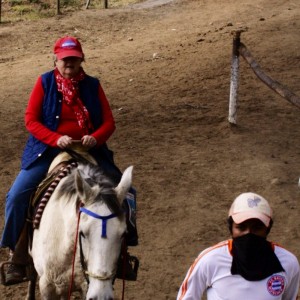 It is possible to hike up to the butterfly trees, using treacherous trails to the altitude of 10,500 feet. But we chose the horses. These wiry mountain ponies were led by guides who scrambled up the paths without even a heavy breath, while we tenderfeet clung for dear life to the pommels of the Mexican saddles. Even the horses can't go all the way, however. It's not because they are scared. It's not because it is too steep. In fact, where we had to dismount and start to walk at the edge of the reserve, it was a lovely mountain meadow. But we are required to approach the butterfly trees in silence and on tip toe along the path, lest we step on a Monarchs resting or dying on the trail. Every life is precious, even among millions of lives. We came at last to ropes across the path, and could go no further. "Shhhh", warned the Mexican guides, decked out in World Wildlife Fund tests, "Ten cuidado", be careful.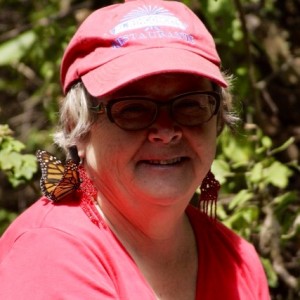 We have arrived early in the day, so our group is treated to an hour alone with the butterflies. That's when we listen to them whir. They fill the sky, peeling off their clusters like a sodden grey wool blanket hung out to dry. We put out our hands and wait for a Monarch to land, visit with us a while, and flutter off. All cameras are out. Some digitals emit a "ping" as they snap and the hapless owners whisper sorry as they ping and ping and ping again. Eventually the buses from Morelia and Mexico City arrive, full of excited teenagers who do their best in their exuberance to keep silent, but giggle and chatter in Spanish. The spell is broken. We know it is time to go. Reluctantly, we turn back to our waiting horses and the treacherous trip down the mountain to the vans.
Mexico is full of sounds I love. Cooing doves outside my window, fireworks, the distinct calls of street vendors selling water, gas or avocados, mariachi bands in the park, every kind of musician in every setting. And yes, dogs and roosters at night. But the sound I will always remember is the hum of butterfly wings.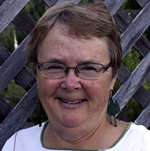 Janet Dunnett
Email Janet
See all articles by Janet Dunnett