Once reserved for playrooms and schools, the functional and somewhat dreaded chalkboard has metamorphosed into a super fun statement that can jazz up the most discerning of tastes. I love a good chalkboard design but have found many of my clients are afraid to try it out – if that's you, the reader, I've attached four awesome examples that are sure to ease your trepidation.
Here, Int2 Architecture of Moscow has painted one complete wall with chalkboard paint, including the built-in shelving and baseboards, for a smooth overall appearance. Combined with the naturally patinated wood, white walls and pastel chairs, the kitchen has taken on a youthful vibe that simply wouldn't be there without the chalkboard.
Chalkboard and Magnetic Hall Wall
Did you know you can create a wall that is both a chalkboard and a magnet? It's a two step process that involves first painting the wall with magnetic paint and then painting it with chalkboard paint – but what a result! Well worth the extra step.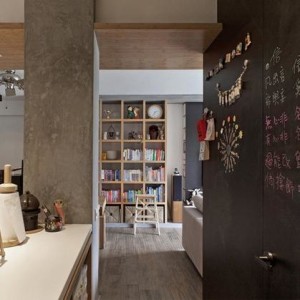 Here, in Him's Interior Design of Hong Kong continued both the magnetic paint and the chalkboard paint across the hallway door trim and the doors themselves.  Only the handles were left exposed. This wall is a super chic addition to a tiny apartment and is a great way to have an ever-changing display. Put up a photo with a magnet and then write something about the photo beneath it. Beautiful, functional and informative – awesome!
Gallery Wall
A fun way to punch up a vignette of pictures is to paint your wall first with chalkboard paint and then hang a vignette of art and/or photos along with empty frames.  I love how all the frames in this example are a high gloss black; a beautiful contrast with the matte black wall.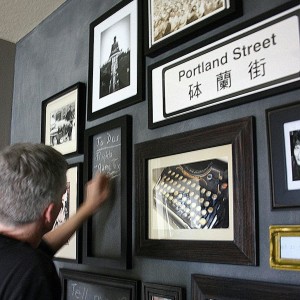 If you are nervous about making a mistake when hanging all the frames, you can start first by taping together a large section of newspaper and putting it on your floor. Then rearrange the frames on the newspaper until you are happy with your result. Trace around each frame; then flip the frames over, find out where the picture hangers need to be, and mark the spot on the traced frames. Now, use painter's tape to hang the large taped-together section of newspaper onto the wall and install your picture hangers. This is not what I do, but I do lay my vignette out on the floor or on my computer and then use a measuring tape to figure the rest out.
Once all your frames are mounted, simply chalk inside the empty frame portions. You can even use the empty frames to write in comments about the others. If it's a family gallery, write in the names of all the people in the photos; if it's a vacation gallery, write in the location; and if it's art, write in the names of the artists – fun and informative!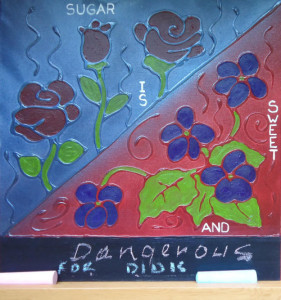 Chalkboard Ending
Here's an original mixed media painting of mine called Chalkboard Ending that takes the idea of chalkboard walls and literally incorporates it onto the canvas. This painting comes complete with a chalkboard ledge and two pieces of chalk, and when I was displaying it at the Pearl Ellis Gallery in Comox, an admirer decided to test it out and write a phrase on it with the chalk. I love this – only I can't make out the last word. Any ideas? Anyway, the chalked in phrase is now "erased" and ready for a new one. Chalkboard Ending is a 21"H x20"W mixed media painting on an unframed canvas with painted edges. For more information you can contact me here.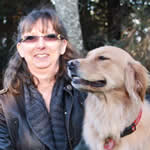 Evelyn M, Associate of Interior Design
250-204-4417
www.EvelynM.com
Evelyn M Interiors/Design House BC
Evelyn M Fine Art
See all articles by Evelyn M