Everyone knows I love dogs; after all, I write a regular blog called Dax's Dog Spot, and I've written previously for Island Woman about customizable dog beds, dog decor and designing for dogs, but I also love cats.  Unfortunately my husband is VERY allergic to them so I keep my feline fun down to a minimum and make sure I change clothes and wash hands before having any contact with Bruce. That said, enjoying awesome cat designs causes absolutely no allergies whatsoever.
While purr-fectly paw-some designs for cats don't cause allergies, they do cause elevated pulse – I mean who wouldn't get excited when seeing the CATable for the first time? Designed by Ruan Hao of LYCS Architecture, this gives everyone's favourite feline a place to hang out while their human is hard at work.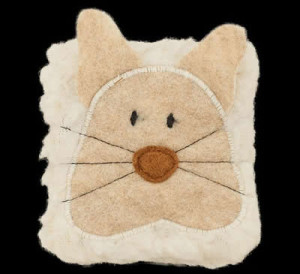 When work is over, it's time to play and this absolutely adorable Catnip Kitty Toy is just the ticket for both a designer living room addition and a feline fun moment or two, because we all know how cats love catnip! No two of these Muggsly creations are the same due to their handmade construction. At 4" square x 5" thick, they are easy to tuck in amongst the rest of your sofa pillows, but don't be surprised if kitty takes it off and hides it in her own secret stash.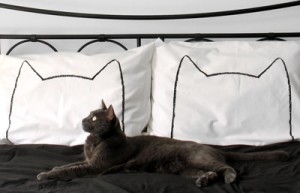 We've covered work and play and now its time to take a catnap. I just love the simplicity of these Xenotees cat pillowcases. The line drawing is so minimalist and yet so dramatic. The pillows come in standard, queen and king, and are are screen printed with permanent water-based inks on a 300 thread count 100% perma cotton fabric. The pillows come in either white, green tea, mocha or cream.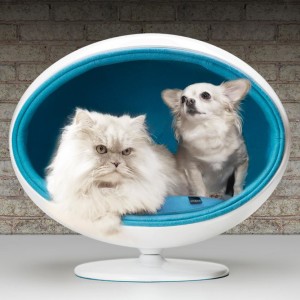 While the pillowcases are definitely for us humans, how do you like this uber chic cat den? It has a real Jetson quality to it and I just love it. The muse for Padpod by Bark & Miao was Betty, Stuart Fraser's own cat. He simply couldn't find a comfortable kitty retreat that went with his décor – so he designed one. Luckily, he has a background in fine art and a penchant for all things 60s. Blue not your colour? No worries; it also comes with an upholstered interior of green, red and twenty custom colour choices.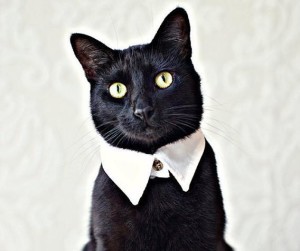 Furniture and accessories are not the only way of presenting yourself as a stylish cat lover. Cat couture can be done in such away that it does not look overdone or over pampered. Just check out this cat collar that is designed as a cat collar – oh well, you know what I mean. This White Pointed Cat Collar by The Rover Boutique is the purr-fect look for when your friends are over for a fine dining experience or for any other excuse you can think of.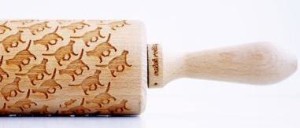 If you are having company over for dinner or hors d'oeuvres, wouldn't it just be the best conversation piece to create something (I don't cook or bake so I am drawing a blank on ideas) with this Valek Rolling Pin covered in a cat relief? Zuzia Kozerska created these laser engraved rolling pins out of Beech wood and they are 42cm long x 6cm wide. They come in a whole series of stock reliefs such as dogs and foxes too.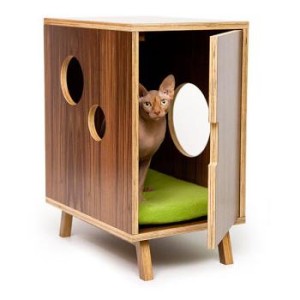 Not all cats like it when company comes over, but that doesn't mean they want to be too far away either. This Scandinavian design side table/cat hideout den allows the "frady cat" to be near without being seen. What's extra special about this Modernist Cat Mid Century Dwell Crate is that it is the brainchild of Crystal Gregory from our very own Vancouver, BC. Granted she now lives in Seattle, but she's a Canadian from our neck of the woods and I love a local design – especially when it's a four paws-up design like this one.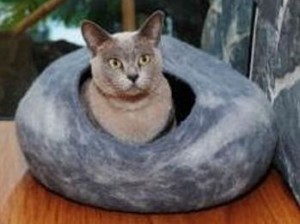 If you are entertaining outside, these rock inspired felt cat cocoons called Sogno Beds by Sasha & Me will allow your kitty to hide in plain sight. A couple of these carefully placed around the inside of your home would look spectacular as well, and they come in green, red and solid grey. They are handmade from 100% sheep wool by a group of women in Nepal and that says it all.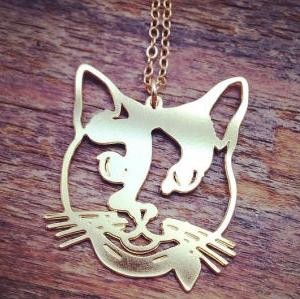 If you yourself don't share your home with a cat but are looking for a gift for someone that does, I would be remiss not to include these beautiful customizable pet pendant portraits by Brevity Necklaces in my curated list of favourite feline designs. The artists take a photo and rework it into these fur-iffic pendants in either stainless steel, dipped silver, or gold and 14k yellow gold. Can you imagine how excited someone would be to receive one of these!
Finally, rounding up my top 10 curated cat designs is not an actual item but a regular weekly cat feature that I do.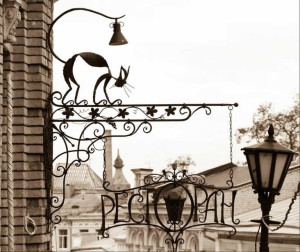 There are so many imaginative cat creations out there that every Cat-urday – I mean Saturday – I feature one or two on the LocaLHomeSpot.com Facebook page. The great thing about Facebook is that you don't have to have a page to view other pages, so if you are in love with all things cat, check out the postings every Saturday for your fun feline fix.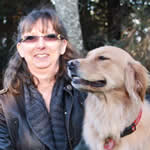 Evelyn M, Associate of Interior Design
250-204-4417
www.EvelynM.com
Evelyn M Interiors/Design House BC
Evelyn M Fine Art

See all articles by Evelyn M