With trends coming in and out of style year after year, it can be easy to fall into a pattern of buying a new set of clothes for every season, which you won't wear again. But with a good base wardrobe, it becomes easier to incorporate trend pieces without having to do a complete wardrobe overhaul every few months. Not only is it friendlier for the environment (and your wallet!), but it will also help you develop a stronger sense of personal style, above and beyond whatever the current trend a la mode is.
I'll use my own wardrobe as an example. I'm not someone who regularly buys new clothes, but I also like to feel as though I have variety in my closet. So for me, the most important thing I look for in an item is versatility. My wardrobe is fairly small (despite what my mother might think), so I tend to try and choose items that can help me achieve a new look with a simple addition of jewelry or other accessories, and that will easily mix and match with what I already have.
For this reason, I own a lot of neutral coloured clothing in fairly simple silhouettes. Grey, black, navy, and beige are all shades that work well together and never go out of style, but also play nice with any brighter colours I decide to add. By developing my own "uniform" of elevated basics, I can be assured that whatever I choose to wear on a given day will always match, and will always make me feel like I'm staying true to my personal style.
For the reasons given above, I am a strong believer in the idea that every wardrobe should be mostly comprised of staple pieces that can work well together, as well as with any new items that you add to your rotation. However, you of course don't have to stick to the examples I've given. This is where the personal style aspect of things comes in.
Take some time to look through your closet, and take stock of the pieces you tend to gravitate towards, or "themes" that you often dress in accordance to. As you do this, are you noticing a lot of cooler tones? A lot of warmer ones? Maybe you have a penchant for loose fitting tops, or you always seem to find yourself wearing bohemian style clothing.
These are all things that can be considered the basis of your personal style, and focusing on that will make it easier for you to shop for items that you'll love for years to come, instead of being dazzled by the latest trend that you don't need.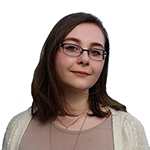 Emma Newton
Patryka Designs
http://www.patrykadesigns.com/
See all articles by Emma Newton