The 8 ½ Acres Farm is located just North of the Highway 18, this family farm has it all. Mike Shelten and Talyn Martin grow various seasonal fruits and vegetables all year long. Among their usual products you may find garlic scapes, greens and beans, berries, herbs and many more!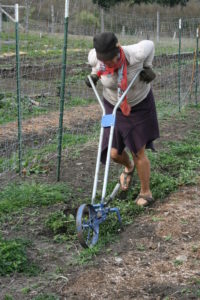 Although farming isn't an easy job and working in this line of business means constantly facing new and unpredictable challenges, adapting to fluctuating weather conditions, and working long hours, these charming farmers enjoy the lifestyle farming offers. The fact that they are able to spend their days outside, work together, and be supported by the local community makes farming in the Cowichan Valley region a unique and gratifying experience. "[In farming] challenges shift perpetually which makes you learn new things every day and constantly keeps you on your toes!" Talyn explains.
Talyn has been an active board member of the Cowichan Valley Co-operative Marketplace, the non-profit cooperative that governs the online farmers' market, since it first formed almost two years ago. "There is value in coming together as a farming community to identify farmers' needs as well as gaps in the market and how we can best fill them collectively so that everyone, growers and consumers, benefits."
You can find 81/2 Acres freshly harvested products at their farmstand open from Tuesday to Saturday 11-7 PM at 6776 Somenos Rd. but also at the famous Saturday's Farmers Market in Downtown Duncan and the Esquimalt Farmer's Market.
Furthermore, 8 ½ Acres is a proud member of the Cow-op, so do not worry if you cannot make it to one of these markets, you will be able to easily order their fruits and veggies as well as many other local farmer's products online at www.cow-op.ca.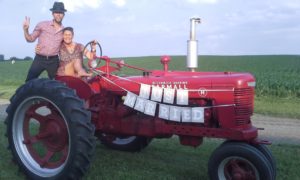 Mike Shelten and Talyn Martin
******************************************************************
As a farmer's daughter and as a part of the back to the earth movement in the  70's here on the island my heart always supports the family farms. Just as importantly my mind does as well. Family farms are the cornerstones of their communities. Without the family farm there are no children, no school concerts, no local shops. Plus of course they are the source of high quality local food.
For this reason Island Woman is promoting the members of Cow-op here in the Cowichan Valley by posting articles that highlight, not just the fruits of their labour but them, as great human beings that care. Please support them.
Trish Summerhayes.
Publisher.
See all articles by cowop