Is it just me or has it been looking pretty bleak outdoors? I know every tim I see the sunshine I soak it up like a starved person. This winter has been just plain depressing, colder with more snow and rain and less sun than 'normal'. It seems to me there is no normal anymore. Once the weather gets messed up you have to take what you get, but it can play havoc on some peoples livelihoods, and it definitely affects the rhythms of food production.
That's what it's been like for farmers and growers over the years, with climatic conditions changing to longer cooler spring seasons. With lack of sun comes spindly seedlings and slow growth; with too much rain comes muddy fields and cold soils. This year it's too wet to plant spuds in April and baby lambs are dying from romping on overly wet pastures. This year farmers are a month behind with their 'normal' planting schedule.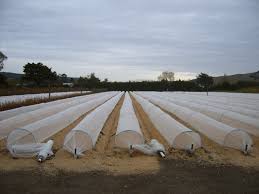 That's frustrating for local famers who want to get their crops in early to get a spring harvest, so they resort to growing undercover, in huge 'hoop houses' covered in plastic. They cover their fields with landscape fabric to warm up the soil, often even growing plants through the fabric for the whole season. They seed crops under cloche frames of spun polyester or 6-ml plastic. This is all very expensive and labour intensive, but when the weather throws a wrench in your production schedule you have to employ methods to change the growing environment.
Last year the only tomatoes that survived the late blight in September were the ones growing up wires inside a hoop greenhouse. When the weather suddenly cooled down in September the whole field of tomatoes turned black from blight and the entire fall crop was lost. There went my plans to take bushels of heritage tomatoes to the farmers market in fall. The year before it was hot, dry and sunny all summer, so I had bumper crops of field tomatoes for processing and market. Well, 'it's a farmers life' when no two years are the same.
Poor weather also takes it's toll on the garden centres. The growers have specific schedules for plant production for release into the market in early spring. When the weather is wet and cold gardeners can't get outdoors to get their gardens prepared, resulting in a backlog in the greenhouses because plant stock is not moving out of the garden centres.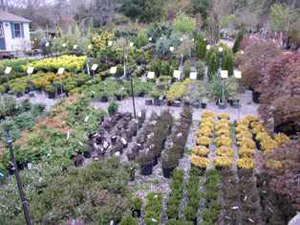 When I ran a plant nursery in Victoria 25 years ago it was quite a different story. Spring conditions then allowed us to plant food gardens in March and April, followed by a long hot summer and often an Indian summer lasting until October. Then there was a much longer growing season. Over the years spring conditions have shifted to longer, colder springs, which means a delay until June when planting heat-loving plants such as tomatoes, beans squash and corn. Now no one is sure what to expect from the weather as it differs from year to year.
Last year neither the Indian summer nor the normally mild winter showed up. Why are we having such cold wet weather when the world is supposedly warming? It's a good question. Last winter, the Arctic was up to 30°C warmer than normal. This is causing the Arctic jet-stream to lose its stability, bringing cold Arctic air into Canada and the US, including here on the west coast. Ultimately, we have only ourselves to blame because we continue to burn fossil fuels, and it's also due to all the meat we are eating and all the forests we are losing around the world. It's time for some serious reflection on making drastic changes to alter the path we are on, and there's no time like the present with a pending election to cast your vote for change.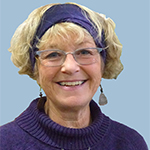 Carolyn Herriot is author of The Zero Mile Diet and The Zero Mile Diet Cookbook Available at your local bookstore. She grows IncrEdibles! in Yellow Point. www.incredibles.vision
See all articles by Carolyn Herriot