Certified Delicious!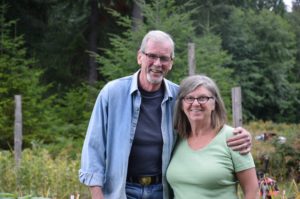 Originally from London, UK Howard and Sally Green met in Toronto where they were both working in an advertising agency. Interestingly they discovered that they shared a common interest for gardening. They left Toronto, turning their caps towards the West Coast in search of a quieter life. Soon their gardening interest took over and retirement plans of sunbathing, traveling or resting on their laurels quickly turned into a farming frenzy. The 8 ½ acre property located on Cowichan Lake Rd, was acquired in 2002 and a great amount of work and effort as well as extensive soil-building were put into making it the charming and productive place it is today.
Howard has been the Cow-op's board president for two and a half years, believing that combining the efforts as well as the different specialities of local, small-scale farmers will allow individuals and businesses to easily procure their groceries and fresh goods in a sustainable manner, reducing food mileage and nourishing themselves in a healthier way.
Named after Sally's aunt Gleny, Glen Eden has been a certified organic farm since 2005 and part of British Columbia's Environmental Farm Plan program, whose goals are to reduce negative agricultural impacts on the environment and make local sustainable agricultural practices more profitable to small scale farmers. Organic farming is a very labour-intensive process, with lower yields than conventional farming. Because of the hard work and financial challenges that come with being a certified organic farm, Glen Eden is one of the few farms that has undertaken the challenge. They rely on much appreciated help from WWOOFers (Willing Workers on Organic Farms), which gives them the chance to regularly meet new people from all over the world and get their farming chores done.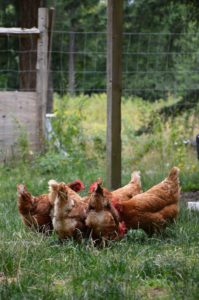 Among Glen Eden's most acclaimed products are their signature sundried tomatoes, a wide variety of transplants, hanging baskets, berries, garlic, shallots and free-range chickens, all of which are free of GMOs, pesticides, fungicides, herbicides, and commercial fertilizers. "People say they can really taste the difference in our food," explains Howard. Glen Eden sells out of their chickens every year proving that there is a growing number of people who understand and appreciate the true cost of organic farming and the importance of buying local, not to mention the flavour!
You can find Glen Eden at the Saturday Duncan Farmers' Market where they tend a booth, as well as order all of their products online at www.cow-op.ca.

The Cow-op.ca online farmers' market initiative, works closely with local farmers to provide the community with easy access to weekly supplies of fresh and home grown products, with the ultimate goal of promoting local food security and small-scale agricultural viability.
See all articles by cowop