Granny's Plum Slice.This is one of my summer favourites, my Grans used to have a farm and we had an Orchard, including plum trees.  Oma used to make a plum cake baked in a tray from the first batch that we pulled off of the trees, it's the best – Oma's baking always was.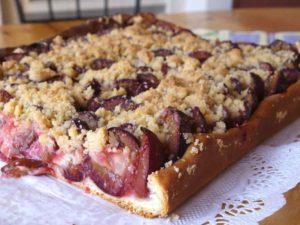 This particular sheet cake is not sickening sweet, it preserves the tartness of the plums and the dough is rather dense. You can add ground filberg nut flour to give it that special nutty touch
You will need:
250gr. Unsalted butter
200gr. Sugar
2 eggs
1 lemon zested
3ml Vanilla Pure
Nutmeg, pinch
Streusel:
40gr brown sugar
25gr flour
20gr Butter
Pinch of Cinnamon and Nutmeg to taste. Combine all and work till lumpy streusel crumbs form
425 gr sifted all purpose flour
20gr. Baking powder
Cream Butter & Sugar until light and fluffy
Slowly add eggs, vanilla and lemon zest
Now add Flour and Baking powder.
Spread this on a greased and sugared baking tray evenly,
12 plums, pitted, cut into wedges
Set plum wedges tightly in rows – slightly pressed into the dough.
Sprinkle with Streusel topping and bake at 350F / 175 C for about 40 minutes
Serve warm with Ice Cream or Whipped Cream
(You can use this base for  Apples, Apricots, Cherries, Peaches etc)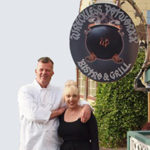 Norman Mueller & Marlene Charbonneau,
Wreckless Potworxx Bistro & Grill,
Chemainus, BC.
250-324-2121,    www.wrecklesspotworxx.com
See all articles by Norman Mueller