With an annual budget for Christmas decorations, I set out every year to add a few special pieces to my selection of holiday décor. I started early this year when Bruce and I headed out to Merville to pick up a load of Douglas fir for a kitchen and bathroom refacing we are doing for one of our customers. Before we picked up the wood, we detoured a little further south down the Island Highway to check out what Art Knapp in Courtenay had in their annual winter wonderland and  lo and behold, there was exactly what I needed for either side of our living room TV.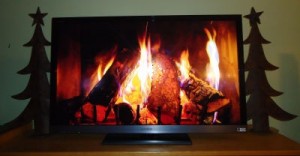 It has been an unfulfilled mission of mine to find a pair of tall, thin and somewhat solid pieces of "I didn't know what" – until now. This pair of rustic bronze metal Christmas trees was absolutely perfect and it only took two years to find them. That's the way I shop. I know where it will go and what the overall feel of a piece should be, and until I find that perfect item, the space stays empty.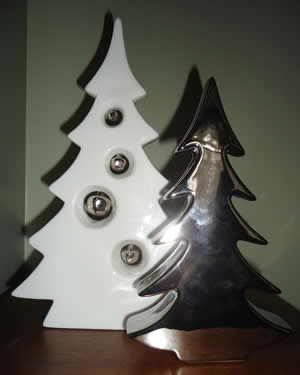 A few weeks later, I stopped off at Willow's Market in Willow Point, Campbell River and went looking for Christmas ornaments that might fit into the overall landscape of my media wall now that the two metal trees were firmly entrenched in their new location.
I did a trip around the store and went back to pick up this white ceramic tree with circular voids filled with bells. I thought it was adorable and could possibly work into a vignette somehow. With the white tree in hand I did a second trip around the store and noticed this chrome tree. On its own it is nothing special, but playing off of the silver of the bells within the white tree, it was perfect. A third trip around the store didn't produce anything else of interest so I made my purchases content with my new treasures.
The following week, I was in Gourmet Essentials in downtown Campbell River looking for a few accent pieces for a customer when I saw this plaque. It portrays exactly how I feel about snow and it was only $4.  It is a piece that is easy to tuck into anywhere so I wasn't worried about finding a home for it. In addition to these pieces, we  added in six boxes of outdoor lighting before the budget was filled and my new holiday décor for 2013 was complete.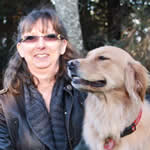 Evelyn M, Associate of Interior Design
250-204-4417
www.EvelynM.com
Evelyn M Interiors/Design House BC
Evelyn M Fine Art
See all articles by Evelyn M