Nestled in the highlands of Guatemala sits the new village of Chukumuk. Its inhabitants are survivors of one of the worst natural disasters in Central American history, the 2005 Panabaj Mudslide. This mudslide killed hundreds of Tzutujil Mayans, leaving many more without families, homes or belongings.
The mudslide was up to 40 feet thick and half a mile wide, and decimated half of the village of Panabaj. This disaster occurred in the middle of the night and a disproportionate number of men died as they tried desperately to save fellow Mayans.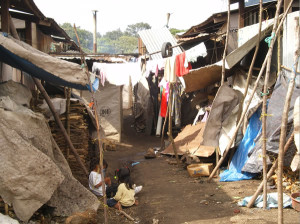 Due to the size and scope of the disaster, massive amounts of international aid money flooded into Guatemala. A refugee camp was set up on the hardened mud left over from the slide. Hundreds of families would spend up to six years living in temporary plastic sheeting housing with dirt floors.
Initially new cement homes were constructed adjacent to the tent village. These homes were 70% finished when the "powers that be" decided that a safer location for the new village would need to be found.
Finding a location for the new village was not easy as around 500 families required homes. Several years passed while a location was looked for and acquired.
The village of Panabaj was 1-2 miles from the city of Santiago Atitlan. The new village of Chukumuk was constructed 3-5 miles on the other side of Santiago Atitlan. Chukumuk is located on a safe plateau, not at the base of a steep volcano.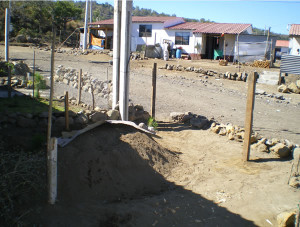 All the families received beautiful cement homes with metal roofs, cement floors, glass windows, flush toilets and showers. On the surface, this looks like a wonderful solution. And in many ways it is, as the families now have safe homes to live in.
However, when you look more closely you will find that the families are much poorer now than they were before the disaster. How can that be?
Firstly, the village is no longer within easy walking distance to the town of Santiago Atitlan. Therefore, when a family wants to buy food at the market, they need to pay for transportation. The minimum amount that they can pay for transportation is four Guatemalan quetzales (Q4). With this money, they could have bought four carrots, three eggs, four oranges or three-quarters of a  pound of beans, but instead, they are using it to get to the market.
Most of the men do not have a job and they need to go to Santigo Atitlan daily to find one. Jobs are scarce and there is no guarantee that employment will be found. It is also too far to walk if one is planning on doing manual labour in the hot sun. Men are often afraid to spend the money looking for work because if they do not get hired, they have lost money.
There is an elementary school in the village but there is no middle school.  Students wanting to further their education past grade six need to pay for daily transportation, on top of school supplies and fees.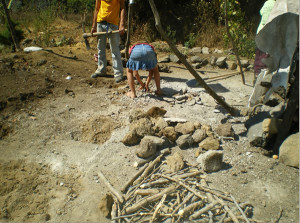 Secondly, their old village was on arable land. This new village is located on a plateau known for its rock which is used to construct roads and buildings. The families also have postage stamp size lots. Producing food to help feed your family is no easy task.
Next is the problem of families being separated. Some remained in Panabaj while others live in Chukumuk. Finally, in the old village, firewood was easily accessible. Most families collect firewood for cooking and many men collect firewood to sell. Now, the families have to pay to travel to their old village to collect firewood. This is backbreaking work with males of all ages carrying 50 to 100 pounds of wood on their backs.
Aldea Maya is a non-profit organization that has been working for over six years with inhabitants of this area, first in the refugee camp and now in Chukumuk and Panabaj. We have developed education, nutrition, garden and bike programs to help find a viable solution to these concerns. We firmly believe in a hand up and not a handout. Not all the programs are a success but we monitor and assess them, and try to work out solutions.
I look forward to informing you all about all our trials and tribulations in upcoming articles. For more information check out our website.  Please check the Island Woman Coming Events page for information on our upcoming fundraiser for the "New Moms Project", helping to educate Moms in Guatemala on nutrition, gardens and pre/postnatal nutritional care.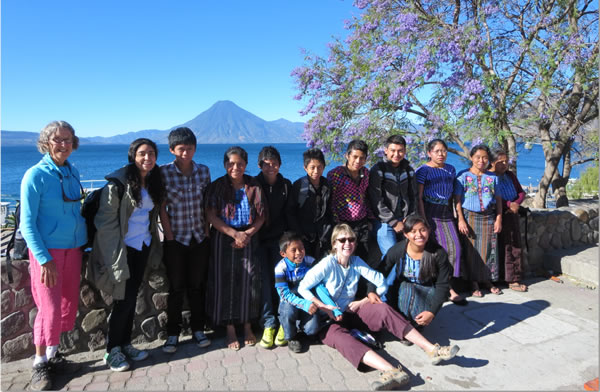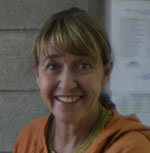 Louise Sosa
Aldea Maya
Louise Sosa is a retired teacher and dietitian. Originally from Australia, she immigrated to the west coast of Canada as a young child. In the mid-80s, after completion of nutrition training at UBC and a dietetic internship, she moved to England where she was hired by Volunteer Services Overseas (VSO) to be an English and Home Economics teacher in Belize. After obtaining her post grad in primary education, Louise began her teaching career in 1993. She formed the "Haiti Club" in the middle school where she taught and they built a school in Haiti. After nine years teaching, Louise retired due to arthritis. In 2007 a trip to visit her sponsor children started the Guatemala adventure and Aldea Maya.
See all articles by Louise Sosa