Interior Designer and artist by day – international writer by night … I am happy to announce that I have been hired to write for Chicago-based Trendir, an online design magazine.
I love creativity used in art, furniture design and interior or exterior design. It's a topic I am so passionate about that I started a Home and Garden blog and Facebook page through LocaLHomeSpot.com last November, and just a few months later started doing monthly posts here on Island Woman.
What is so exciting for me is that my point of view and writing style caught the attention of the publisher at Trendir and, as of a month ago, I was hired by him to write home tours on house designs and modern interiors from around the world.  I write two or three articles each evening for Trendir on international designs, and it is just incredible to me, living in Campbell River, how easy it is to connect to anyone in the world via the web.  I'm loving every minute of it!
The world is full of inspiration and, as an Interior Designer and artist, I can never get enough of it. The brilliant work that is created in every country on the globe is something that I love having at my fingertips, and being able to write about it for Trendir, LocaLHomeSpot and Island Woman is just so awesome. Each LocaLHomespot and Island Woman post is featured on the LocaLHomeSpot.com Facebook page and every day I also feature one of my Trendir articles.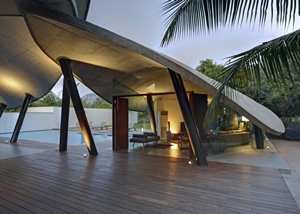 The three photos I have chosen for this Island Woman post are all from articles I have written for Trendir. The first one is The Leaf House by SJK Architects which is located in India, a 45-minute boat ride from Mumbai. I love the organic shapes to the rooflines and the total indoor-outdoor experience derived from the layout of the spaces.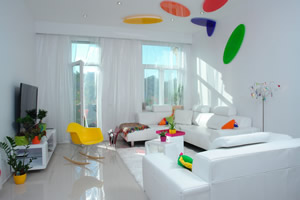 The second photo is Margit and Geza Hamoir's apartment in Budapest, Hungary. The stunning collection of elliptical lights that spill from the ceiling onto the wall remind me of tropical birds in flight. These types of colourful visuals run throughout the apartment and it was so much fun to write the tour.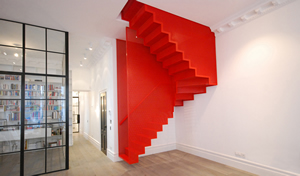 The third photo is a bespoke red steel suspended staircase by Diapo. Their clients had seen a recent installation by Do Ho Suh at the Tate Modern Gallery called "Staircase-III". The leap from art to reality took quite a bit of logistics but the final result is just amazing.
I am enjoying my writing journey with Trendir, LocaLHomeSpot and Island Woman and I hope that you are enjoying it along with me. Oh yes, I also now have a Google+ profile that I try to post on once a week with more personal musings about my Interior Design, art and of course Xena and Dax. This past year of writing has been a blast and having Trendir want me to write for them is just icing on the cake. I can't wait to see what the next year has to offer.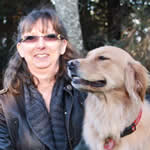 Evelyn M, Associate of Interior Design
250-204-4417
www.EvelynM.com
Evelyn M Interiors/Design House BC
Evelyn M Fine Art
See all articles by Evelyn M