Who wears short shorts? Not everyone!
Whether you're self conscious, or just don't like the look of them, many people choose to shirk shorts even on the hottest days. And often, it can be hard to figure out a comfortable alternative in the heat of the summer. So, what's a girl to do? I say, look no further than linen pants. I am an enthusiastic proponent of linen pants, and I believe that after you try them, you will be too. But let's explore why.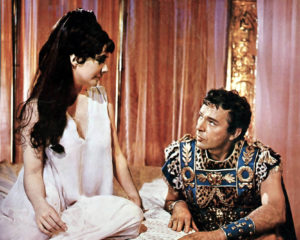 Traditionally, linen is a natural fiber made from the flax plant. However, nowadays it's often used as more of a general term to describe loosely woven garments made from any number of natural fibers including cotton, rayon, or hemp. Regardless of the actual fiber used to make the "linen" garment, these materials have similar properties. For one thing, linen grows softer the more it's worn, meaning your comfy new pants will just get even better with age. And, due to the loose weave of the clothe, it breathes beautifully even on the hottest of days, making them the ideal alternative for those who wish to beat the heat. Additionally, the characteristics of natural fibers also moderate body temperature and wick away any sweat that you may encounter (despite your easy breezy pants). Linen was extremely popular in ancient Egypt for exactly these reasons, and who wouldn't want to wear the same fabric that Cleopatra did?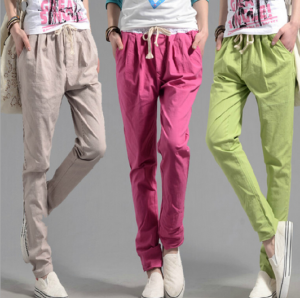 But enough with the history lesson. Let's bring it back to modern times. There are endless cuts, colours, and variations of the linen pant, giving you endless options for styling. Personally, I like the look of a somewhat jogger style pant, with a drawstring waist and slightly tapered ankle. Cuffed, whenever possible. The thing about these pants is that they tend to have an intrinsically casual air to them, which you can either decide to embrace with similarly laid-back garments or more dressed up pieces. Pair with gladiator sandals and a half-tucked blouse for a day strolling the pier, or dress them up with a feminine camisole and strappy stilettos for a night out. For office wear, all it takes is a blazer to add a professional feel to your ensemble. Or if you just need to run to the store, but stylishly, add your favourite slides, a messy bun, and a loose V-neck shirt for instant "off duty model".
And the best part about linen pants? Your legs are covered, so shaving is optional! And you can use all your new-found time saved to enjoy being out in the sun, relaxing with your new favourite pants. Or, if you're still not convinced, don't worry; there's always linen shorts!
See all articles by Emma Newton