As a three-term Area Director withthe Cowichan Valley Regional District (CVRD), Lori believes consultation, openness and accountability lie at the heart of responsible government and a strong community. Raised in the Valley, she is a life-long community advocate, experienced volunteer and activist.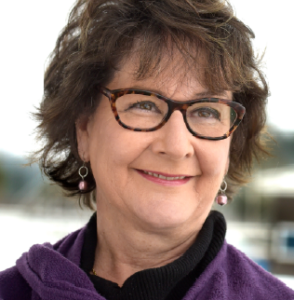 Lori knows a sustainable environment and a sustainable economy go hand-in-hand.  She led the development of Cowichan Bay's award-winning Official Community Plan with its progressive and sustainable vision for the area. She has actively fought the proposed Saanich Inlet LNG project since day one, championing the ban on LNG development in the region.  On the Cowichan Watershed Board she's worked closely with Cowichan Tribes and senior levels of government on multi-level solutions to raising the Cowichan Lake weir, addressing pollution, restoring degraded habitat, and getting derelict vessels out of local waters.
Lori understands the importance of living wage jobs to the local economy and stands up for working people.  As a Vancouver Island Logger Safety Support Group founder, she worked with the labour movement to demand safety improvements for local forestry workers. She believes we can manage our forests sustainably while creating more unionized and living wage jobs, as other parts of the world are doing.
As a CVRD Director, Lori has consistently defended the Agricultural Land Reserve, supporting farmers in protecting their land and livelihoods. She was instrumental in Cowichan Bay becoming the first North American community with official Cittaslow Community designation. This international recognition of the community's quality agriculture and food, craftsmanship, environmental stewardship, hospitality and overall livability is helping stimulate and diversify the local economy.
Lori understands the challenges faced by working families and the most vulnerable members of our community.  As coordinator for Cowichan Community Kitchens at the Hiiye'yu Lelum (House of Friendship Society) for twenty years, she led a successful program teaching families on limited budgets to cook nutritious meals.
With four children educated in public schools, Lori knows BC's students and teachers need better resources and support. Lori worked as an Education Assistant, served on the committee to build Frances Kelsey High School and was founding president of Frances Kelsey's Parent Advisory Committee. 
Lori believes reconciliation with First Nations matters and respectful relationships are needed to move forward.  She supports implementing the Truth and Reconciliation Commission's recommendations and the UN Declaration for Indigenous Rights. She knows all levels of government must work together to change policies and programs and repair the harm caused by residential schools.
Lori regularly hears how the choices made by Christy Clark's Liberals aren't working for people in our community. Public health care, education and supports for our most vulnerable neighbors have all been undermined. Lori is part of John Horgan's BC NDP team standing up for public services, and making life more affordable by eliminating MSP premiums, investing in $10/day childcare, raising the minimum wage to $15/hour, and taking comprehensive action on housing affordability. Instead of environmentally and economically risky projects like Kinder Morgan and Site C, John and Lori want to invest in good jobs and a sustainable economy.
We need a change of government on May 9th. Lori is ready to take her strong commitment to the people of the Cowichan Valley to Victoria. Join Lori's campaign by emailing lori.inannidinardo@bcndp.ca or calling 250-597-7762.
See all articles by Guest Author