This morning when I awoke, my little girl, with such anticipation, looked out the window, wanting only for the view to be full of snow. The weather bureau had predicted a blizzard, a foot of snow, maybe more. She was so excited! It had been such a long time since we'd had any snow in Victoria and the excitement that had been building over the past couple of days as the first snow in many years fell has been wonderful!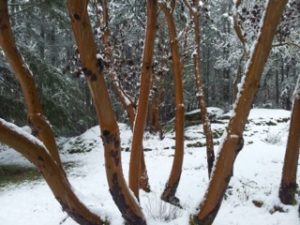 To connect again to that sense of transformation, of beauty and softness that comes when the snow falls. You see, my little girl, when she was growing up in Vancouver and Montreal, loved the snow. Winter was a time of wonder, of magic. It was a time of skating in the outdoor rink in the park behind our house, and tobogganing and cross country skiing. Winter was a time of glitter and sparkles as the sun and the street lamps cast their soft glow upon the snow. It was cold, it was clear, it was amazing. My memories of that time are nestled deep within me, all but forgotten until I hear, "It's going to snow!"  Then I can feel the excitement building as I wait for that magic transformation as the snow begins to fall and everything goes from green to white.
As I child I played in the snow banks, built forts, had snowball fights with my friends, made snow angles, tasted the snow as flakes fell gently from the sky. It was a time of wonder; it was a time of magic. My little girl, this morning, the one who sits deep inside me, stamped her little feet when she saw that last night's promise of snow had turned to rain and said "it's not fair, I just wanted it to snow." and I said, "I know sweetheart, me too."
I went into my daughters' bedroom to wake them up and tell them it wasn't going to be a snow day after all; that we weren't going to be cozied in the house, making rice crispy squares and cookies all day; that we weren't going to be outside, playing in the snow and making snow people and throwing snowballs at each other. The disappointment in our house was palatable. We had sat up late the night before, watching the snow begin to fall, imagining the winter wonderland that was going to greet us in the morning.
So how do we handle disappointment, especially when the cause is so much bigger then we are? When we feel that we have no control and no say in the outcome of the day? I have always told my daughters that while we may not be able to change our circumstances, we can always change our response. The choice is ours to be sad or content, accepting or upset. We can choose to see the silver lining.
This morning I got up early, had my shower, made my coffee and sat with my disappointment, navigated it so that when I woke up my daughters I could be strong for them, giving them the hugs I knew they would need. I said to them," Look girls, there's still snow on the ground and it may not be as deep as we hoped for and it may not be falling from the sky but let's go into the back yard to be the first to step in the fresh snow. And let's throw snowballs at each other and taste the snow. Let's play in it for a few minutes before the rains come and take it all away."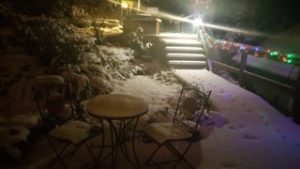 It may seem like a small thing, to be upset that the weather didn't turn out the way we wanted it to, especially as we look around the world, or even in our own communities, and see so many real problems and challenges. As children, though, our world is right in front of us and big picture thinking doesn't develop until later in our lives. While it's true that we have food in the fridge and cupboards, the rent is paid and the house is warm, it's also true that my daughters, and my inner child, really want lots of snow. So, we stamp our feet and shout that it isn't fair, and then we remember what's really important.
Disappointment isn't a bad thing – it happens in life when things don't turn out the way we hoped they would. There is always a silver lining, even when it's hard to see through our emotional responses. Disappointment can be the opportunity to turn it around and appreciate what is right in front of us, to not sweat the small stuff and to make snowmen out of what little snow we have!
Enjoy this snowy weather – no matter how it is showing up for you. Drive safe, be warm and, if you have lots of snow – be sure to make a snow angel for me  🙂 xo Megan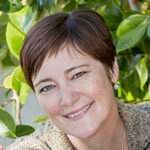 Megan Edge Psy-chick Healing Studio Master Healer Intuitive Counsellor, Educator and Author

Web page – http://psy-chick.net 
mailto:megan@psy-chick.net%22%20%5Ct%20%22_blank
https://www.facebook.com/psychicks
Read Megan on Island Woman Magazine
See Megan's Interview on Shaw TV's GO Island!
See all articles by Megan Edge