Admittedly, my friend and I are no longer spring chickens,and it has been quite some time since the mirror was our friend. 
The 'un-friending' of the looking glass began with an unforgivable deception! The incident occurred when the faces we saw reflected were not ours but were that of our aged parents! 
That was a fright not to be forgotten or forgiven.
From then on, the mirror gets only a cursory glance when applying lipstick to our less than luscious lips or brushing our hair which is the only "Fifty Shades of Gray" in our lives.
Vanity has  become such a curse.
The other day, my eyes accidentally hovered too long on the mirror and, horror of horrors, I noted that my finely sculpted biceps were sagging.  Yes, sagging!  "When did that happen?" I cried in disbelief.
Looking for sympathy, I told my friend about this vision from hell. She, in turn, whimpered, "That's nothing. My thighs have turned to jelly and wiggle-wobble when I walk!"
She was visibly shaken by this discovery.
Not to be outdone, I lamented that the inch and a half I lost in height had rolled itself down to my ever-widening waist! 
My friend topped that catastrophe by revealing that masking tape now failed as an adjunct to the 'lift and separate' bra.
As for the other flopping bits, the only remedy was all encompassing spandex, two sizes too small.  It molded us into some sort of shape but it inhibited our breathing to the point of  our turning blue.
We had to ditch that remedy.
With the arsenal of quick fixes almost depleted,  sagging and bagging has become our new reality. Our bodies gave the cliche "Let it all hang out" a whole new definition.
In short, aging was a sinister conspiracy.
How could this be happening to us of all people?  We feel so young and alive.  We 're curious about life and love to stretch our brains around new ideas. 
When out for our  weekly latte's at Starbucks (we are wanna-be yuppies), we giggle like school girls as we talk about the men in our lives, past and present, the ones who are still vertical and mobile. 
We blatantly ogle handsome creatures picked up on our highly tuned radar.  A roar of laughter erupts when we realize that the older person we are commenting on is our age or worse yet, younger.
"What the heck does that make us?" I demand to know of my friend.
"Old!"  is her unwavering retort. 
Boisterous banshee howls ensue causing other latte connoisseurs to fear for our sanity, or was that the word 'senility' I heard mumbled?
Old, heavens no, we're not old! 
Our mature contours are merely camouflage for our forever-young island woman's spirit.
Written by Carol Fyfe-Wilson.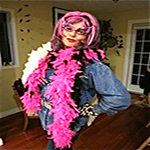 Carol is a mother of 6 with 5 boys, 3 of whom were adopted; one was Canadian born and the other 2 were from 3rd world counties and those 2 have moderate to profound ADD.
Her formal  education focused on Psychology  and Sociology. For the last 20 years she worked as an academic and behavioral  support person within 4 B.C school districts and one college. She also sat as a Fetal Alcohol Syndrome steering committee and was a resource person for special needs adoptive parents.
See all articles by Guest Author