I came across this fish dish working for Oceania Cruise Lines, We originally used Black Cod, it was the second course in a 5 course promotional luncheon put on for the Italian press in Venice that visited the ship while in port – Yes Cruise Lines promote their ships when ever possible. I really liked it because of its simplicity, the Miso marinade really complements the Fish's natural flavour. In the original it was served wrapped in a banana leaf with Sticky sushi rice as a side
Miso Marinated Ling Cod & Spiced Vegetable Couscous for 4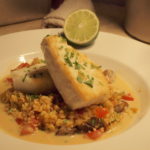 Ingredients
900gr Fresh Ling Cod filet
2 limes
250gr. den Miso paste
90gr granulated sugar
150ml mirin
150gr Couscous, cooked
1 Lemon/ juice
1 red onion, finely diced
1bnch Spring onions, sliced
1 medium tomato, seeded & diced
half a Zucchini, diced
1 Red Pepper, seeded & diced
Arugula as desired
Cumin to taste
Coriander to taste
Ancho Chile to taste
Salt & Pepper to taste
Cilantro for garnish
Preparation 
Start with marinating the Cod, mix the Mirin, Sugar and Miso paste and heat it up in a double boiler, meaning bowl sitting on a pot of simmering water heating the mix by the steam that generates. Do not boil this mix, what you want is the sugar to melt and mix with the miso and mirin., 90C works well.
Let this cool down and reserve a little bit of marinade for a drizzle later. Pour the remaining mix over the cod mixing that well, leave the fish to marinate for 24-36 hrs in the fridge. Yes that's a long time but it's worth it.
Once the fish is marinated it gets really easy & fast,
Preheat oven to 200C, place Cod filets on a baking sheet, use parchment paper the sugar in the marinade that runs off the fillet caramelizes and may burn, the clean up becomes a chore….
Place the cod in the oven for about 8 – 10 minutes depending on the thickness and size of the fish.
Heat a non-stick frying pan medium to high, Olive oil or any other oil / fat, add all the ingredients except the couscous, sauté till just cooked, season, mix, then add the cooked Couscous and mix well, squeeze of lemon juice, take off the heat season again to taste. The Couscous isn't meant to be hot just mixed well.
To Serve,
I recommend a large bowl, place the Couscous in the center, Cod on top of couscous, half the limes on an angle and cut ends off so they stand place a half on the plate rim.
Drizzle the reserved Miso glaze around the Couscous, Cilantro on top of fish and serve – dinner is readyJ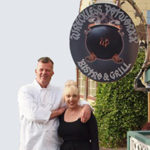 Norman Mueller & Marlene Charbonneau,
Wreckless Potworxx Bistro & Grill,
Chemainus, BC.
250-324-2121,    www.wrecklesspotworxx.com
See all articles by Norman Mueller