Please share your favourite with us: –

 islandwoman@shaw.ca  

Please support your local Farmers


.
Starters, salads & Snacks
Favourite, Filling Salads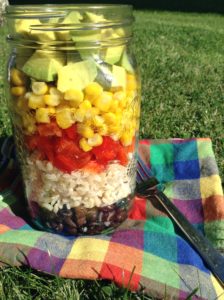 Full-meal salads are my absolute go-to during the summer months. And, with the growing trend of salads-in-a-jar, I can see that others are catching on.
The secret to a perfectly balanced, full-meal salad (that will actually fill you up) is to include whole grains, protein, and healthy fats along with all those veggies. I also like to include a sweet note (such as fresh or dried fruit) and something crunchy for texture. Often foods will do double duty, such as chopped nuts providing protein, healthy fat, and crunch.
Enjoy!
Protein Food Ideas:
Beans and lentils, canned or cooked from dry
Edamame
Tofu cut into cubes or fingers
Grated or cubed cheese
Leftover meat and poultry, e.g. shredded chicken, sliced steak
Chopped or slivered nuts
Seeds, e.g. pumpkin seeds, hemp hearts
Hard boiled eggs
Whole Grain Ideas (Starch Foods):
Cooked and cooled pasta
Buckwheat (soba) noodles
Brown rice
Wild rice
Quinoa
Farro
Pot barley
Cooked and cubed sweet potatoes
Did you know that you can freeze cooked beans and whole grains like brown rice farro and barley? Cooking beans from dry and whole grains takes considerable time. So, when you cook them, cook a big batch, divide into individual portions, and then freeze.  With your cooking done beforehand, your salad prep is really easy. And, it means no cooking on hot days!
For inspiration, here are two of my favourite full-meal salads. You'll notice that there aren't amounts listed for the salad ingredients – make as much or as little as you want.
Black Bean Salad
Ingredients
Brown rice
Black beans
Bell pepper (red, yellow, or orange)
Corn (cooked from frozen or cut off the cob)
Avocado
Dressing
1 TBSP       Vegetable oil (I particularly like avocado oil)
1 TBSP       White wine vinegar
2 TBSP       Lime juice
1/4 tsp       Ground cumin
1/8 tsp       Cayenne pepper (optional)
Pinch          Salt  
Kristen Yarker, MSc, RD.
Dietitian. Speaker. Writer.
www.KristenYarker.com
************************************************************
Lentil-Farro Salad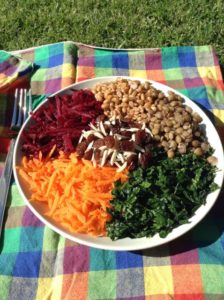 Ingredients
Farro, cooked and cooled
Green lentils*, cooked and cooled
Grated carrot
Grated beet
Kale, cut into thin ribbons and massaged with a dash of oil, vinegar and salt
Slivered almonds
Raisins
Dressing
1 TBSP       Good, extra virgin olive oil
3 TBSP       Balsamic vinegar
Fresh cracked pepper
Pinch          Salt
* Do you have difficulty digesting beans? Give lentils a try, they're less "musical".
Kristen Yarker, MSc, RD.
Dietitian. Speaker. Writer.
www.KristenYarker.com
*****************************************************
My favourite breakfast is overnight oats. They are quick, delicious, and fit the 4 characteristics of the "right" breakfast. Switching from toast to overnight oats has rid me of mid-morning cravings for pastries.
Overnight Oats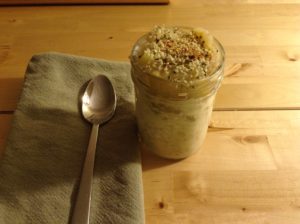 Oats:
Combine equal parts rolled or steelcut oats with yogurt and milk in a bowl or the container that you'll take this in to go. Choose 1/4 cup – 1/3 cup oats, 1/4 cup – 1/3 cup yogurt, 1/4 cup – 1/3 cup milk. If you don't consume dairy, use a double portion of plant-based milk alternative (e.g. ½ – 2/3 cup soy milk, almond milk, etc) and leave out the yogurt.
Protein:
Choose a nut or seed that you like. Examples include hemp hearts (my personal favourite), chia seeds, chopped or sliced nuts, nut butter, pumpkin seeds. Add it to the oat mixture.
 Fruit:
Choose a fruit that you like. Examples include: applesauce, berries, pomegranate, pumpkin puree. Add it to the oat mixture.
As the name of this dish suggests, prepare everything the night before. Place it in the fridge. The next morning, give it a stir and enjoy!
Kristen Yarker, MSc, RD.
Dietitian. Speaker. Writer.
www.KristenYarker.com
*******************************************
Buckwheat Noodle Salad
This salad proves that salads aren't just for summer. It is a perfect balance of the nuttiness of buckwheat, richness of avocado, sweetness of raisins and tartness of vinegar.
Buckwheat noodles are common in Japanese cuisine and can be found in Asian food shops and sometimes in the Asian food section of mainstream grocery stores. The noodles are usually tied into small bundles within the larger package.  
Serves 2
Ingredients: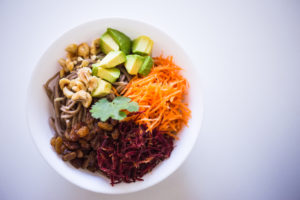 2 bundles of buckwheat noodles (to make 2 cups cooked)
1 avocado
1 medium beet
1 large carrot
¼ cup raisins
½ cup raw nuts or seeds (I prefer almonds, cashews, or pumpkin seeds in this recipe)
2 tablespoons balsamic vinegar
1 tablespoon apple cider vinegar
1 tablespoon extra virgin olive oil
Salt & fresh cracked pepper
Directions:
In a large pot of boiling water, cook noodles until they are al-dente. Drain and rinse with cool water.
In the meantime, peel and grate the beet and carrot. Dice the avocado into bite-sized pieces.
In a jar with a lid, combine the vinegars, olive oil, salt and pepper. Put the lid on the jar and shake to mix thoroughly.
Divide noodles into 2 serving bowls. Top with vegetables, raisins and nuts. Pour on the dressing. Enjoy! I prefer to eat the salad with chopsticks.
Note: if preparing the salad ahead of time, wait until just before eating to chop the avocado and add the dressing to the salad.
Kristen Yarker, MSc, RD.
Dietitian. Speaker. Writer.
www.KristenYarker.com
***************************************************
Yummy Drummies with Candied Yam fries and Zooooo Sticks for fussy kids
There is no actual candy in the yam fries, just yams full of beta-carotene. Chicken dark meat, like drumsticks contain more vitamins A, K, B6, B12, niacin, folate, pantothenic acid and minerals as selenium, phosphorus and zinc than white meat. So not only do they come in a perfect kid size shape …… they're good for kids too.
Ingredients:
10 Island Farmhouse Drumsticks
2 tablespoons Mayonnaise
1/2 teaspoon poultry seasoning
1/2 teaspoon garlic powder
1/2 teaspoon onion powder
1 teaspoon salt
1 teaspoon pepper (more or less to taste)
1 cup of flour
Parmesan cheese
2 large Yams
cooking oil
salt
Directions:
Pre-heat oven to 375F
In a large bowl mix drumsticks and mayonnaise until well coated. In a separate bowl mix dry ingredients except Parmesan cheese. One at a time, gently toss drumsticks in flour mixture and place on cookie sheet. Sprinkle each drumstick with Parmesan cheese and place in oven.
Peel yams, cut into strips and toss in a large bowl with cooking oil, spread onto cookie sheet, add a little salt to taste and place it in the oven with the drumsticks. The yams don't need to cook as long as the chicken (you'll find by the time you prepare the yams the chicken has had a good head start).
Fresh seasonal veggies and sour cream – Zuccini sticks (Zooooo sticks), cherry tomatoes, red peppers are always a favourite in our house.
Farmhouse Poultry,
Vancouver Island.
www.farmhousepoulry.ca
******************************************
Chicken and Hazelnut Pâté.
Prep: 25 minutes
Total time – 1.5 – 2 hours
Many chicken recipes use pistachios. Since hazelnuts grow on Vancouver Island I thought I'd give them a try. The flavours go great together and it's economical too!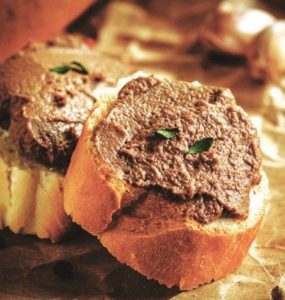 Ingredients.
6 Island Farmhouse Chicken thighs, boneless and skinless
1 small clove of garlic
1/2 small onion chopped
1 tablespoon butter
1/4 teaspoon pepper
1/4 teaspoon nutmeg
1/2 teaspoon dried tarragon
1 teaspoon salt
2 slices of good deli ham
2 Tablespoon Cognac
1 cup Island Farms whipping cream
2/3 cup Hazelnuts (roasted)
Directions.
Preheat oven to 325F
Melt butter in sauce pan on medium heat and add onions, cook until transparent but not brown, add garlic and cook until just slightly browned. Cut thighs into 1 inch pieces and place in food processor and pulse 3 – 4 times. Add rest of ingredients except for nuts, cream and ham. Blend thoroughly slowly add cream until well blended. Roughly chop Hazelnuts and ham. Add half the nuts and all the ham and pulse 3 – 4 times. Add the rest of the nuts and mix well by hand. Pack mixture into a buttered loaf pan and cook for 1 1/2 to 2 hours. Cool overnight in refrigerator, slice in 1/4″ slices and serve with grainy mustard, your favourite preserves and baguette or crackers.
Farmhouse Poultry,
Vancouver Island.
www.farmhousepoultry.ca
***********************************************
Island Thunder Honey Garlic Drumsticks
Prep: 20 mins
Total Time: 10 mins
Servings: 30 mins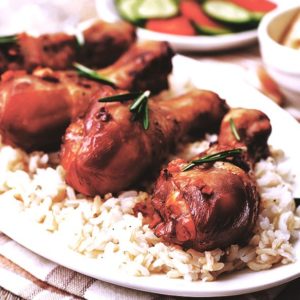 Drumsticks make great party food, compared to wings they have more meat, much less fat and are half the cost. Since Island Farmhouse Chicken is European Style air-chilled, which means no added water or bleach, the skin gets nice and crisp when cooked.
INGREDIENTS:
1 tablespoon of butter
1 – 2 cloves of finely minced garlic
1/2 cup of honey
Island Farmhouse drumsticks
DIRECTIONS:
Cook garlic in butter over medium heat, careful not to brown the garlic, remove from stove and add honey, return to stove on low heat until honey is heated through. In a large bowl toss cooked hot sticks in honey sauce until well coated. Transfer to warm serving dish and drizzle with any left over sauce.
Season drumsticks with salt and pepper and place in hot oven, 450F for 10 min then reduce heat to 350 until cooked through. Toss in sauce while still hot.
Farmhouse Poultry,
Vancouver Island.
www.farmhousepoultry.ca
********************************************
Family Style Vegetable Soup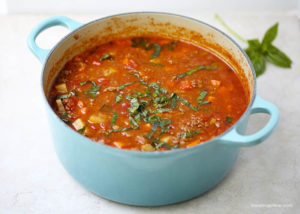 Ingredients.
Bones and scraps from rib roast or leg of lamb.
2 1/2 quarts of cold water
1 medium onion, sliced
2 stalks of celery, sliced
Place these ingredients in a large kettle and simmer for 11/4 hours.
1/2 cup of barley
2 medium white turnips, diced
2 medium potatoes, diced
4 medium carrots, diced
1 1/2 cups of sliced celery
1/2 cups minced parsley
2 tsp salt
1/4 tsp pepper
1 to 11/2 tsp of accent
1/8 tsp of powdered cloves (optional)
1/8 tsp thyme
Instructions.
At the end of 11/4 hour of first simmering add the barley. Continue cooking at a gentle boil until the barley is swollen and tender about 1 to 11/4 hours.
Remove bones from the stock. If the soup is not to be finished for immediate serving, chill the stock to congeal the fat on the top and remove it. Otherwise skim of fat from the stock and bring it to the boil and add all the remaining ingredients.  Simmer gently until the vegetables are tender, about 15 minutes.
Meanwhile remove all the meat from the bones and chop and dice.
Soup meat.
2 cans of condensed tomato soup
1 tsp of sugar
accent as needed.
Add the soup meat, tomato soup and sugar. Heat soup thoroughly. Correct the seasoning with accent. Makes about 2 to 21/2 quarts.
Submitted by Marie Hutton.
Cedar Women's Institute.
******************************************
Cheese Biscuits.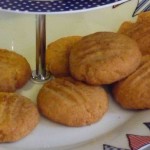 This is a huge family favorite. Fortunately they are easy to make because they always disappear fast.
(I hide some in the freezer for myself).
Ingredients –
1/2 lb. of butter
1 container of Imperial cheese
2 cups of flour.
Instructions –
Cream butter and cheese together until smooth.
Add the flour and mix again.
Form the mixture into balls and place them on a greased cookie sheet; I use parchment paper. Press the top of each ball with a fork.
Cook at 370 for 10 minutes.
Trish Summerhayes.
Chemainus.
************************************************
Cinnamon Pita Chips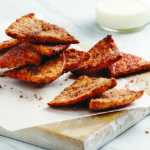 This summer, hundreds of us will hit the highways for an exciting road trip getaway, so let the fun begin. Don't rely, for example, on drive-thru fast food or convenience store junk when there are far better snacks to tantalize our taste buds. Keep your hunger at bay with this travel-friendly, and healthy, recipe from Ozery Bakery:
Prep time: 10 minutes
Ingredients
2 Whole Wheat Pitas
4 tbsp coconut oil or butter, melted
5 tsp granulated sugar
1 1/2 tsp ground cinnamon
Instructions
Preheat oven to 350°F.  Line a baking sheet with parchment paper. Slice each pita in half, then each into six equal-sized wedges. In a bowl, stir together the sugar and cinnamon. Brush both sides of each pita wedge with coconut oil. Sprinkle cinnamon and sugar mixture evenly over both sides of the pita wedges, and place on baking sheet in a single layer. Do not overlap.
Bake for 15 minutes, turn over and bake another 10-15 minutes, or until wedges are crisp. Let chips cool on a wire rack before serving.
www.newscanada.com
************************************************
Four Layer Tamale Pie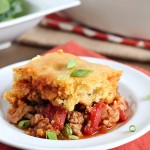 This is an appetizer, or snack, for a special occasion, or potluck. I don't recall where I got this recipe, but it is always appreciated.
First Layer:
8 ounces of cream cheese
1/2 to 3/4 cups of sour cream
Mix well, and put on a plate or platter.
Second Layer
1 cup chili sauce
1 tsp. Worcestershire sauce
3/4 cup green onion
1 tin, drained broken shrimp (opt.)
2 tsp. lemon juice
1 tsp. Tabasco sauce
1/2 tsp. soya sauce
Mix and pour onto the first layer.
Third Layer
1 cup mozarella cheese, grated
Fourth Layer
1-2 tomatoes, cut into small pieces
3 green peppers chopped
Shake some salt over the last layer and serve with Swiss crackers, or nachos.
Serve with Swiss crackers or nachos.
Submitted by Deborah Graham of Nanoose Bay.
***************************************************
Thai Spiced Butternut Squash Soup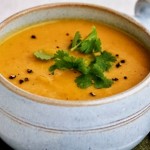 2 tbs Vegetable Oil
1 kg Butternut Squash (fresh)
1 lg onion
3 sticks celery
1 l chicken broth or homemade stock
2 tsp Thia red curry paste
1 can Coconut Milk
1 tbs Thai Fish Sauce
4 Kaltia Lime Leaves (optional) Can be found frozen or dry in Asian Markets.  They look like a rounder Bay leaf but give a strong citric flavour.
 In a large pan over medium heat sweat the onions and celery in oil for 5 mins till softened.  Add the squash and red curry paste and cook for 5
more mins.  Add the stock or broth and bring to a boil, then lower the temperature and simmer for 15 mins till the squash is fall apart soft.  Take off heat and use a stick blender or food processor and blitz till smooth consistency.  Add the coconut milt, fish stock and lime leaves and bring back to a low simmer
Submitted by Bobbie Williams from  The Island Highlander Company   http://www.islandhighlander.com/
***********************************************************
Hot Lemony Cucumber Soup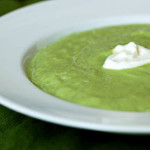 2 leeks
4 English cucumbers
2 lemons
2 pints chicken stock
1 tablespoon olive oil
Seasoning to taste
Chop leeks and sauté gently until soft and translucent.
Chop cucumbers and add to mix.
Squeeze juice from lemons and add to mix, also include some zest from skins.
Pour chicken stock over mix and simmer slowly for 30 minutes.
When cool place in blender.
Reheat as needed with some seasoning – I add lemon pepper.
Sour cream or table cream can be added to each bowl but I prefer it untouched!
Contributed by Marjory Sutherland, Chemainus. BC
**********************************************************
TUSCAN MINESTRONE SOUP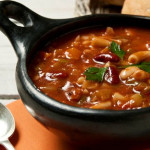 1 cup dried cannelli ( white kidney) beans (if you can't find dried cannelli beans you can sub great white northern beans or 1-540 ml tin canned white kidney beans [if using canned, skip the soaking and boiling of beans & drain and rinse]
4 cups cavolo nero ( tuscan kale) or scotch kale
1/4 medium white cauliflower
2 medium zucchinis
2 medium leeks
1 medium onion
2 medium potatoes
2 medium carrots
2 stalks celery, with leaves
2 cloves garlic, finely chopped
2 Tbsp tomato paste
1 tsp Tuscan mixed spices or equal parts ground cloves,nutmeg,hot pepper flakes, coriander and curry (I make up a bottle of this spice mix by using 1 tsp of each, and I have it for the next 4 times I make the soup)
Salt (if using canned beans omit the salt)
Freshly ground black pepper
Soak beans for 12 hours. Drain and rinse. Place beans in a large pot with 8 cups water and bring to boil. Reduce to simmer and cook covered for 2 hours or until beans are tender. Cut vegetables into equal sized pieces. Add them with garlic, tomato paste and spices to beans (if using canned beans, add vegetables to 8 cups water). Cook covered at low boil for 30 minutes stirring occasionally (if using canned beans add now) and cook covered for another 30 minutes. Add salt & pepper.
Serve hot with some freshly grated parmesan & a drizzle of extra virgin olive oil (toppings optional). Great with Rosemary and Olive Focaccia bread.
Contributed by Connie Grinnell
Nanaimo, BC.
******************************************
Chocolate Chia Pudding
This delicious treat is actually good for you because it's made with protein, iron and fibre-rich chia seeds. The result is a gelatinous or pudding-like consistency similar to tapioca pudding.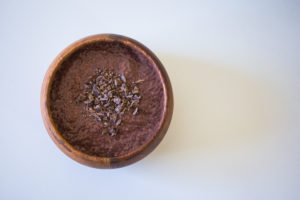 Ingredients:
3 TBSP       chia seeds
1 cup           milk (dairy, plant-based alternative, even canned coconut milk)
1 TBSP       cocoa powder
1.5 tsp         sugar
Directions:
Combine all ingredients in a container with a lid.
Stir well to thoroughly combine.
Leave at room temperature for 30 minutes to allow gel to start.
Refrigerate overnight.
Enjoy!
Kristen Yarker, MSc, RD.
Dietitian. Speaker. Writer.
www.KristenYarker.com
*************************************************************
Raspberry Bars.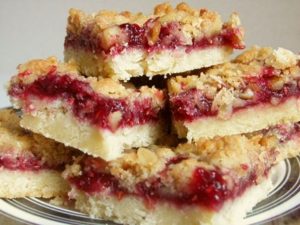 Ingredients.
Base.
1 c. of flour
1tsp of baking powder
1/2 butter
1 pinch of salt
1tbsp of milk
1 egg beaten with the milk.
Topping.
1 egg beaten
1 cup of sugar
At least 1/4 cup of butter
1 tsp vanilla
2 cups of coconut.
Instructions.
Base.
Sift the flour, salt and baking powder. Rub in the butter. Add the milk and the egg. Press into an 8″ x 8″ pan and spread with raspberry jam. (or blackberry jam).
Topping.
Beat the egg, butter and sugar. Add the vanilla and coconut.
Spread on top of the jam. Back at 325 degrees F. for 30 minutes.
This is a family favourite of Janice Grennell.
Cedar Women's Institute.
*************************************************
Rice krispie squares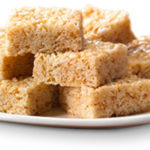 INGREDIENTS
50 ml or 1/4 cup margarine or butter
1.25 L or 5 cups miniature or 40 regular (250 g pkg) marshmallows
2 ml or 1/2 tsp vanilla extract (optional)
1.5 L or 6 Cups of Rice Krispies cereal
DIRECTIONS
Stove Top Directions:
1. In large saucepan over low heat, melt margarine. Add marshmallows; stir until melted and well blended. Remove from heat.
2. Stir in vanilla. Add cereal, stirring until coated.
3. Using lightly buttered spatula, press into buttered 3.5L (13 x 9″) pan. Cool. Cut into bars.
Microwave Directions:
In large microwaveable bowl, microwave margarine on HIGH (100%) 30-60 seconds or until melted. Add marshmallows, tossing to coat. Microwave on HIGH (100%) 1 – 1 1/2 minutes or until smooth when stirred, stirring after 45 seconds. Follow steps 2 and 3 above.
Cooking times are for 700 watt microwaves; increase by 15-30 seconds for lower wattage ovens.
YIELD: 24 bars
When it's too hot to bake you can always get them at the Women's Institute stall at the Cedar Farmer's Market.
Trish Summerhayes. Publisher.

*****************************************************
Oma's Pflaumen Kuchen
Granny's Plum Slice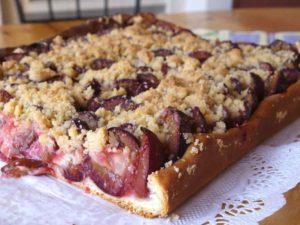 This is one of my summer favourites, my Grans used to have a farm and we had an Orchard, including plum trees.  Oma used to make a plum cake baked in a tray from the first batch that we pulled off of the trees, it's the best – Oma's baking always was.
This particular sheet cake is not sickening sweet, it preserves the tartness of the plums and the dough in rather dense. You can add ground filberg nut flour to give it that special nutty touch
You will need:
250gr. Unsalted butter
200gr. Sugar
2 eggs
1 lemon zested
3ml Vanilla Pure
Nutmeg, pinch
Streusel:
40gr brown sugar
25gr flour
20gr Butter
Pinch of Cinnamon and Nutmeg to taste. Combine all and work till lumpy streusel crumbs form
425 gr sifted all purpose flour
20gr. Baking powder
Cream Butter & Sugar until light and fluffy
Slowly add eggs, vanilla and lemon zest
Now add Flour and Baking powder.
Spread this on a greased and sugared baking tray evenly,
12 plums, pitted, cut into wedges
Set plum wedges tightly in rows – slightly pressed into the dough.
Sprinkle with Streusel topping and bake at 350F / 175 C for about 40 minutes
Serve warm with Ice Cream or Whipped Cream
(You can use this base for  Apples, Apricots, Cherries, Peaches etc)
Recipe by Norman Mueller.
Chemainus, BC.
*************************************************************

Add a slice of summer fun with fresh fruit pizza.
When I saw this fresh fruit pizza recipe I immediately thought of a dear friend of mine who made fruit pizzas. Linda's pizza was much more basic. She would use pizza dough and whatever fruit she had available in the garden, apples, pears or berries. The fruit would simply be sliced, put on the pizza dough and put in the oven until the dough was cooked. Happy memories from a country garden and kitchen.
Trish Summerhayes. Publisher Island Woman.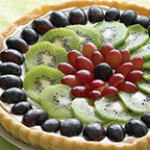 When it comes to summer desserts, if you want to really razzle dazzle guests at your next party, think pizza − fruit pizza, that is. Kids and adults alike are wowed by this special dessert. And it couldn't be simpler to make.
Using a sugar cookie base, spread with a cream cheese-sour cream topping, arrange colourful red and black grapes, along with kiwi slices, in a pretty pattern. To serve, slice it just as you would a regular pizza. If you want to add extra fun to your party, make several small personal-size pizzas and let kids get creative with their own designs using the grapes and kiwi. Don't be surprised if adults decide to jump in and decorate their own pizzas, too. After all, who wants to miss out on summer fun?
Fresh Fruit Pizza Tart
Makes 10 servings
16.5 ounce roll refrigerated sugar cookie dough
4 ounces nonfat cream cheese, softened
1/4 cup low-fat sour cream
3 tablespoons granulated sugar
1 tablespoon lemon juice
1 1/4 cups black California grapes
1/2 cup red California grapes
2 kiwifruit, pared and sliced
Heat oven to 350 degrees F. Pat cookie dough into the bottom of a greased 10-inch tart pan. Bake for 10-12 minutes or until lightly browned. Cool completely.
In electric mixer, beat cream cheese and sour cream. Gradually add sugar; beat until completely mixed and fluffy. Spread mixture over entire surface of each pan of baked cookie dough.
Arrange grapes and other fruit as desired, covering entire surface with fruit; press gently. Refrigerate until chilled.
Nutrition information per serving: Calories 275 calories; Protein 4 g; Carbohydrate 41 g; Fat 11 g (35 percent calories from fat); Saturated Fat 3 g (10 percent calories from saturated fat); Cholesterol 20 mg; Sodium 214 mg; Fibre <1 g.
www.newscanada.com
***********************************

Saskatoon Berry Muffins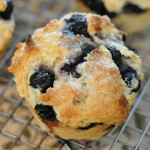 ½ cup rolled oats (quick cooking style)             
¼ teaspoon salt
½ cup orange juice                                          
¼ teaspoon baking soda
1 ½ cups flour                                                 
½ cup oil (canola)
½ cup sugar                                                    
1 egg
1 tablespoon ground flax                                  
1 to 1 ½ cup Saskatoons
1 ¼ teaspoon baking powder                            
1 teaspoon cinnamon
Preheat oven to 375 F. Mix dry ingredients together. Beat oil and egg together, add orange juice and Saskatoon berries. Pour liquid mixture into the dry ingredients and carefully fold together, try not to over mix. Spoon batter into muffin pan. Sprinkle with cinnamon. Bake for 15 or 20 minutes. Makes about 12 muffins.
Submitted by South Island Saskatoons
http://www.southislandsaskatoons.com/
*******************************
Black Forest Cake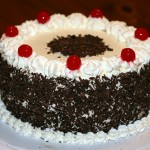 1 chocolate cake mix – (I usually use Duncan Hines Swiss Chocolate, but for the last one I could only find a Duncan Hines Red Chocolate)
1 large package instant chocolate pudding mix
4 eggs
1/2 cup oil
3/4 cup water
2 teaspoons rum flavouring
1 teaspoon almond flavouring
1 can cherry pie filling
1 container Cool Whip
************** 
Blend cake mix, pudding mix, eggs, oil, water, rum and almond flavouring together. Bake in three layers for approximately 30 – 35 minutes.
When cake is cool, use cherry pie filling in stacking the three layers. Ice with the cool whip and refrigerate.
Submitted by Ruth Fenner.
Somenos women's institute.
********************************************
Banana & Berry Bomb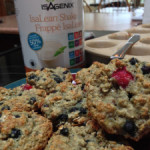 Lunches are hard enough to make appealing let alone be nutritional. Variety is key to keeping kids interested and committed to eating well. Skip the sandwich from time to time and throw in a treat that's both satisfying and healthy. I am not a huge believer in tricking young eaters by slipping wholesome ingredients into a recipe to ensure they get their daily dose of the good stuff but with this gem, don't have to.  It's packed full of wholesome ingredients. Moist, hearty and delicious, these muffins are 'dynamite' for the appetite 
1 Cup Quick Cooking Oats
½ Cup all-purpose flour & whole-wheat flour
¼ Wheat germ
  -or-
Switch out flour and wheat germ for gluten free or rice flour. 
2 Tbsp Flaxmeal
*1 scoop Whey Protein Powder
1 ½ tsp baking powder
1 tsp baking soda
¼ tsp sea salt (Pink Himalayan is the healthiest)
½ Cup Agave Nectar (or less to reduce sweetness)
1 ½ mashed ripe bananas
2 egg whites (can be omitted if egg allergy)
¼ Cup butter melted (replace with coconut oil for healthier option)
1 Cup fresh or frozen berries – raspberry, blueberry, cranberries or any combination
*For the added benefit of protein, I use my favourite and by far the best whey on the market today, Isalean French Vanilla by IsagenixÓ.
Reduce flour by 1 -2 Tbsp if opting for whey.
Preheat oven 375.  Combine all dry ingredients in a large bowl.
In small bowl whisk together bananas, egg whites, and melted butter until smooth. Add to dry mix. Fold in berries.
Spray or grease muffin tin or use paper liners. Divide batter evenly into muffin cups. (Note –  these are filing so make small for the littler appetites in your family).
Bake 20 – 22 min or until toothpick comes out clean.
A recipe submitted by Mary Lee from Courtenay.
************************************************
UNBAKED CHOCOLATE CAKE.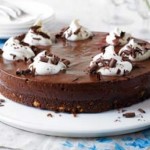 1/2 c. Butter.
1 egg beaten.
1/2 c. sugar.
1/2 c. walnuts or almonds.
2 tbs cocoa.
1 tsp vanilla
1/2 lb. graham crackers or any sweat cookis.
Melt butter in a saucepan, add sugar, cocoa & egg; stir & bring to a boil for 1 minute. Add cookies & nuts. Press into a well greased dish. Press down with a spoon.
DO NOT BAKE.
Can be iced with chocolate icing and sprinkled with chopped nuts or just as good plain.
When cold cut into squares.
A recipe submitted by Bess Harvey, Chemainus.
********************************************************
ONE CUP OF EVERYTHING COOKIES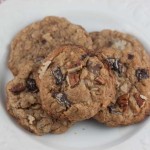 1 c. margarine
1 c. brown Sugar
1 c. white sugar
3 eggs
1 c. peanut butter
1 c. coconut
1 c. chocolate chips
1 c. flour
1 tbsp. baking soda (so we lied)
1 c. oatmeal
1 c. raisins
1 c. pecans, chopped.
Preheat oven to 350'. Beat margarine, both sugars, eggs and peanut butter until creamy. Add remaining ingredients and mix well. Drop by spoonful on cookie sheet and bake for 10 mins. Makes 9 dozen. [May modify by using ¾ cup of each sugar, and almonds instead of pecans].
A recipe from Pender Island, submitted by Connie Aucthelonie.
******************************************************
ROSEMARY AND OLIVE FOCACCIA BREAD
This recipe comes from the Harrowsmith Magazine, the adaptions for the bread machine are mine.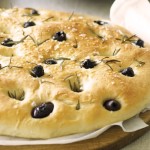 3/4 to 1 cup water
1 tablespoon fresh Rosemary, chopped
1/2 teaspoon sugar [for bread machine -use 1 tsp]
1 tablespoon active dry yeast [for bread machine -use 2 1/4 tsp bread machine yeast]
2 1/2 cups all purpose flour
1 teaspoon salt
1/8 teaspoon freshly gound pepper
2 tablespoons olive oil
3 tablespoons black kalamata olives, chopped
1 tablespoon olive oil
2 tablespoons fresh Rosemary, chopped
1 teaspoon fresh garlic, minced
1/8 teaspoon dried crushed red chili peppers
Pinch coarse (Kosher) salt
Bring water to boil and pour over 1 tablespoon chopped rosemary.Cool to lukewarm and strain. Discard the rosemary and reserve the water. Pour the rosemary water into a large bowl, stir in the sugar and sprinkle yeast on top. Let stand until yeast is frothy, 5 to 10 minutes. Add flour, 1 teaspoon salt, black pepper and 2 tablespoons olive oil. Mix well. [If using bread machine place rosemary water, oil, sugar and salt in bread machine bowl, then add flour, then black pepper and bread machine yeast. Select dough cycle.]
Turn dough out onto lightly floured board and knead for 4 minutes . Add chopped olives. Knead 5 minutes longer, or until smooth and elastic. [For bread machine, add olives at the addition stage in the bread cycle according to machine directions.] Place the dough in a large slightly oiled bowl. Cover with plastic wrap and a damp towel. Leave to rise in a warm place until doubled in bulk about 1 1/2 to 2 hours. [If using bread machine, remove dough from machine once the dough cycle is finished and proceed with recipe as per regular recipe].
Punch down the dough on a lightly greased baking sheet and shape dough into large bowl. Use a rolling pin to roll out dough to 2 inch thickness on baking sheet. Let rise again for 30 minutes. Preheat oven to 375F. When the dough has risen lightly, dimple the dough with the end of a wooden spoon that has been lightly floured. Brush the top with 1 tbsp olive oil. Sprinkle with 2 tbsp fresh rosemary, minced garlic, crushed red chili peppers and a light pinch of coarse salt.
Bake bread 25 to 30 minutes or until golden brown around the sides. It is great with basalmic vinegar & olive oil and is delicious with Tuscan Minestrone Soup.
Contributed by Connie Grinnell,
Nanaimo
Return to the top of the page. 
Lunches and Suppers
Chicken Liver Salad with Lemon Dressing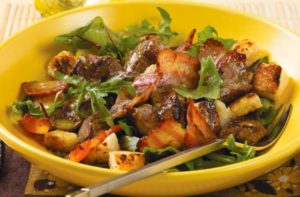 Ingredients.
4 Cups local mix lettuce leaves or baby greens
4 slices of home curd bacon ( available at Cedar Farmers Market)
500g of Chicken Livers
1 ml of wizards Choice spice ( Fat Chili Farm )
375ml of sliced mushrooms
 
Lemon Dressing:
10 ml of Lemon zest
50ml Lemon Juice
5ml fresh thyme
125ml extra virgin olive oil
 
Method
In small bowl stir together all Dressing ingredients except oil. Gradually add oil in a thin stream, while whisking constantly. Set aside.
Place lettuce in large bowl.
Cook bacon in medium frying pan over medium heat until crisp. Crumble Bacon, set aside.
Drain fat from frying pan leaving 15ml.
Add Chicken livers cooking at medium heat about 10 mins, stirring constantly.
Add the spice from Wizards Choice, remove from frying pan, keep warm.
To same skillet add mushrooms, Cook 5 minutes, Add to livers.
Pour half of Lemon Dressing over Chicken Livers and Mushrooms, toss lightly. Pour remaining Dressing over lettuce and toss.
 
Divide lettuce among 4 salad plates. Top with Chicken Livers and Mushrooms.
 
Sprinkle with Crumbled bacon and serve.
Submitted by Betty Benson, Cedar Valley Poultry Farm.
We welcome all people to our Farm 2409 Yellowpoint Rd. Nanaimo BC V9X 1W5.
250-714-8309 – 250-723-3526 – gb_benson@hotmail.com
***************************************************************
One Pot Wonders: Spring Chicken
I love to cook a nice meal but I don't love to do the dishes. That is why I marvel at the one pot recipes that can impress the best of us. I found this wonderful recipe book beautifully written recipes by Joanna Farrow from England, at a garage sale here in Victoria; and to my delight it was full of one pot wonders. The beautiful pictures displayed lots of rabbit, pigeon, quale and hen dishes. Perhaps a bit too much old country to start of with; I'd thought I better start with something that is readily available from our local grocery store offerings. The following recipe is a lovely chicken with spring vegetables.
As a registered dietitian I could not help myself so I took the liberty to edit the recipe to make sure it is nutritionally balanced. 
Serves 4 people.
Preparation time: 10 minutes, Cook time 1 ¼ hour
You will need:
A large sauce pan or stock pot.
1 whole chicken (about 1.2 kg)
1 ½ liter chicken stock (choose one with your desired level of sodium, I personally use low sodium)
2 shallots, halved (may be substituted with sweet onion)
2 garlic cloves, peeled and halved
1 tbsp parsley, fresh, chopped
2 sprigs of fresh thyme
½ tsp of marjoram, dried
2 carrots, halved
1 leek, trimmed, cleaned and sliced
4 sprigs of broccolini (or broccoli florets)
8 asparagus spears, trimmed (break off the woody piece at the stem)
2 cups of small baby red potatoes with skin, halved (small potatoes)
Rub the chicken with the marjoram. Leave on the skin until cooked, it helps make the chicken juicy and tender. Place the chicken into a large saucepan and pour in enough stock to cover the chicken. Place the carrots, leek, onion and baby red potatoes along side the chicken in the broth. Lay the thyme sprigs on top. Bring to a boil. Reduce the heat and simmer for 1 hour until the chicken is so tender it falls away from the bones. Add the broccolini and asparagus and simmer for another 6 minutes or until the veggies are cooked. Stir in the parsley before serving. Remove the skin if preferred. Serve in deep bowls with a few spoonfuls of broth.
Health Tips:
If you are on a gluten free diet, please make sure your chicken broth is gluten free.
If you are on a Low Sodium diet, please use a low sodium or no salt added broth. Note that "reduced sodium" does not mean low sodium, it is an advertisement tactic.
If you have any questions regarding this recipe, or any other nutrition related questions or comments, please contact me: –
Jenneke van Hemert, Registered Dietitian.
 https://therapeuticmeals.com/pages/contact-us or check out my blog at https://therapeuticmeals.com/blogs/news
***************************************************
Halibut Fish Tacos
Serves 4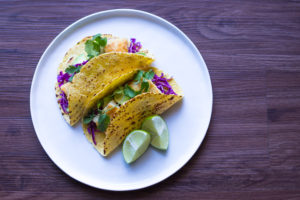 Yippee, it's halibut season! This is a very simple fish taco recipe. It's perfect for halibut. You can also substitute other white fish, even salmon.
Red cabbage is especially nice in this recipe. To make this recipe even easier, use pre-shredded coleslaw cabbage from the bagged salad section of the grocery store. If you like a little more creaminess, toss the cabbage in a ranch dressing or an Asian vinaigrette.
Ingredients.
2 avocados
2 tablespoons lime juice
1 pound firm white fish, such as halibut, cut into 2-inch chunks
1/4 cup flour
1/2 teaspoon salt
Pepper
1/4 cup oil for frying
2 cups cabbage, shredded or finely sliced
1/2 teaspoon salt and pepper
4 (8 inch) flour or corn tortillas
Cilantro (optional)
Salad dressing e.g. ranch or Asian vinaigrette
Directions
Cut avocados in half, remove pit, and peel. Cut in chunks and sprinkle with lime juice. Set aside. In medium bowl toss shredded cabbage with dressing, salt and pepper. Set aside.
Mix flour, salt and pepper in a deep plate with a fork. Dredge fish pieces in mixture. In large skillet over medium high heat, heat oil. Add fish, cook until nicely browned on all sides.
Divide cabbage mixture between tortillas. Top with fish, avocado and garnish with cilantro and additional lime or lemon slices.
Note: This recipe can be made gluten-free by substituting a gluten-free flour for dredging the fish and using corn tortillas.
Kristen Yarker, MSc, RD.
Dietitian. Speaker. Writer.
www.KristenYarker.com
************************************************
Mediterranean Chicken Pasta
Prep: 10 mins
Total Time: 25 mins
Servings: 2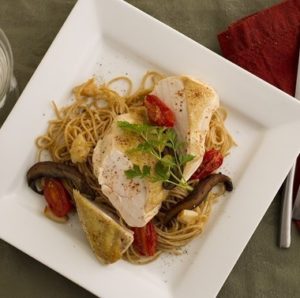 INGREDIENTS:
2 Island Farmhouse boneless skinless chicken breasts
2 tsp olive oil, divided
1 tsp mayonnaise
1/3 c. finely grated parmesan cheese, divided
175 g dry spaghetti or linguine
10 grape tomatoes, halved
2 Portobello mushrooms
1/3 c. marinated artichokes, roughly chopped
2 tbsp butter
2 cloves garlic, crushed
1 tsp balsamic vinegar
Salt and pepper, to taste
Fresh parsley, to taste
DIRECTIONS:
Preheat oven to 375ºF. Season chicken liberally with salt and pepper. Sear on both sides in medium skillet with 1 tsp oil. Meanwhile, remove stem from mushrooms and slice thinly. Transfer chicken to rimmed baking sheet covered with parchment. Divide mayonnaise between the two breasts and spread evenly over top. Sprinkle with 1 Tbsp parmesan on each. In small bowl, toss tomatoes and mushroom slices with remaining 1 tsp oil. Transfer to baking sheet, away from chicken. Bake for 15 to 20 minutes, until chicken is cooked through and vegetables are wilted.
While chicken is baking, cook pasta in boiling salted water and drain. Add butter to skillet used to sear chicken and cook over medium heat until lightly browned and foaming has subsided. Lower heat and add crushed garlic. Cook for 30 seconds, stirring constantly. Add balsamic, then pasta and toss to coat. Add roasted vegetables, artichokes, remaining parmesan and chopped fresh parsley, if desired. Season with salt and pepper to taste.
Farmhouse Poultry,
Vancouver Island.
www.farmhousepoulry.ca
************************************************
Grilled Chicken with BC Peaches (or Nectarines) and Berry Salsa
This is a great summer time recipe when peaches and Nectarines are amazing. For a taste of summer in the winter you can use canned BC peaches and frozen blueberries.

Ingredients.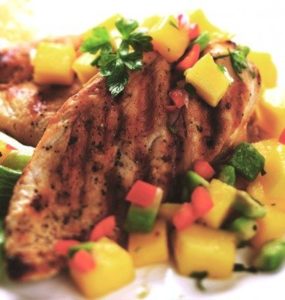 6 Island Farmhouse chicken breasts, boneless, skinless
2 Tablespoons of Olive Oil
Juice of one lemon
Salt and Pepper
Salsa
3 fresh peaches or nectarines
1/2 cup fresh blue berries (or cherries pitted and halved)
Juice of one lime (depending on the lime you might need two)
1 fresh jalepeno pepper
1 small red onion
1/2 cup cilantro
1 tablespoon sugar
1 teaspoon salt
Directions.
Peel and roughly chop peaches (about thumb tip size) place in large bowl. Add chopped red onion, finely minced jalapeno (seeds removed) and chopped cilantro, lime juice, sugar and salt. Mix well and add berries and set aside (you can make this a couple of hours ahead of time if you like).
Preheat BBQ. Toss chicken, oil, lemon and salt and pepper in a bowl. Grill chicken until cooked through and arrange on a serving platter in a flower pattern and spoon salsa in the centre. Garnish with cilantro.
Farmhouse Poultry,
Vancouver Island.
www.farmhousepoulry.ca
*******************************************
Grilled Chicken with Blackberry Sauce
One thing we have a lot of on Vancouver Island is blackberries! You can also use frozen blackberries.
INGREDIENTS: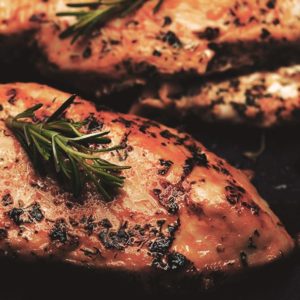 6 Island Farmhouse chicken breasts, boneless, skinless
2 Tablespoons of Olive Oil
Juice of one lemon
Salt and Pepper
1 1/2 cups blackberries
1 tablespoon butter
1/2 cup onion
1/2 cup dry red wine
1 tablespoon lemon juice
3 to 4 tablespoons blackberry jam, seedless
1/4 teaspoon pepper
1/4 teaspoon salt
whole blackberries for garnish
DIRECTIONS:
Press blackberries through sieve to remove seeds and place in small bowl. Heat butter in a small sauté pan or saucepan over medium-low heat. Add onions finely chopped onions and cook until tender.
Add the red wine and lemon juice. Bring to a boil; lower heat and simmer until reduced by about 1/2. Combine the blackberry pulp, jam or preserves, pepper, and salt; add to the wine mixture. Bring to a boil; reduce heat and simmer for 5 minutes.
Makes about 1 cup.
Preheat BBQ. Toss chicken, oil, lemon and salt and pepper in a bowl. Grill chicken until cooked through and arrange on a serving platter, spoon on blackberry sauce and garnish with whole blackberries.
Farmhouse Poultry,
Vancouver Island.
www.farmhousepoulry.ca
*************************************************
How big a turkey do I need anyway?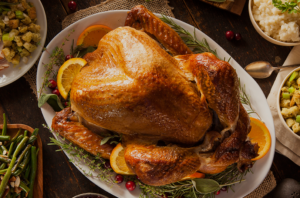 If you are wondering how big a turkey you need for your holiday gathering, you're not alone. This is a very common question among our customers.
Here's a quick calculation to help you estimate the right size bird…
When roasting a stuffed turkey, allow ½ to ¾ of a pound of whole fresh turkey per serving (not per person). Remember, Uncle Bob likes "seconds" and everyone loves leftovers for hot turkey sandwiches, turkey noodle soup, and turkey pot pies.
Courtesy of Springford Farm http://www.springfordfarm.com
*************************************
How to prepare and cook a turkey, courtesy of the The British Columbia Turkey Marketing Board and the B.C. Turkey Association.  http://bc.canadianturkey.ca/prep
**********************************************************

Baja Black Beans.
This is a favourite of mine from my cousin Vickie Bellingham.
Thank you Vickie.
Trish Summerhayes. Publisher Island Woman.
Ingredients.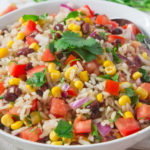 4 cups of black beans soaked overnight.
1/2 bunch cilantro, coarsely chopped.
1 TBS cumin seed.
2 TBS pure chilli powder.
1 TBS dried oregano.
6 cloves of garlic, peeled & chopped.
1 yellow onion, chopped.
1 TBS salt?
2 TBS chipotle puree
1/2 cup brown sugar
1 51/2 oz can of tomato paste.
1/3 cup vinegar.
Instructions.
In a large pot place the soaked beans, cilantro, cumin, chili powder, oregano, garlic and onion.
Cover with water by one inch.
Bring to a boil, reduce heat and simmer until the beans are tender, (about an hour).
Add more water to keep the beans covered if necessary.
Add 2 TSP of salt in the final 15 minutes of cooking.
Pre heat the oven to 350F.
Stir the remaining ingredients into the pot. Taste the sauce and season if necessary.
Ladle into a Dutch oven placed on a baking tray to catch any spills.
Cover and bake.
After one hour uncover check the liquid content. If it is very runny leave to bake 15 minutes longer or until desired consistency.
Let rest for 10 minutes before serving.
*******************************************************

Miso Marinated Ling Cod & Spiced Vegetable Couscous for 4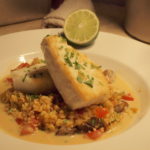 Ingredients
900gr Fresh Ling Cod filet
2 limes
250gr. den Miso paste
90gr granulated sugar
150ml mirin
150gr Couscous, cooked
1 Lemon/ juice
1 red onion, finely diced
1bnch Spring onions, sliced
1 medium tomato, seeded & diced
half a Zucchini, diced
1 Red Pepper, seeded & diced
Arugula as desired
Cumin to taste
Coriander to taste
Ancho Chile to taste
Salt & Pepper to taste
Cilantro for garnish
Preparation 
Start with marinating the Cod, mix the Mirin, Sugar and Miso paste and heat it up in a double boiler, meaning bowl sitting on a pot of simmering water heating the mix by the steam that generates. Do not boil this mix, what you want is the sugar to melt and mix with the miso and mirin., 90C works well.
Let this cool down and reserve a little bit of marinade for a drizzle later. Pour the remaining mix over the cod mixing that well, leave the fish to marinate for 24-36 hrs in the fridge. Yes that's a long time but it's worth it.
Once the fish is marinated it gets really easy & fast,
Preheat oven to 200C, place Cod filets on a baking sheet, use parchment paper the sugar in the marinade that runs off the fillet caramelizes and may burn, the clean up becomes a chore….
Place the cod in the oven for about 8 – 10 minutes depending on the thickness and size of the fish.
Heat a non-stick frying pan medium to high, Olive oil or any other oil / fat, add all the ingredients except the couscous, sauté till just cooked, season, mix, then add the cooked Couscous and mix well, squeeze of lemon juice, take off the heat season again to taste. The Couscous isn't meant to be hot just mixed well.
To Serve,
I recommend a large bowl, place the Couscous in the center, Cod on top of couscous, half the limes on an angle and cut ends off so they stand place a half on the plate rim.
Drizzle the reserved Miso glaze around the Couscous, Cilantro on top of fish and serve – dinner is readyJ
Recipe by Norman Mueller.
Chemainus, BC.
******************************************
Star Anise-Ginger Braised Whole Chicken Recipe
I have used this recipe having discovered it in a  Mother Earth magazine.   It is simple to prepare and cook. The texture and taste of the chicken is so good.
Trish Summerhayes.
Owner/publisher Island Woman.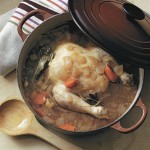 I often wonder why people cook chicken by any other method than this traditional Chinese one, technically a poach-braise. It delivers beautifully tender meat—and it couldn't be easier. Simply put a chicken in a pot with stock and flavorings, simmer it until it's partially cooked, then remove it from the heat. The bird finishes cooking in the hot liquid and emerges perfectly done. The chicken's almost fat-free, having left most of its fat in the stock. Serve with crusty bread.
Photo By Antonis Achilleos.
Ingredients.
4 celery stalks, cut into 1/2-inch pieces
• 2 large carrots, peeled and roll-cut into 1/2-inch pieces, or cut conventionally
• 2 large onions, cut into 1/2-inch dice
• 1 teaspoon black peppercorns
• 2 bay leaves • 2 sprigs fresh thyme
• 1/4 bunch fresh flat-leaf parsley • 2 star anise
• 2 tablespoons minced ginger
• 1/2 cup naturally brewed soy or wheat-free tamari sauce
• 2 quarts fresh chicken or vegetable stock or low-sodium canned broth, plus extra, if needed • Kosher salt and fresh black pepper
• One 5- to 6-pound whole chicken, wing tips folded over the back
Preparation.
In a stockpot or large Dutch oven, combine celery, carrots, onions, peppercorns, bay, thyme, parsley, star anise, ginger and soy sauce. Add stock. Season with salt and pepper.
Season chicken inside and out with salt and pepper. Add chicken to the pot breast side up. It should be completely covered with stock, but if not, add more.
      3.  Cover and bring just to a simmer over medium-high heat. Reduce heat to low and barely simmer for 45 minutes. Turn off heat and let pot stand, covered, 30 minutes to 1 hour (the chicken won't cook further after 30 minutes). Remove chicken and strain broth, reserving vegetables. Carve chicken and serve with vegetables and bowls of broth. Star Anise-Ginger Braised Whole Chicken serves 4.
*****************************************************
Making Sauerkraut the easy way (in a quart jar).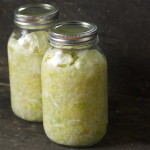 Fermented foods such as sauerkraut are making a comeback due to the great health benefits they offer and the ease in which most of them can be done. It seems once again something that what has been known for generations is proving correct. Grandma really did know what she was talking about.
Sauerkraut is basically cabbage and salt that has been pickled together through the fermenting process and not cooked. Most of types in the grocery stores have been cooked to give them a longer shelf life. This heating process destroys much of the good bacteria and probiotics in sauerkraut.
The benefits of of Sauerkrauts.
The process of fermentation preserves the food while also making beneficial enzymes and various forms of probiotics.
Sauerkraut is ranked as one of the highest forms of probiotics you can eat.
probiotics are beneficial bacteria, which we need in our system. They have been shown to improve digestion, help in the absorption of food and improve bowel health.
It provides C, B and K vitamins.
It is low in calories and a good source of fibre.
Helps the immune system fight infections.
Very Budget Friendly in this time of rising food prices.  
Recipe: – 
Ingredients: –
1 medium size head of cabbage (I found this makes 2 quart jars)
1 1/2 tablespoons of pickling salt.
Caraway seeds (optional).
Instructions: – 
Slice cabbage – Discard the outer leaves, cut the cabbage into quarters and discard the core. Thinly cut the cabbage and chop into the size you prefer.
Combine cabbage and salt – put the cabbage into a large bowl and sprinkle with the salt. Use your hands to work the salt into the cabbage, squeezing the cabbage as you go. I leave this for about one hour, mixing and squeezing as I go. The cabbage will start to wilt and become watery. If you want to add the caraway seeds do so.
Pack the cabbage tightly into jars pushing it down as you do so. Pour any liquids left in the bowl into the jars.
Cover the jars – I use clean dishcloths or cheese cloth kept in place with elastic bands. Once it is finished and goes into the fridge I cover with saran wrap or metal lids.
Over the next 24 hours press the cabbage to be sure that there is liquid covering the cabbage. If after 24 hours there is not enough liquid dissolve 1 teaspoon of alt in a cup of water to top up the jars.
Ferment for between 3 to 10 days. Keep away from direct sunlight and in a cool place. A pantry or dark cupboard works fine. Check it dailt to make sure the cabbage is not floating above the liquid.
It's done when it tastes good to you! It can be kept in the fridge for at least 2 months.

 What can go wrong? – Not much. You might find that some scum that floats above the cabbage, just scop that out. If the fermentation process is really and your jars are too full it may bubble over.

Homemade sauerkraut is nothing like you buy in the stores, it is crunchy and slightly sour, goes great with many foods. Enjoy.  
Recipe from the B.C. Women's Institute Annual General meeting report book.
***************************************************
Gourmet Fish Tacos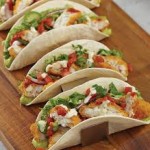 Ingredients
1/2 cup of Rocky Creek wine
1/2 cup of chicken stock
2 tbsp olive oil
2 garlic cloves – crushed
1 jalapeno – crushed
1 red onion, finely chopped
2 large tomatoes
1/2 tsp ground cumin
1 1/2 boneless, skinned fish – halibut preferred
3/4 cup sour cream
1 juice from lime
1/2 cup fresh cilantro
1/4 head of lettuce
dash of sea salt and ground pepper
12 tortilla – prefer hard
Instructions
Add olive oil to the pan. Fry the onions, garlic and cumin until soft
Add tomatoes, stock and wine. Cook for another 10 minutes.
Season the fish with salt and pepper. Chop the fish while the tomatoes are cooking and add the fish to the sauce.
Simmer until the fish starts to flake. Use a slotted spoon to remove the fish and vegetables from the sauce.
Set aside and leave only the stock and then reduce until there is a couple of tablespoonful.
Add the broth to the sour cream.
Serve in the shells with the lettuce and fresh cilantro. Don't need salsa because of the sauce.
*******************************************************
Mushroom curry.
I was listening Cheryl MacKay on CBC's North by Northwest this morning as she interviewed Madhur Jaffrey about her latest cook book. It was really entertaining as Madhur described how to cook a mushroom curry. 
Trish Summerhayes.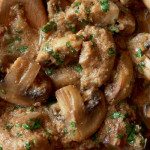 I have used ordinary white mushrooms here but you may make this with almost any seasonal mushrooms. Whichever kind you get, cut them into large, chunky pieces so they do not get lost in the sauce.
 
Serves 4
Ingredients. 4cm (1½in) piece fresh ginger, peeled and chopped
100g (4oz) onions, peeled and chopped
3 garlic cloves, peeled and chopped
450g (1lb) large mushrooms
6 tablespoons vegetable oil
3 tablespoons natural yoghurt
1 teaspoon tomato purée
2 teaspoons ground coriander
¼ teaspoon salt
1⁄8–¼ teaspoon chilli powder
2 tablespoons chopped green coriander
Step One
Put the ginger, onion and garlic into the container of an electric blender along with 3 tablespoons water and blend until smooth. Wipe the mushrooms with a damp cloth and cut them into halves or quarters, depending upon size.
Step Two
Put 3 tablespoons of the oil in a non-stick frying pan and set over high heat.When hot, put in the mushrooms. Stir and fry for 2–3 minutes or until the mushrooms have lost their raw look. Empty the contents of the pan into a bowl.Wipe the pan.
Step Three
Put the remaining oil into the pan and set over high heat. When hot, add the paste from the blender. Stir and fry for 3–4 minutes until it starts turning brown. Add 1 tablespoon of the yoghurt and fry for 30 seconds. Add another tablespoon of the yoghurt and fry for 30 seconds. Do this a third time. Now add the tomato purée and fry for 30 seconds. Add the ground coriander and stir once or twice. Now put in 300ml (10fl oz) water, the mushrooms and their juices, salt and chilli powder. Stir and bring to a simmer.
Turn the heat to low and simmer for 5 minutes.
Sprinkle the green coriander over the top before serving.
****************************************************
Couscous Salad with Apricots and Oranges
Serves 6-8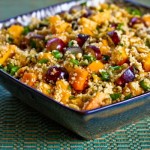 This salad is flavourful, refreshing and nutritious.
Salad Base
1/2 cup dried apricots, cut into small pieces
1/2 cup raisins
2 cups boiling water
1 cup couscous (instant variety)
1 1/2 cups boiling water
1 tsp. finely grated ginger
1/2 cup toasted almonds, chopped
1/2 cup dried orange segments
Dressing
2 tbsp orange juice concentrate
1 tbsp lemon juice
1/3 cup extra virgin olive oil
1 tsp grated fresh orange peel
1/2 tsp cinnamon
**********************************************
Casey's Zesty Halibut Tacos & Killer Guacamole!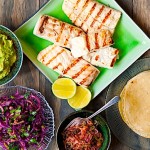 Nom, noms! And hey, you can have the popsicles as a palate cleanser first! Yeah!
What you need:
12 small, organic corn tortillas (soft)
3 large, semi-ripe, organic avocados
1 bunch of organic green onions
3 organic roma tomatoes
3 organic limes (zest and juice!)
1 package of sliced, white mushrooms
2 organic red & orange peppers  (finely chopped)
1 medium organic sweet onion (finely chopped)
salt & pepper
1/2 cup of olive oil
red chilies (dried)
Amarna Holistic Centre (AHC) Lime Essential Oil (organic)
Amarna Holistic Centre (AHC) Basil Essential Oil (organic)
low fat sour cream
3 – 6 oz fresh halibut fillets
Create the guacamole!
In a medium mixing bowl, add the three avocados (pitted and skinned). Cut the zested limes in half and squeeze the juice in with the avocados. Add 4 drops of AHC Lime essential oil. With a potato masher, puree these together. Slice and deseed the roma tomatoes. Chop into small cubes and add to avocado mixture. Clean and thinly slice four green onion stalks and add to mixture. Feeling spicy? Add some red chilies (1 tbsp). Combine all ingredients well and try not to eat it all before the tacos are done!
Create the tacos!
Tortillas – Turn your oven temp to warm or 200 degrees. Place the tortilla shells on a baking sheet and warm them in the oven while you are cooking your other goodies!
Casey's Zesty Oil – In a small bowl, combine 1/2 cup of olive oil, zest of three limes, a dash of salt and pepper (you know your limits!) and 8 drops of AHC Lime essential oil. Mix well and set aside.
The Veg – In a medium skillet, add 3 tbsp of my zesty olive oil mixture (see above). Heat at medium, add the sweet onion (chopped). When the onion begins to soften, add in your peppers (red and orange). Mix together and add the sliced mushroom, salt and pepper (to taste), 4 drops of AHC basil essential oil and 1 tbsp of red chilies. Turn temperature to low, cover and allow these to saute.
The Fish – Now, if you BBQ well (I don't), you can baste your halibut fillets with the zesty oil using a silicone pastry brush and BBQ them until they are evenly cooked (must be able to cut into cubes). Personally, I like to do mine in a large skillet. If you are like me, lightly brush your skillet surface with the zesty oil and bring heat to medium. Evenly baste each fillet with the zesty oil and lightly place on skillet surface. Cover with lid for 3 minutes and then reduce heat to low. I find that the fish is nice and juicy when I do it this way! Cut fish into cubes when cooked.
The Finish Line! (Serves 4 – again, just a suggestion…)
On each tortilla, add the veg mixture, then some cubed halibut, a generous glob of guacamole and a wee bit of sour cream. I dare you not to get your face dirty!
Submitted by Casey Mulcaster, RA®, EOT®,Certified Aromatherapy Instructor, Certified Reflexologist, Advanced Sekhem Practitioner
http://www.amarnaholistic.ca/
*******************************************************************
Tandoori Chicken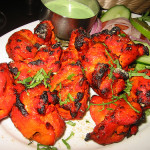 Chicken marinated with yogurt, spices and paprika and cooked on a barbecue.
 
To make the ginger/garlic masala.
Place fresh ginger, garlic and green chillies in a food processor or chopper until the blend is a fine paste.
 Ingredients.
3 teaspoons ginger/garlic masala.
1 teaspoon turmeric powder.   
1⁄2 teaspoon red chilli powder.
2 pounds chicken breasts cut in half.
2 tablespoons cilantro, finely chopped.
Instructions
1. In a large bowl mix together plain yogurt, ginger/garlic  masala, lemon  juice,  dhana jeera  garam masala  salt, turmeric powder, paprika and red  chilli  powder.          
 2. Add large pieces of chicken and coat thoroughly. Cover and marinate for at least two hours.
 3. Barbecue chicken on medium heat and cook for 5 minutes before turning.
4. Baste  chicken with leftover marinade after each turn. Cook chicken    for a further 15 to 20 minutes, turning occasionally, or until chicken is    cooked.
5. Place  cooked chicken pieces on a platter and garnish with chopped    cilantro and lime wedges.
 This recipe was submitted by Daksha of Daksha's Gourmet Spices, Victoria.
Daksha's Gourmet Spices can be purchased online at a many shows and markets on the Island
Daksha has written extensively on the subject. http://spicesgourmet.com/
***************************************
Carrots and Pea Pods in Orange Sauce.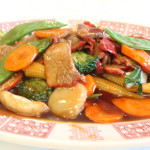 1 cup  sliced carrots     250 ml                                             
2 cups  fresh pea pods   500 ml                                                    
½ teaspoon  finely shredded orange peel   2 ml                        
1/3 cup fresh or unsweetened orange juice  80 ml                      
1 teaspoon     cornstarch  5 ml                                                  
2 teaspoons   soy sauce   10 ml                                                   
************************************* –
In a medium saucepan cook carrots in a small amount of boiling salted water, covered, for 5 minutes. Add pea pods. Cook for 2 to 4 minutes more or till vegetables are tender-crisp. Drain; return to saucepan and keep warm.
Meanwhile, for sauce, in a small saucepan combine orange juice and cornstarch. Cook and stir over medium heat till the mixture is thickened and bubbly. Cook and stir for 2 minutes more. Stir in orange peel and soy sauce. Pour sauce over vegetables. Toss vegetables with sauce.
Makes 4 – ½ cup servings.
Note: This dish goes well with broiled chicken breasts or ham slices.
 Submitted by Ruth Fenner.
Somenos Women's Institute,
****************************************
Herbed Salmon Fillets. Serves 4.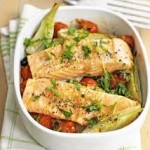 1/2 cup of sour cream
2 tbsp of butter, melted
2tsp minced onion
1!/2 tsp dried dill
1/4 tsp dried thyme
1/4 tsp salt
Fresh ground pepper
1- 11/2 lbs salmon fillets, skin on.
In a small bowl combine the sour cream, butter, onion, dill, thyme, salt and pepper.
Season fillets lightly with salt and pepper and place skin side down in a single layer in a lightly buttered shallow baking dish.
Spread sour cream mixture over the fillets and bake at 425% for about 12 minutes, until the sauce bubbles and fish is opaque. (I prefer 18 minutes but that is just my personal taste).
Moving from the prairies to the west coast in the 70's I began seeking out west coast recipes and this one quickly became a favourite.
Recipe by  Valerie Farrell, Chemainus, BC.
*********************************************************
 
Leek and Ricotta Cheese Pie
Prep Time: 30 minutes             
Cook Time: 60 minutes             
Total Time: 90 minutes
Yield: 4 servings as a main course, or 6 to 8 servings as a side dish.
5 medium leeks 
1 onion, chopped 
2 C uncooked pasta
2 large eggs  
1/2 tsp freshly ground black pepper 
1/4 C fresh dill, or 1/2 tsp dried
3 T unsalted butter
3/4 lb sliced mushrooms 
1 C (1/2 lb) ricotta or farmer's cheese
1 tsp salt or to taste
Fresh-grated nutmeg or 1/2 tsp powdered 
3/4 C grated Gruyere or sharp cheddar
Preheat oven to 375º F. Oil an 8" square baking pan.
Cut and trim leeks. Cut leeks in half lengthwise if necessary first to remove any grit, then cut crosswise into thin slices. You will have about 3-1/2 cups of leek pieces.
Fill a large pan with water and bring to a boil. Cook pasta to 'al dente': drain and set aside. Warm butter in a large pan over medium heat. Add leeks and onion; cook for five minutes. Add mushroom and continue cooking, stirring often until leeks are tender, 10-15 minutes. All the liquid should be evaporated when leeks are ready, if not drain well. Remove from heat, cool, and mix in the ricotta or farmer's cheese, eggs, salt, pepper, nutmeg to taste and dill. Finally add the cooked pasta and mix well. Empty mixture into baking pan and sprinkle grated cheese on top. Bake until browned, 30 – 40 minutes. Remove from the oven and let rest for 10 minutes. Cut into squares and serve.
Note: this recipe was adapted using dry dill and nutmeg powder. More may be preferred. Photo is not an accurate portrayal of recipe made.
Recipe submitted by By Satya Tiana from Nova Scotia
*********************************************************
TRISH'S ROAST CHICKEN.
A roast chicken is always a family favourite and it is so easy to prepare and cook. There is no magic; everyone can do it.
Step 1: Buying
Buy a roasting chicken of the size that suits your needs. This depends on the number of people you are serving and whether or not you want extra chicken to eat either cold or to be used for another meal, such as chicken pie. When buying a chicken, make sure the packaging is intact and that there is no bruising or damage to the bird.
Step 2: Preparation
Empty and clean your kitchen sink and the countertop right next to it, and place a clean tea towel on the counter top. Remove the wrapping from the chicken. Remove the giblets, neck, liver et al, that may be inside the bird or in the neck cavity and put them to one side. Wash the bird thoroughly inside and out with cold water. Pat the bird dry with paper towel. Put a rack on the middle shelf in the oven and preheat to 400 degrees. Cut and quarter a medium sized onion or lemon and place inside the bird. Rub butter generously on the outside of the bird and sprinkle it with salt and black pepper. Now is the time to add any personal herb favourites that you may have … or not … it will taste great with just salt and pepper. Do not add more than two other herbs or you will lose their individual flavours. Place the bird on a rack in the bottom of a roasting pan and put it in the oven with the lid on. Wash your hands thoroughly and clean the counter and sink
Step 3: Cooking
Cook for 30 minutes on high – 400 degrees. Take the pan out of the oven, remove the lid and baste the bird with the residue in the bottom of the pan. Use a large spoon, or better yet, a bulb baster. Put the pan back into the oven at 320 degrees until the inside breast or thigh reaches a temperature of 165 degrees. As a general rule of thumb when roasting poultry, cook for 20 minutes per pound plus another 20 minutes with a finishing internal temperature of 165 degrees. Use a meat thermometer.
Step 4: Serving
Remove the pan from the oven. Place the cooked chicken onto a serving plate; it will now look gorgeous. Tent the bird with foil and allow it to stand for 15 minutes before carving. That's it.
Step 5: Enjoy!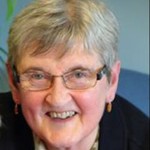 Trish Summerhayes
Publisher, Island Woman
 **************************************************
 
SLOW COOKER GARLIC MASHED POTATOES
• 5 lbs. red potatoes, washed and quartered
• 4 tablespoons butter
• 3 cloves garlic, smashed
• 1/2 tablespoon salt
• 1/8 teaspoon black pepper
• 1 cup water
• 1 1/2 cups sour cream
• salt and pepper to taste
Method
• Place the potatoes, butter, garlic, salt, pepper, and water in the slow cooker.
• Cover with lid and cook on high for 4 hours, or cook on low for 6 to 7 hours.
• When finished cooking, remove the lid and add in the sour cream.
• Mash the potatoes with a potato masher to desired consistency.
• Taste for salt and pepper
Notes
You can make these mashed potatoes a day or two in advance. After removing the mashed potatoes from the slow cooker, place them in a baking pan, cool, then cover with foil, and put the pan in the fridge. About an hour before serving time, take the pan out of the fridge and let sit on counter for 20 minutes. Put some butter on top of the mashed potatoes at a few spots, cover the pan with foil, put in the oven at 350 degrees for 30 minutes. Serve.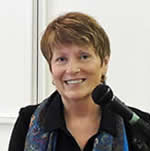 Diana Matsuda
Editor, Island Woman
******************************************
BEST STUFFING EVER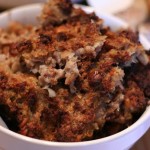 1 ½ c cubed whole wheat bread
3 ¾ c cubed sourdough bread or potato bread (if you're like me you will fudge some of these ingredients : )
1 lb pork sausage
1 c diced onions
¾ c chicken broth
4 Tbsp butter
2 ½ tsp dried sage
¾ c chopped celery
1 ½ tsp rosemary
½ tsp thyme
1 medium apple, cored and chopped
¾ c craisins
⅓ c chopped fresh parsley
Preheat oven to 350 degrees. Toast bread cubes for 15 minutes. Melt the butter in a saucepan. Add the celery and onion until translucent. Add the apple and herbs. Cook sausage separately and add to the onion mix. Add the broth and cook until all comes to a boil.
Add celery and onion mixture to the bread cubes. Add raisins. Stir to combine. Bake at 350 degrees until done. Serves 6. Worth doubling! (this is where white bread might come in : )
Cathy Sakiyama
www.cathysakiyama.com
Festive Celebrations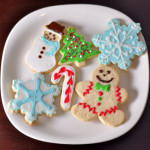 Sarah and Sean present a sugar cookie done in four different ways! They've made Salted Chocolate, Chocolate Peppermint, Coconut and Lemon Sugar Cookies! Although there are four varieties here, it all starts with the basic sugar cookie recipe.
For the Basic Sugar Cookie Recipe
• ¾ cup Butter, room temperature
• 1 cup Granulated Sugar
• 1 Egg
• 1 tsp Vanilla
• 2 ½ cups All-Purpose Flour
• ½ tsp Baking Powder
• Pinch of Salt
In large bowl, beat butter with sugar until light and fluffy; beat in egg and vanilla. Whisk together flour, baking powder and salt in a separate bowl; stir dry mixture into butter mixture, in 3 additions, until combined.
Divide dough in quarters (about ¾ cups each); press into discs. Wrap discs in plastic wrap; refrigerate for 1 hour. *If you're only making one variation sugar cookie, there's no need to divide dough before refrigerating.
Let dough stand at room temperature until soft enough to roll out, about 15 minutes. Between waxed paper, roll out dough to ¼ inch thickness. Using 2-inch fluted round cookie cutter, cut out rounds, rerolling and cutting scraps. Place, about 1 inch apart, on parchment paper-lined baking sheets. Refrigerate until firm, about 20 minutes.
Bake in 375F oven until edges and bottoms are light golden, 10 to 12 minutes. Let cool on pans on racks for 1 minutes. Transfer to racks; let cool completely.
Now , click here for the variations!
Editor's Note: And here's another great "Sarah and Sean" recipe to try. Click here for Bark, Bark, Bark!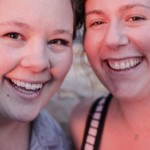 Sarah and Sean
Local Loves Nanaimo
 *************************************************
 
HOT BUTTERED RUMRUNNER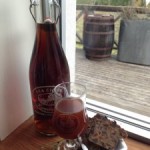 We at Sea Cider have a favourite recipe: Hot Buttered Rumrunner! Everyone's favourite holiday libation–hot buttered rum–is given a twist with the use of local organic cider. The recipe follows, along with a bonus play on a Hot Toddy using winter Wassail cider.
750 ml (one bottle) Rumrunner Cider
1 cinnamon stick
1/4 tsp ground nutmeg
1/4 tsp ground allspice
2 whole cloves
3 tbsp brown sugar
1 tbsp unsalted butter
Heat cider on low heat until it is hot but not boiling; stir in spices, and allow to steep for at least 30 minutes (best if allowed to steep for several hours). Add butter, stir to melt, and serve in heatproof mugs. Perfect on a cold day! Makes 4 servings.
Enjoy and Happy holidays!
Gabrielle Pope
Email Gabrielle
Sea Cider Farm & Ciderhouse
**************************************************
 
HOT WASSAIL TODDY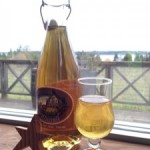 1/4 Madagascar Bourbon Vanilla
1/2 oz Orange Juice
1/2 oz Firewood Honey
3 dashes Cinnamon Bitters
5 oz Wassail
Warm up Wassail in a pot, add vanilla and honey, take off heat and add bitters and orange juice.
Enjoy and Happy holidays!
Gabrielle Pope
Email Gabrielle
Sea Cider Farm & Ciderhouse
 ********************************************
 
POPPYCOCK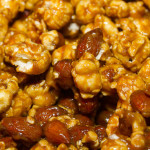 Mix popcorn and nuts:
8 quarts of popcorn (1 quart = 4 cups)
Pecans – 8 ounces of pecan halves or more if you like
Whole almonds – 8 ounces or more
Sauce:
In a saucepan melt 3 cups of butter (1 and one-half pound). Then add:
4 cups of white sugar and
1 and one-half cups of corn syrup (can be white or dark)
Boil for 10-15 minutes then add 3 teaspoons of vanilla. Pour sauce over popcorn mixture and stir. Then break it up and put in plastic bags to keep fresh. That's All!
Submitted by Norlayne Scott-Gaare.
 *****************************************
CHEESE PUFFS
This recipe is not exclusively for Christmas, but it's an easy and handy one to have around for impromptu drop ins or happy hours.
3/4 C. water
1/4 C. butter
3/4 C. all purpose flour
3 large eggs
2/3 C. crumbled cheese (blue/Roquefort, medium or sharp cheddar, or a cheese with red and green pepper bits for Christmas colour)
In a 2 qt. saucepan over high heat bring the 3/4 C. water to a full boil; remove from heat and add flour all at once; stir till a smooth thick paste with no lumps (or very few). Add eggs one at a time stirring vigorously after each. Stir in crumbled cheese. Let stand for 15 minutes. Drop mixture by teaspoon or dessert spoon in small mounds on parchment paper-lined cookie sheet.
Bake at 400 degrees till lightly browned, about 30 minutes. (*Do watch carefully – the bottoms can scorch!) Cool the puffs on wire rack. Puffs will keep 1 – 2 days wrapped/bagged airtight. Or freeze up to 2 weeks. Thaw and reheat at 350 degrees till warm – about 3 minutes.
Makes 24 plus, depending on size of mounds.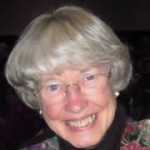 Nancy Whelan
Email Nancy Whelan
********************************************
CRANBERRY ORANGE RELISH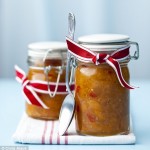 Ingredients:
2 cups Fresh Cranberries
3 tablespoon(s) Dried Cranberries
2 stick(s) Cinnamon
1 teaspoon(s) Fresh Gingerroot, minced
1/2 cup(s) Dark Or Light Brown Sugar, firmly packed
1/2 cup(s) Apple Cider
1 teaspoon(s) Fresh-Grated Orange Zest
Additional Cinnamon Sticks, (optional)
Orange Slices, (optional)
Directions:
In a 2-quart saucepan, place the fresh and dried cranberries, cinnamon, gingerroot, brown sugar, cider, and orange zest. Stir and simmer over low heat until cranberries pop — about 7 minutes. Remove from heat and allow to cool.
To serve, transfer to a serving bowl. Garnish with cinnamon sticks and orange slices, if desired.
 ***********************************************
BROWN-EYED SUSANS
These cookies are always on my dainty tray at Christmas time.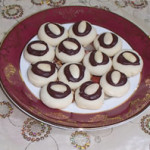 1 cup butter or marjarine
3 tbsp sugar
1 tsp almond extract
2 cups flour
1/2 tsp salt
Cream marjarine or butter; add sugar, almond extract, flour and salt. Roll level tablespoon of mixture into balls. Place on greased sheet and flatten slightly. Bake at 400 degrees for 10-12 minutes.
Frosting
1 cup icing sugar
2 tbsp cocoa
2 tbsp hot water
1/2 tsp vanilla
Almond halves
Combine sugar and cocoa. Add the water and vanilla. Ice each cookie with an almond in the centre.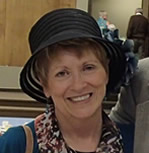 Diana Matsuda
Editor, Island Woman
 ********************************************
SNOWMAN POOP: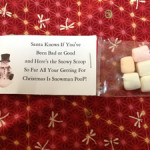 THE GIFT THAT KEEPS GIVING
There are five critical elements to achieving the look of this prestigious Christmas token.
Marshmallows
These can be typically found at any grocery store, big box store and even, if you're so inclined, the coveted loonie store. But, we all have salivated for Rice Krispie squares at one time or another and it always seems that the recipe calls for fewer than are in the bag. So I typically have a few stale ones in the cupboard and I bet you could dig some up too! If you're stuck and need to do this quickly, you could use chocolate chips and replace the word snowman with reindeer.
Paper
Any type of paper will do except maybe toilet paper, but these days the coveted loonie store sells the sandpaper-like tp (so I've been told). Blank paper is good, but really if you're stuck in a pinch, dig up your old bank statement, black out those illicit purchases and you're good to go.
A writing utensil
Chances are you have one, but when you're in a pinch, you could go super-techy and choose a word template and write this inspiring message of snowman poop repeatedly (or cut and paste). I have a Master's degree in cut and paste and it has come in handy for situations like this.
A bag to hold the stale marshmallows in
If you think I am going to say that any bag will do, you are wrong. It must be a 2 inch by 1 inch bag with a ziplock close. Actually no… Use whatever bag you've got, but you know the old adage – size does matter – and using a garbage bag with a few stale marshmallows in it and a note about snowman poop may come across as … a little creepy.
Staple
The card and little baggie must be affixed using whatever means available. I prefer staples, but in a pinch I have used gum. Cinnamon gum adds a little Christmas-like scent which could add to the effect.
Enjoy, share and season greetings!
Submitted by Angela Provost
Victoria, BC.
Miscellaneous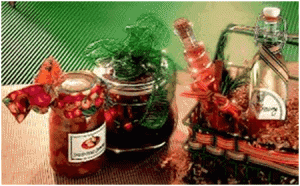 Bringing a hostess gift to any dinner party need not be a stressful event with this delicious twist on the standby cranberry sauce. 
Put it in a glass jar and decorate it any way you wish with some Christmas cheer.
Cranberry-Orange Relish
Ingredients:
2 cups Fresh Cranberries
3 tablespoon(s) Dried Cranberries
2 stick(s) Cinnamon
1 teaspoon(s) Fresh Gingerroot, minced
1/2 cup(s) Dark Or Light Brown Sugar, firmly packed
1/2 cup(s) Apple Cider
1 teaspoon(s) Fresh-Grated Orange Zest
Additional Cinnamon Sticks, (optional)
Orange Slices, (optional)
Directions:
In a 2-quart saucepan, place the fresh and dried cranberries, cinnamon, gingerroot, brown sugar, cider, and orange zest. Stir and simmer over low heat until cranberries pop — about 7 minutes. Remove from heat and allow to cool.
To serve, transfer to a serving bowl. Garnish with cinnamon sticks and orange slices, if desired.
Recipe submitted by Sandra Holomis.
***********************************************************
Super summertime snacking with grapes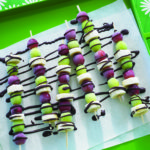 Like a needle and thread or peanut butter and jelly, summer and fun just go together. Whether you're out enjoying the warm weather hiking in the mountains, splashing in the pool or playing at the park, snacks are key to keeping everyone happy and nourished.
The good news? Grapes from California are the perfect, portable snack. Just a quick rinse and you're good to go − no peeling or coring required. Grapes are sturdy so they travel well. Plus the juicy, hydrating goodness of this fruit can help power you through those hot summer days. When the gang's all there, no worries either – grapes are super to share.
While grapes are pretty perfect as is, you can also go a little fancy with this frozen treat on skewers. Threaded with bananas and grapes and drizzled with dark chocolate, it is a nutritious alternative to ice cream and a delightful way to add some fruity fun to snack time. Your kids will love them, and so will adults.
Frozen Grape and Banana Skewers with Chocolate Drizzle
Makes 4 servings
2 firm ripe bananas• 2 tablespoons orange juice• 1/2 cup red California grapes (about 16)• 1/2 cup green California grapes (about 16)• 8 10-inch wooden skewers• 1 1/2 ounces dark chocolate, finely chopped
Line a baking sheet with wax paper. Cut the banana into 1/2-inch thick rounds. Place in a small bowl and toss gently with the orange juice. Skewer fruit, alternating two grapes for each piece of banana, and place fruit skewers onto a lined tray. 2. Place chocolate in a small microwave safe bowl. Microwave for 1 minute, then stir well, and microwave another 10 seconds if necessary to melt chocolate. Using a spoon, drizzle melted chocolate onto fruit skewers. 3. Place the tray in the freezer for at least 2 hours. Once frozen, skewers may be transferred to a sealable plastic bag where they will keep in the freezer for up to a week. Allow to soften at room temperature for 5 minutes before eating.
www.newscanada.com
********************************************

Golden Milk
Turmeric paste –
Make a turmeric paste by combining 1/4 cup of Turmeric with 1/2 cup of water in a small sauce saucepan.
Simmer for 5 minutes or so until you have a nice paste.
Store in the fridge as it will keep for 2 weeks.
Ingredients –
1 cup of milk or almond milk or coconut milk or goats milk
1/2 tsp of turmeric paste
Sweetener such as sugar, honey or maple syrup to taste
A dash of cinnamon (optional)
A small amount of olive oil for a drizzle.
Instructions
Heat the milk and stir in the turmeric paste, sweetener and cinnamon.
Before serving add a drizzle of oil as this helps with absorption.
Please note the turmeric is a slight blood thinner.
Recipe by Sutton Creek Spice Blends.
http://www.suttoncreekspiceblends.ca/
***************************************************
How to Make a Simple Bone Broth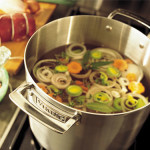 Start with:
Springford Farm Locally Grown Meat Bones, either Chicken or Turkey carcass, or Beef marrow bones (roast for 30 minutes to release flavour) in a medium to large pot add bones or carcass. Fill with water to just cover bones. 
Add:
2 coarsely chopped carrots
1 quartered onion (skin too)
1 stalk celery or leafy tops
1-2 tablespoons sliced ginger
1 tablespoon vinegar (if gluten sensitive, use corn vinegar or rice vinegar)
1 bay leaf
1 peeled whole clove garlic
1 teaspoon salt
1 teaspoon each of sage, thyme, rosemary
Bring to a boil, then turn down to simmer. Simmer for 10-12 hours.
Remove fat, vegetables, bones, ginger, and garlic and discard.
Store in glass containers in the freezer, drink as a hot beverage or save for your next pot of soup.
Recipe from Springford Farm.
****************************************************
Saskatoon Jam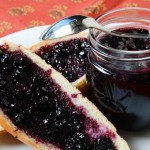 Saskatoons make a very nice purple jam. This recipe doesn't require commercial pectin. Saskatoon jam may also be made by using a blueberry jam recipe and substituting Saskatoons for blueberries.
6 cups Saskatoons
4 cups diced rhubarb
½ cup water
6 cups sugar
Crush Saskatoons (do not use food processor). Combine rhubarb with water in large heavy saucepan and bring to a boil. Simmer (covered) for about 5 minutes or until rhubarb is soft. Stir in crushed Saskatoons and return to boil. Slowly add sugar to hot fruit. Continue boiling for 10 minutes uncovered or until a spoon of jam quickly cooled has the desired consistency. Ladle into sterilized jars and seal. Makes 10 – 8 oz jars.
Submitted by South Island Saskatoons
http://www.southislandsaskatoons.com/
*********************************************
VERY BERRY SMOOTHIE.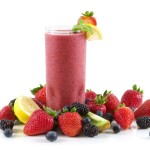 3 tbsp. (45ml) honey
1 c. (250 ml) plain yogurt
1/2. (120 ml) milk
1/2. (125 ml) berries (fresh or frozen)
2 or 3 bananas (depending on size)
5 ice cubes if fresh fruit is used.
Blend honey, yogurt and milk in a blender. Add fruit and ice cubes. Blend until smooth and creamy. Pour into serving glasses. Serves 4.
Submitted by Pat Summerhayes.
Cedar W.I.
**********************************************
Casey's Rose-melon Pops!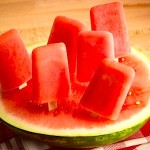 I found some super great popsicle molds at Paboom. You can make however many you would like!
What you need:
watermelon juice (I recommend the Tropicana one). Fill up half of each popsicle mold.
SOHO lychee liqueur (fill up other half of each popsicle mold)
Casey's rose simple syrup (1 tsp per popsicle)
Allow to freeze overnight! Enjoy and have fun!
Casey's Rose Simple Syrup Recipe:
Combine 3 oz of water and 3/4 cup of organic cane sugar in a small sauce pan over low heat. Let dissolve completely (approx 8 minutes). When mixture is cooled, add 2 drops of Amarna Holistic Centre Rose Absolute (Rosa damascena) essential oil and stir.
Submitted by Casey Mulcaster, RA®, EOT®, Certified Aromatherapy Instructor, Certified Reflexologist, Advanced Sekhem Practitioner
http://www.amarnaholistic.ca/
*************************************************
 
SALISH SEA SPECIAL GRANOLA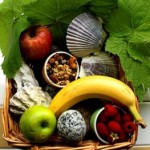 A half-cup of Salish Sea Special Granola mixed with yogurt and fruit for breakfast makes a quick and nourishing beginning to that winter day or at any time of the year. The granola is full of healthy nuts, seeds and fruits in a base of large flake, slow cook oats. Use your favourite nuts, seeds and dried fruit, or the ingredients that are available to you. Follow the recipe as a guide to proportions. Salish Sea Special Granola is also a creative and delicious Christmas present for active friends and relatives.
Ingredients for a month's supply:
8 – 10 cups slow cooking large flake oatmeal flakes
3 cups of various nuts and seeds. Examples of nuts are: cashew nuts, hazelnuts, walnuts, pecans, almonds. Seeds could be raw pumpkin seeds, sesame seeds, sunflower seeds, chia seeds. Try a half cup of ground flax or hemp seeds to add to the nutrition.
2 cups dried fruits. Cranberries, raisins or chopped dates work well.
3/4 cup cooking oil
1/2 cup lavender honey or to taste
1 cup applesauce
1 teaspoon vanilla
Directions:
Heat oil, sweetener, applesauce, and vanilla until mixture is on the point of boiling. Stir this mixture into the oatmeal, nuts and seeds and mix well. Spread the mixture on parchment covered cookie sheets
Roast slowly in 250° to 300° Farenheit oven, mixing every 15 minutes until the mixture is golden brown (about 45 minutes with two stirs is ideal). Cool. Once cool, add dried fruits and mix well. Store in an airtight container. It does not need to be refrigerated.
Janet Dunnett
Email Janet
*****************************************
Casey's French 75!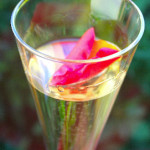 *Hic* Okay…I have been known to have had a few of these…but, this is my twist to an old time favorite! Serves 4 (just a suggestion)…
What you need:
organic cane sugar cubes (one for the bottom of each champagne glass). Better get lots as I can guarantee you'll want a few of these drinks!
rose petals from the garden *sigh* – one for the top of each drink
a bottle (or two) of champagne or prosecco
a bottle of nice gin (Hendricks, Victoria, Endeavor…)
6 lemons (juiced)
Casey's Rose Simple Syrup (see popsicle recipe)
ice, ice baby! Make sure you have lots of ice cubes!
Set out 4 lovely champagne flutes and place a sugar cube in the bottom of each. In a martini shaker, combine 2 cups of ice, 6 oz of gin, 12 tbsp of lemon juice and 4 tbsps of Casey's rose simple syrup. Shake well and add to equal amounts to each flute. Top each flute with champagne and add a rose petal at the top. Le sigh!
Submitted by Casey Mulcaster,
http://www.amarnaholistic.ca/
 *************************************************
Jonny Appleseed: 
Johnny Appleseed, takes us back to colonial America with a combination of New England style sharp cider and our Black Applejack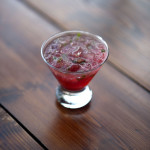 It's been a hit at Sea Cider's ciderhouse, here's how you can make it at home.
Ingredients:
1oz Sea Cider Black Applejack
2oz Sea Cider Pippins
4 lemon balm leaves (small)
2 mint leaves
1 tsp simple syrup (we make this with equal parts organic cane sugar to water. Bring to simmer until all sugar dissolved. Chill)
1/2 tsp fresh squeezed lemon juice
Splash of club soda
Method: 
Muddle herbs with syrup, Black Applejack & ice.
Add pippins & club soda
Submitted by Sea Cider Victoria, BC.
http://seacider.ca/recipies/march-seasonal-cocktail-the-jonny-appleseed/
*******************************************************