Each year it seems I have a different focus when itcomes to holiday décor. Last year it was all about tree imagery and this year finds me focusing on reindeer.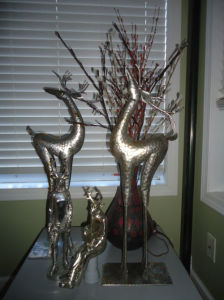 Rockin' Reindeer
It all started on a trip through Art Knapp's in Courtenay back in November on my way home from a jobsite. I stumbled across a pair of metal deer in a hammered silver finish. The pair were just so darn adorable that I immediately purchased them, knowing they would be an integral part of my 2014 holiday home. I had no qualms about the purchase as I set myself a budget every year to spend on holiday items, and this pair of rockin' reindeer automatically came out of that budget. I already had a pair of silver animalmorphic reindeer purchased several years ago at Gourmet Essentials in Campbell River – a standing female in a dress and a sitting male in a suit. Even though this pair of deer is in a completely different scale than the new pair, they make a perfect foursome on one of my end tables.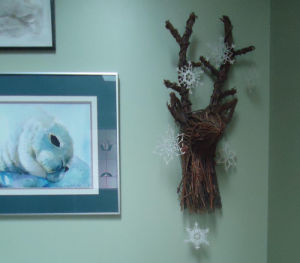 Whimsical Winterland Reindeer
On that initial trip to Art Knapp's, I also saw dozens of reindeer heads made from willow branches but I didn't want to blow my whole 2014 budget in one splurge, so I held off until I saw what else was out there. Well, I couldn't get the deer head out of my own head and found nothing else that I preferred, so I went back a month later and purchased one of the last three they had. Thank goodness I didn't wait any longer because I would have been extremely annoyed at myself if they were all gone. One reason it took me so long to go back was the need to know where I was going to hang it before I purchased it. The spot beside my seal watercolour in our foyer seemed – and is – the perfect place to showcase it. I added several crocheted snowflakes my mom made many years ago to the vignette and I love it.
In my two years of writing for Island Woman, I have written other Christmas columns and you may wish to give them a re-read for more holiday decorating ideas:
Holiday Décor
DIY for the Holidays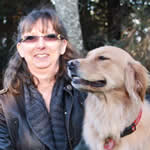 Evelyn M, Associate of Interior Design
250-204-4417
www.EvelynM.com
Evelyn M Interiors/Design House BC
Evelyn M Fine Art

See all articles by Evelyn M