Nick Misura returned to his native Cowichan Valley a few years ago with a goal of settling down and enjoying his retirement. However, Nick's love of cooking, good food and a restlessness to do something fun and creative soon took over. Rockin' Risotto was born in 2015 and Nick has been converting customers to this delicious side-dish ever since!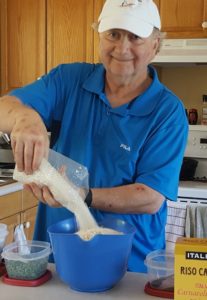 The idea to make packaged risotto came from Nick's wife, an active member of the Duncan Farmers' Market's board of directors. Together, they started testing and tasting different ingredient mixes to come up with recipes which would later constitute their three well acclaimed mixes: "Cuco", "Rosie" and "Rippin". Nick features local ingredients where possible including Cowichan-grown hazelnuts. Another key feature of his risottos is his use of Carnaroli rice. "Carnaroli is the caviar of risotto rice," Nick explains, adding "this variety makes my blends easy, simple, and fast to cook with that signature creaminess everyone loves."
Risotto originated in Northern Italy. The dish was invented during the 11th century and was mainly a peasant dish, very high in nutrient and energy content. Traditionally reserved for the first-course of a meal, nowadays, risotto has assumed additional roles at the table, appearing as a main course or complementary side dish.
Blended and packaged by hand, Nick sells his risottos at the Duncan Farmers' Market, LifeStyles in Victoria, Russell Farm Market and the Garden Pantry Store. Nick is also a member of the Cow-Op! During the holiday season, his attractive risotto packaging makes the perfect gift for stocking stuffers, a great gift for foody friends and relatives. Order Rockin' Risottos online at www.cow-op.ca.
www.Cow-op.ca  is the Cowichan's only year-round online farmers' market.
See all articles by cowop