At 61, I don't do a lot of physical running any more, although I keep telling myself that I could if I wanted to. For me, physical running is associated with being in my 20s and 30s. I slowed down after that.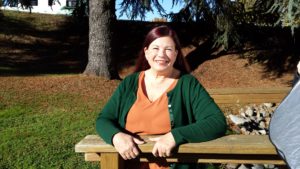 But this past spring a whole new kind of running hit my life – running for office! I've been on Boards and Commissions, Advisory Groups, Non-Profits and PTAs or PACs, depending on where I lived. Watching the world on a path to self-destruction (actually, human destruction) was no longer an option for me, however. I had to step up.
I have been Green since the '60s, before there were Greens. I've been an Earth Mother in corporate clothing in my work life, however, wearing the stockings and the suits, having acrylic nails and perms, very mainstream conservative on the outside while keeping my recycling, repurposing, non-consumerism to myself. While I have nothing against people who live the highly polished life, it never has felt quite right to me. Spending a fortune on hair and nails and clothes made me feel that I was owned by the system, and in a position where it was hard to break free. If you break an acrylic nail, for example, you have to pay someone to fix it.
I really found my Earth Mother when I hit rock bottom after the financial crisis in 2008, had to short sell my house, and start looking for work that paid better than minimum wage. Even a Master's Degree doesn't open doors when you are pushing 60. Self-employment can be a beautiful thing, yet there are financial requirements to get things off the ground again.
So, being on the ground, it was easy to get back in touch with growing things, particularly healthy food, preserving it, sharing and trading and using some of the skills that I never seemed to have time for when I was fully involved in the rat race. Knitting and sewing, writing and various art forms began to fill my days.
These pursuits also gave me the chance to think clearly again. My thoughts turned to the insane levels of consumerism I saw all around me, and how this was destroying our planet. I have had a few core groups of friends since I came home to Vancouver Island, through my church, my service clubs, my special interest groups, my community organizations, and my contract work. My extended family has also rallied around, inspiring me and getting me motivated. But there was still time to do more. So, first I joined the Federal Green Party, and then the Provincial Greens.
Getting involved for me, has always meant more than dabbling. Before I know it, I am up to my neck and involved!!! It was no surprise to anyone when I was asked to step up as a candidate in the Provincial Election. Well, it was a surprise to me. Until I really hit my stride, started participating in All Candidates' forums and knocking on doors, fundraising and meeting people I otherwise might never have met, there was still a disconnect. Embracing the role took a while, and the cautionary tales of many left me on guard throughout. In the end, though, I'm so glad I "ran" – it was the best race of my life! Adrenalin pumping, I watched the results come in – and realized that 6244 people were voting for me in this Riding, for the Greens, and for 1001 reasons I will yet learn! Would I do it again? You betcha! Would I encourage others to give it a try? Absolutely.
Lia Versaevel, Candidate, Green Party of BC
See all articles by Guest Author