One of the most common questions that I'm asked as a registered dietitian is "should I take a multivitamin?" Here's what I think about multivitamins for women.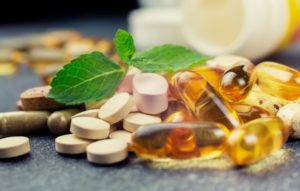 First I need to tell you that when it comes to nutrition, one size doesn't fit all. We each have different nutrition needs – based on our sex, age, physical activity, health concerns, etc. And, our eating habits vary widely. That's why when I work with clients, the first thing I do is a nutrition assessment of you. It's from the results of my nutrition assessment that I create your individual action plan. So, without doing an individual nutrition assessment, I can't really answer whether you, specifically as an individual you, should take a multivitamin.
However, I can share my thoughts on multivitamins for women in general for you to consider.
I do recommend a daily multivitamin if you're a woman of childbearing age.
Who is that? Girls and women from first period to last period. The reason is that it's estimated that 50% of pregnancies are unplanned. Also, the risk of spina bifida is greatly reduced (although not 100% preventable) when women take 400 micrograms of folic acid (also called folate) in those first few days of pregnancy (i.e. before most women know that they're pregnant). An unplanned pregnancy can be stressful enough. An unplanned pregnancy with a child who has a significant medical condition that could have been prevented – significantly more stressful. Even if you don't ever get pregnant, folate is a B-vitamin that's good for our own health too.
Sure, you could take folate on it's own. But most multivitamins designed for women under 50 will have folic acid in them. Look for one that has approximately 400 micrograms, and not more than 10000 micrograms (1mg) of folic acid – because too much may be harmful too. Getting some extra vitamins and minerals (e.g. iron, calcium) along with your folic acid is probably a good thing.      
I do recommend a daily multivitamin for women and men 50 and up.
Why? For the vitamin B12. At first, low B12 causes you to feel tired, lethargic, dragging. Often people think that they may be feeling this way because they have low iron. But it's rare for women who aren't menstruating to have low iron. If your vitamin B12 levels get even lower, it causes permanent cognitive impairment. Let me repeat and clarify that. If your B12 levels get too low, you get memory loss that doesn't return even if you raise your B12 levels back up again. Yikes! Why the concern after 50 years old? After 50, many of us have a decreased ability to absorb the vitamin B12 that we get through food. This is particularly true if you take medications for acid reflux (heart burn), and is a side-effect of a number of other medications. Getting vitamin B12 in the form of a supplement doesn't require the same stomach function as vitamin B12 through food. We don't have recommendations on how much you should get in a supplement. It's somewhere around 2.4 micrograms daily.     
Sure, you could take vitamin B12 on it's own. And some people get vitamin B12 shots (injections). But multivitamins designed for adults 50+ have vitamin B12 in them. Getting some extra vitamins and minerals (e.g. calcium) along with your vitamin B12 is probably a good thing.
What if I'm not in those two groups?
Then I don't have strong feelings either way about whether you should take a multivitamin.
www.KristenYarker.com    Instagram: @KristenYarker
Twitter: @KristenYarker
Pinterest: KristenYarker
www.Facebook.com/KristenYarkerNutritio
See all articles by Kristen Yarker