It is coming on two years since I started writing for Island Woman and in that time I have presented numerous interior design projects and inspirations. What I haven't yet done is feature the fine art aspect of "Evelyn M Interior Designer and Artist", so I thought I would give you a glimpse of how artistic expression begins within me as a thought that progresses into a concept and finally, a finished mixed media canvas. I have chosen seven of my 2014 paintings that express the natural flow from one abstract inspiration to the next.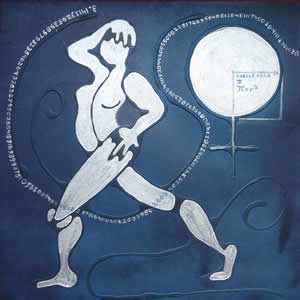 Venus Pi Trapper
Originally I wanted to create a painting that would be featured at the 2014 Celebrating Women exhibit in Campbell River. In previous years, I had focused on more literal interpretations of the female body but I decided to go with a slightly more abstract composition for this current year. I used a previously done sketch to lay out the female form on the canvas and then placed a moon circle in the void next to it. That wasn't interesting enough to me, so I extended the moon circle into the sign of Venus. Now I felt I was on to something – but what?
Stalled, I decided to come up with the name to help me finish the composition. I had the symbol of Venus on the canvas so I started with that. Venus what? Venus Fly Trapper kept coming into my mind so I thought, well that is that, Venus Fly Trapper it is. OK, how to translate this into the finished painting? I created a scenario of the female figure hunting Venus – no it was behind her, OK maybe she's hunting Pi – that's it – she's hunting Pi. I envisioned Pi flying all around her leaving a numerical footprint in its wake and so the number sequence was applied to the canvas, wrapping around the body like a mosquito avoiding capture. Since the concept was to tie Venus and Pi together, I also input the mathematical equation into the white body of the Venus planet. Done.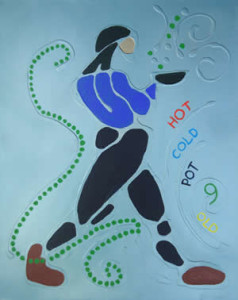 Peas Porridge
The figure on Peas Porridge had been drawn up at the same time as Venus Pi Trapper and although the painting was mostly complete, I was bored with it and did not have a title. Inspired by the success of the Pi sequence on my previous painting, I revisited the as yet unnamed canvas to see if a travelling sequence of symbols would jazz this one up as well.
The figure was holding a bowl of food. What type of food? Soup – dinner – porridge. As soon as I thought of porridge, the nursery rhyme "Peas Porridge Hot" came to mind, especially since the painting already had steam rising from the bowl, and how much fun it would be to create a meandering sequence of peas travelling around the body, similar to the Pi sequence. I didn't want to overdue the green dots and that left me with a blank area in front of the figure, so once again I put on my creative thinking cap and let my mind wander. The nursery rhyme kept playing in my head and the idea of placing the last word in each line on the canvas really intrigued me. That visual then resulted in the name.
Showers/Flowers

Having successfully added words as an integral part of a painting, I now wanted to explore them further. Since I had just used a nursery rhyme to inspire a canvas, that thought process was still strong. It was also April and raining outside so the phrase "April showers bring May flowers" just wouldn't leave me alone. So, how to recreate the phrase? I decided I needed to divide the canvas in two and feature rain on one side and flowers on the other. The nature of the imagery dictated the angular divide, and since April has five letters and May three, it was an obvious step to have five raindrops, each holding a letter, and three flowers, each also holding a letter. Using a slash between showers and flowers is also a fun nod to the divide on the canvas.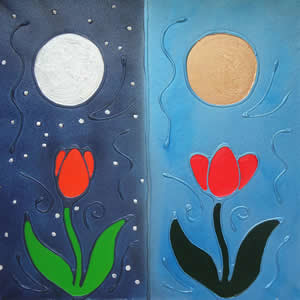 Night and Day
Now that Showers/Flowers was done, I was seriously excited about the split canvas story and once again, I decided to start with a name that needed a divide. I had just finished writing about a pendant light that was in the shape of a bloom that opened to reveal light at night and closed up tight during the day when it was not needed. This opposing need of light from night to day was fresh in my mind, and coming up with the idea of using tulips as the subject was a no-brainer.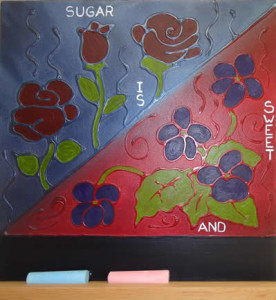 Chalkboard Ending
On a roll with split canvasses combined with florals, "Roses are red, violets are blue" was a natural follow up, but I wanted to add something new to the mix. Originally, the band along the bottom was going to hold an ending to the poem but I wanted one a little less sappy than "so are you", so I googled the rhyme and discovered that there are lots of alternate endings. That led to the idea of creating a blackboard bottom complete with chalk ledge and chalk. Since the chalk would be used to complete the poem, the name became Chalkboard Ending.

Dawn of the Spirit Bear
Having focused on figures and florals for most of the year, I was ready to do a few more West Coast paintings and since I already had a series of "Dawn of the …" paintings, I decided to add to it with a Spirit Bear.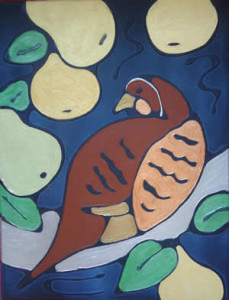 Partridge in a Pear Tree
With Christmas fast approaching, ushering in my yearly ritual of doing a new seasonal painting for my ever-expanding line of Christmas cards, it was time to get into the holiday mood. Incorporating both nature and several of my 2014 paintings inspired by poems or rhymes, my painting this year embraces both nature and a Christmas carol.
I hope you have enjoyed the story of my 2014 artistic journey. If you would like to know more about these paintings or want to see the rest of my Fine Art Gallery, click here.
I can't wait to see which way the wind will blow, artistically speaking, for 2015. For me, art is a journey, a process and most importantly, an expression. It is not what I see when I look around me – repeating what already exists is simply not interesting for me. I much prefer want/need/get excited about creating a visual interpretation of my abstract thoughts.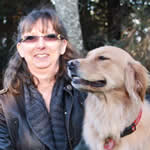 Evelyn M, Associate of Interior Design
250-204-4417
www.EvelynM.com
Evelyn M Interiors/Design House BC
Evelyn M Fine Art
See all articles by Evelyn M