It's really exciting to see things picking up again.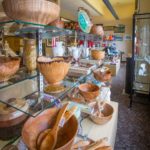 This year, we are getting so many reports about an upswing in the economy and everywhere we go "SOLD" signs are proving that the real estate market is booming. Tourism BC predicts the biggest influx of tourists in years. It's been a long time coming, but things are finally looking up!
In the town of Chemainus there is evidence of a healthy economy everywhere. Willow Street has been spruced up with new sidewalks, park benches, gardens, paint on buildings and a new clock tower. Waterwheel Park's parking lot and court yard renovations are sparkling and fresh looking. If you go to the end of the parking lot, you will see Chemainus' newest fresh start inside the Coastal Community building – RAINFOREST ARTS!
Rainforest Arts is a new store front gallery that is opening on July 1st, just in time for our busy summer tourism market. But this new business is not just for tourists. Locals have been asking us for years "Where are the artists?" It's true, it seems strange in a town the BIA has coined "Vancouver Island's Arts Town", there have been no artists visible. But all that has changed now.
Chemainus Valley Cultural Arts Society (CVCAS) has partnered up with Coastal Community to bring you Rainforest Arts – a retail outlet for artists from all across the Island and Gulf Islands. CVCAS is a non-profit society, so the entire project is run by a team of dedicated volunteers who have oodles of experience – of the 6 committee members, 5 of us have owned or managed art galleries and retail businesses in the past, 2 of us have advanced business backgrounds, several of us are highly experienced in marketing and social media and 5 of us are local artists ourselves. It truly is a dream team. You can learn more about us on our new website: www.rainforestarts.ca.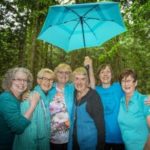 On our first round of contacting artists to see if they were interested in showing in a new gallery, we had an astounding 30+ responses in a week – most thrilled at the prospect. There can be no doubt – an artist run gallery featuring all local artists is in high demand. The result is we have a wide range of mediums including paintings, sculpture, glass, pottery, woodworking, art cards and more. The prices range from under $10 and up to high end exhibition pieces – there's something for everyone.
Please visit our website to learn more and join us on Facebook to keep up with new inventory and artist features. I will be the official blog writer, so check our Facebook page(www.facebook.com/rainforestarts) for that too!
So when you have visitors or need a gift or are decorating your home, or you just deserve a little something special, come to Rainforest Arts and buy local handmade goods. We open on July 1st and will be there seven days a week throughout the summer months. There's almost always an artist on staff, so come and learn all about them and their artwork. See you there!
Peggy Grigor
Pottery By Peggy
Facebook
Email Peggy
See all articles by Peggy Grigor