It was excruciating to watch the TV Reality Show, "Hoarding", as the so-called 'experts' aggressively tossed out years of memories, while a shattered person watched by the sidelines, heart-broken. Fortunately, modern medicine is providing more humane treatments for hoarding. Most professionals agree that living in a mini garbage dump is a symptom of a much greater problem and the focus should be the person who is suffering under all that trash. The resounding message from a community forum on hoarding was that a gentle, compassionate approach is the sure-fire way to effectively deal with a complex many-layered issue. Especially when the person has dementia.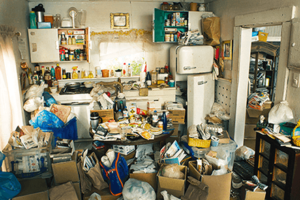 On April 5, 2017, we attended "When Clutter Becomes Hoarding", a community forum presented by a local team of professionals in Victoria BC. The photos shown by local fireman were sobering, showing an insider's view into homes filled with alarming piles of clutter that covered beds, touched ceilings and covered windows and doors. It was obvious that the hoarder was suffering from a chronic mental health issue or brain impairment.
The team psychologist described how a "Hoarding Disorder" diagnosis is made: "It involves the accumulation and failure to discard an increasing amount of possessions that are basically useless; extensive clutter; and a significant impairment of the person's mental functioning. 4 to 6 percent of the general population have a diagnosis of "Hoarding Disorder", affecting 40,000 homes on Vancouver Island alone." He mentioned possible triggers: trauma, loss, or grief. And most importantly, "the actual problem is a mental health issue, not the messy home."
"We have to be compassionate" emphasized the fire officer who had attended many cluttered homes. A major factor of successful treatment is dealing with the troubled individual with respect and dignity. The best approach is a gentle non-confrontational one. The doctor stressed many times the importance of "no forced clean-outs." In fact, he said that when relatives or care-givers try to push de-cluttering on their ill family member, "it creates new trauma and can make the Hoarding Disorder worse." The most effective strategy is working in collaboration with the person and giving them small cleaning homework jobs that they can handle. One tip for sorting out the clutter is "keeping the memory without the stuff" by taking photos of items and giving them to the person.
For someone who has dementia, any hoarding problem will have additional levels of complexities and difficulties. More years of accumulating possessions brings a higher influx of memories; This could result in a much greater connection to their treasured stuff and an increased resistance to getting rid of it. Also, studies have shown that disordered thinking from dementia can cause elders to keep all their possessions near to them for fear of them being stolen. Because they have difficulty initiating an activity, pure boredom may compel them to spend hours rummaging through old belongings and putting items in piles or hoarding them in different places in the home.
In the end, a little bit of kindness goes a long way. Putting your arm around a senior and gently telling them that everything is going to be okay may do more to help them keep their home organized and clean than anything else.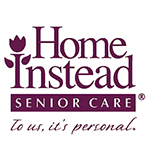 Home Instead Senior Care
222-1595 McKenzie Avenue
Victoria, BC
250-382-6565 www.homeinstead.ca/victoriabc
See all articles by Peggy Hancyk