Did I hear you utter under your breath, "Too far removed from the city for me." I know you'd be gobsmacked with our "Gabriola emergency services infrastructure".  And, this is what I'm going to call it because moving here without much thought to what would happen if:  I locked myself out of my house, out of my car, the campfire got out of control, found my neighbour running down my driveway with his hand slit open from his band saw, hadn't heard from my elderly neighbour for weeks, witnessed through the autumn mist a crush of Highland cattle herding themselves down Burnside Drive from the then Peacock's farm, dogs yelping like crazy, and finally but certainly not a complete list of events thus far and very familiar to me, being thwacked in the forehead by an angry wasp of which I am allergic, broken tooth, I didn't run home to mum.  I dealt with it like we do on Gabriola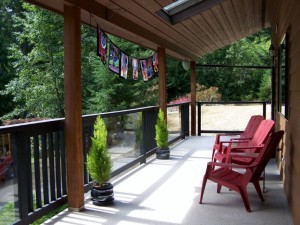 Put your feet up and chase your dreams, as I unfold how it is we're prepared on Gabriola. We care for each other and our families in our neighbourhoods.  We know most if not all the responders albeit the ambulance, fire department, RCMP, doctors, dentist, home care, meals on wheels, lawyers, accountants, contractors, architects, artists, musicians, writers, teachers, gardeners, philosophers, to the sand and stones on the beach.  We all wear many hats.  Did I leave anyone out?   Do tell.
Just a foot note, a bunch of us took the Heart & Stroke course on getting comfortable with an AED defibrillator.  We now have thirteen or more of these units on Gabriola.  Impressive!
As part of a community of 5,500 or so residents I am awed by what we have accomplished through our resourcefulness and tenacity.  Really and truly, a city-girl moving to the country might seem to be a leap of faith, or an escape from the chaotic frenzy of Vancouver, or any big city.  I meet many, many people of the same ilk as myself.  It's not an escape.  It's more a resurgence to being "at one" on one sense; being everything you could imagine on the other.  I moved to Gabriola, to "Be".  My mother said I'd be back in three months, but I didn't.  I stayed.  You'll get to know me and maybe one day we'll met, and so I will gently chide you if you think, thought, discounted, that Gabriola is some hippy-ville, far-and-away Gulf Island.  Not.
I'll prove it to you.
Did you know what we have three full-time doctors, and full-on medical clinic which was built with fundraising dollars combined with professionals and skilled trades, most of whom volunteered their efforts. A mammoth enterprise, we are on Gabriola are a jewel in the crown of rural medical in B.C.  I can provide you a raft of connections medical and otherwise, on and off of Gabriola with Nanaimo being a delightful 20 minutes away on the MV Quinsam and with fourteen return sailings daily. Who needs a bridge?  Who needs the endless traffic of the cities?
Yes, I'm a REALTOR®, living on Gabriola, listing and selling Gabriola properties.  I love Gabriola.   Live and work here.  And, I couldn't be more satisfied – Bach playing in the background, fireplace on.  Chill'n.
Carol Martin   http://www.realestateongabriola.ca/    1-866-528-9333    250-247-9333   carolmartin@telus.net
See all articles by Carol Martin