I was so mesmerized and impressed by this latest merging of art and architecture that it got me revisiting some of my other "Ev Fan Favourites" and it wasn't hard to come up with a selection of uber exciting examples to write about; the only hard part was keeping it to five!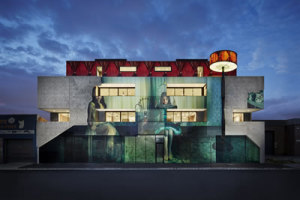 Samantha Everton's Masquerade Artwork Surreal Building Facade
Kavellaris Urban Design and Samantha Everton's structural composition of art and architecture culminated in a building called "2 Girls". Located in Melbourne, Australia and using the photo art Masquerade from Samantha Everton's "Vintage Dolls" series, it is a fantasy composition that has a bit of a "now you see it, now you don't" aesthetic. I really love how it undulates with the building's structure, merging with its other materials and appearing unsettled by the reflections on the glazings. A fusion of fine art, photography and architecture, it is a bold and beautiful example of the relationship between three complementary design styles.  The end result is simply awesome, but the project could easily have gone wrong had it not been for the collaborative effort between the artist – Samantha Everton and the architects – Kavellaris Urban Design.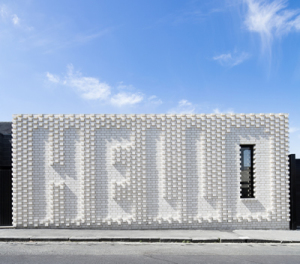 Hello House by OOF Architecture has Friendly Street Art Vibe
Hello House doesn't use any photo or painterly imagery to create its artistic statement, preferring instead to use relief texture within its brick façade to spell out its namesake, "Hello". Designed by OOF Architecture in collaboration with artist Rose Nolan, the façade is bold, fun and definitely friendly. Completely modern in its presentation, it is easy to forget and hard to believe that this is not a new building but rather a pre-existing Victorian shop house. Although it appears to be devoid of windows, there is one large one facing the street within the "O".  Once you enter the private courtyard, Hello House presents a wall of glazings that flood the interiors with natural daylight.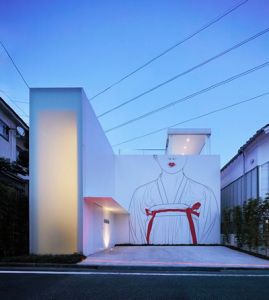 Maria Umievskaya Applies Traditional Sketches to Japanese Architecture
What's so interesting about Maria's beautiful combos of art and architecture is that the artist is Polish. With a European background, it is unusual that Maria has been inspired by the ancient cultures of Asia for a long time.  That inspiration has culminated in a series of minimalist, facade artscapes that are delicate and feminine, completely leaving the usual colourful European street art aesthetic behind. I love the pairing of the traditional imagery with modern Japanese architecture; it has such a dramatic effect within its "less is more" dynamic.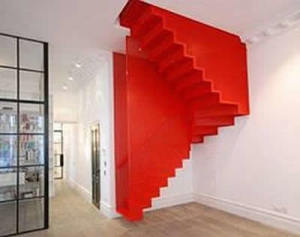 Hanging Red Stairs by Diapo for Michaells Boyd Associates is Perforated Perfection
Architecture is as much a part of interiors as it is exteriors, and this punchy red stairwell is my all-time favourite interior architectural detail. Located at Elvaston Place in Kensington and built by Diapo, it was designed by Michaells Boyd Associates.  "Hanging Red Stairs" was an unusual request from clients of  MBA in that it was to be a functional representation of Do-Ho Suh's artistic installation, "Red Hanging Staircase" that the clients had seen and were inspired by.  But while the original installation is not a functional flight of fancy, this eye-popping perforated steel re-interpretation certainly is. What's so incredibly cool about Hanging Red Stairs is that it is suspended from the ceiling's structure and doesn't even touch the floor.
Solar Powered Cabin with a Cubist Aesthetic
Atelier 8000's muse for this askew cube in Slovakia called Kežmarská Hut was a boulder left in place after glacier's retreat. It was a competition entry that took a visual and a story, and recreated it into a functional abstract structure that, while completely man-made and non organic in shape, blends beautifully with its natural surroundings. The askew position of the cubed building so easily tells the tale of a block that was shifted during the glacial retreat, resulting in an artistic statement that is about as creative as you can get.   Unlike the other art+architecture examples, this one uses its angles and hues to merge comfortably with the peaks of its surrounding mountain-scape. Kežmarská Hut's blending and merging is helped immensely by the reflections created on the photovoltaic panels that cover a large swath of the roof line.  Those same panels bring an earth-friendly level of living to the interior as well. Gotta love it!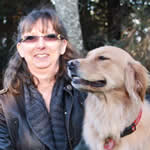 Evelyn M, Associate of Interior Design
250-204-4417
www.EvelynM.com
Evelyn M Interiors/Design House BC
Evelyn M Fine Art

See all articles by Evelyn M