Back in May of this year, Bruce and I bought a new house, spent two months doing the obligatory tear out of all things not liked and the next two months moving in and moving our shop, all while having the busiest year for Design House to date. Something had to give and for six months I did not do any new art nor did I write for Trendir  and I cut way back on my writings for LocaLHomeSpot.com as well.  In a previous article, I talked about my new assignment with Trendir, a Chicago-based online design magazine for whom I write home tours on house designs and modern interiors from around the world. I cut way back on my writings for as well.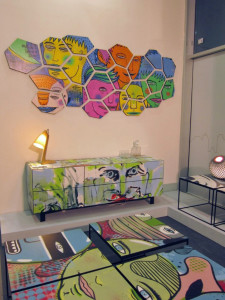 Well now I'm settled into my beautiful (new to us) abode and I am getting ready to start a new painting.  I have also started writing for Trendir again – only this time I get to choose what I write about and I am loving that change. I also now get identification with my articles which I did not have before.
I like these changes and have been really enjoying writing for them again, so without further adieu, here are some of my latest and favourite Trendir posts on design.
This first one is exciting to me because it incorporates real art with furniture design. Called the Street Art Project, this furniture collection by Ariel Design begins with blank wood panels installed on graffiti walls thoughout southern Tel Aviv. Once the random art covers the panels, they are then removed and cut to fit selected furniture designs. Currently the collection is small but hopefully it will continue to grow.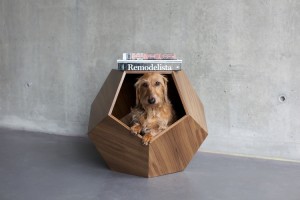 As a dog lover, doing a post on 20 uber chic dog beds that both you and your dog will love was a no-brainer, but best of all, our very own DesignHouseBC Xena Bed and Dax's Deluxe Dog Bed made the list. It was so much fun curating this list that I am planning on doing a list of cat dwellings as well.
When it comes to design, it's not just dogs and cats that catch my eye. When I came across this giraffe-inspired table lamp by Markus Oder of Leanter, I just knew I had to write about it.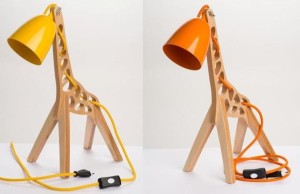 Called the Giffy Table Lamp, the muse was a photograph of giraffes standing next to acacia trees surrounded by the colours of the sunset on the Savannah in Central Africa. Muse aside, the design is what really caught my attention.
I love the colourful shade head and the way the cord travels through the giraffe's markings which in this case are voids within the wooden body or stand.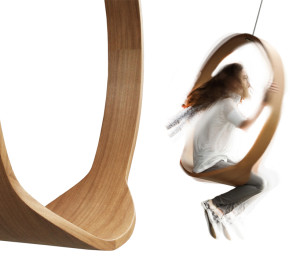 I love "fun" designs and the Giffy Lamp is definitely fun, but so is the Swing Chair by Iwona Kosicka.  And it's not just fun to look at – can you imagine how much fun it would be to actually swing in one of these suspended seats? Made from bentwood oak, the seat is perfectly round and sports a "bulge" in the sitting area of its profile. I am pretty sure everyone and anyone would love to have one of these in their home; the only question is in which room?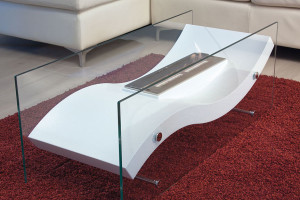 Here on Vancouver Island, most of us have either a gas or wood burning fireplace in our home, but many apartments and condos don't have either. The choices for a fireplace are then either electrical or bio ethanol. Electrical is the traditional way to go, but more and more homeowners are opting for the modern bio ethanol versions and designers around the world have sat up and taken notice. The designs run the gamut from traditional to contemporary, but my favourites are the super modern Bio Ethanol Fireplaces with Geometric Designs.
If you would like to follow all of my Trendir articles, I +1 each one so that they appear on my Google +1 tab.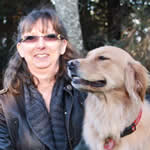 Evelyn M, Associate of Interior Design
250-204-4417
www.EvelynM.com
Evelyn M Interiors/Design House BC
Evelyn M Fine Art
See all articles by Evelyn M