As an Interior Designer and avid recycler, it always excites me when I discover unique and innovative designs that stem from waste material. Some of the designs are not only eco-friendly but are stunningly beautiful, and I thought I would share with you my top five finds (in no particular order).
Flip Flop Table is a
Tip Top Table
Who knew that the shores of Eastern Africa are constantly awash with lost and discarded flip-flops. Luckily Dutch designer Diederik Schneemann has found an innovative way of recreating this beach junk and with the help of locals, the flip-flops are found and collected. Eventually they are cleaned and upcycled into a collection called the "Flip-Flop Story". Originally consisting of lamps and vases, Diederik has recently expanded this collection to include the Flip Flop Table. You have to love a new and innovative way of recycling beach garbage, and transforming worn and torn flip-flops into beautiful tables, vases and lamps is just plain awesome.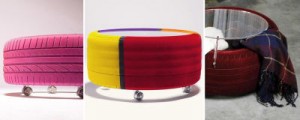 Trendy Tavomatico Tire Table
With storage space to boot-it (tee hee), this super chic side table is man- or girl- cave-ready with its wide range of colours, from basic black to bright and cheerful. Four wheels are mounted on the bottom, allowing the Tavomatico Table to move around easily – just as though it was in an auto shop. The serious looking treads add garage chic texture and the Plexiglas top and bottom create the lounge look. Worried about rubber smell? Don't – it's finished to be odourless. The top lifts up for storage and an optional LED light takes it to the next level.
From Propane Scrapland
to Parkland Seating
Colin Segal is well on his way to achieving his goal to be the "Eames of eco-friendly public seating" with this stunning propane tank collection. The collection started as a challenge to himself to do something useful with the rusty old tank that was on his property and has evolved into an incredible series of sturdy and colourful couches, chairs and benches. Each tank has enough material to create four stunning seat sculptures – all of which are LEED certified.
ReMain EcoDesigns Are Wheely Awesome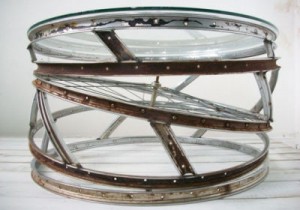 Owner and designer Krystal OMara is an artist and welder from St Louis, MO, US and she loves the challenge of taking discarded objects and turning them into unique and creative furnishings. She is passionate about upcycling and her latest coffee table, made from reclaimed bicycle parts, is just one example of her eclectic mix of furniture, lighting and décor. I love the frozen motion of this table base. You can just feel the tension of the wheels wanting to roll around on their rims.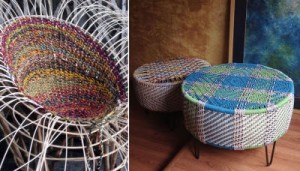 The Tire-iffic Retyrement Plan
A collection of colourfully woven outdoor weatherproof furniture, created from old car tires and recycled plastic, is the brainchild of Anu Tandon Viera. Anu creates the furnishings by weaving upholstery of recycled plastic wrapper waste over the discarded frames of tires. I love the colourful basketry and I think a few of these ottomans casually placed around a large deck with a woodland or ocean setting would look pretty awesome. Anu did mention to me that these pieces are quite heavy – but that would be perfect for our windier days!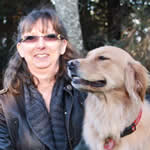 Evelyn M, Associate of Interior Design
250-204-4417
www.EvelynM.com
Evelyn M Interiors/Design House BC
Evelyn M Fine Art
See all articles by Evelyn M