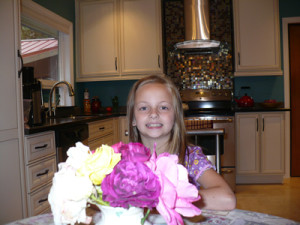 Gabriola vacation with Vanessa. Admittedly, I was at 6's and 7's when the time came. It was Friday, July 10th. "What does she like to do?" I asked my son, Matt. "Oh, Mom! Everything. And, she loves the beach."
Quick hop and a skip, hugs, with smiles and laughter all around and I, being her grandmother, scooped her up. The anticipation of my seven year-old grandchild for the weekend was something we'd been looking forward to and here we were, finally. A backpack hoisted, way too heavy for whatever a little girl needs for the weekend of all of 2½ days, and off we trundled to my car.
The Gabriola ferry was all of 20 minutes from Nanaimo, and there we were, home-sweet-home on my little island paradise. A friendly island, all of about 4,000 residents swelling to 8,000 or thereabouts in the summer and where just about everyone knows your name. Certainly it was a curiosity for Vanessa dressed in pink and purples, her most favourite colours in like, forever! "Everyone knows you!" she looked up at me wide-eyed.
The weather cooled down a little. Most welcome, as it had been scorching for several weeks, and we set off for a tour d' Gabriola, stopping at many places I knew she'd love to see. We flashed by properties on Gabriola, and those Gabriola homes which I pointed to, a-this and a-that!
Brickyard Beach was our first stop. Walking the beach we found shells of oysters, snails, and clams. The beach was red with spent bricks from a long past brick foundry. Our Gabriola museum is the perfect place to find out more of its history; however, no time, we were on a hunt. I have some of those bricks marked with "Dominion" in my garden.
Next stop off the side of South Rd, is a wee, very small and inconspicuous park. We pulled in, room enough for two cars, and took the new staircase down to the beach. Our second beach walk, this one was entirely unique and we stepped from rock to rock with future ideas of spending hours reading books and chatting, with our feet in the water. There just wasn't room in our chattering to talk about waterfront properties on Gabriola; however I could tell that Vanessa was into tree-houses, and that monstrous fir overhanging the beach was perfect. Could be the new home for "Real Estate On Gabriola" but enough of that for now.
It was logical that Silva Bay would been our next stop. Even Vanessa was surprised at the number of boats of all shapes and sizes moored out, as well as at the dock. A bustling venue for lunch and dinner, the open-air restaurant is the place to be seen, for sure. Just then, the float plane roared its engines, taking off from Gulf Islands Seaplanes at the end of the dock, on its way to destinations such as Vancouver YVR south and other adventures near and far.
We headed back up North Rd slowing near Degnen Road, close to Elder Cedar Park, and there in a meadowed paddock were three horses grazing. "Oh, I've always wanted a horse!" sighed Vanessa, so we slowed down and took the road up Degnen for a long peek. Three horses gently grazing, heads down, two chestnut and one beautiful bay with a black stripe running from the stiff mane to the end of her tail. Very jaunty, we thought, and Vanessa fell in love. "Oh, for my birthday I would so love a horse!" Over to you, Mom and Dad. We have a 4-H Club on Gabriola, and Miss V could live with me!
A sign caught our attention "Fiddlehead Farm" and so we travelled the road a bit further. The honour system has always been in full swing on Gabriola, and here was a brand new farmer's shed with eggs, vegetables and mixed lettuces in the fridge. The honour system of paying for goods taken was a new concept for this city-girl. I tried to explain it in a couple of ways and then ended up with "Mostly, people are honest. They understand the system of paying for goods or exchanging 'payment in kind' for goods or services received." Tried and true for hundreds of years; this works well even today on Gabriola. Are you surprised? She was! I smiled.
It was time to head home. We were having guests for dinner and much had been readied; however, the finishing touches and quick cat-nap were in order.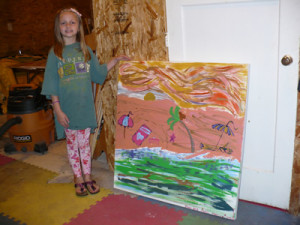 T'was Sunday, our last day. The tide was low at Brickyard Beach. Armed with gumboots for me and pink running shoes for her, we ventured way out and onto the flats between Mudge Island and Gabriola. I hadn't ever been out there at a low tide. We picked more shells before heading back for a big breakfast, packing up, and heading back to Vanessa's home-sweet-home, her Mum and Dad, brother and Juicy-Lucy their family dog.  And we painted too!
Do you agree, she'll come to Gabriola for another visit? I bet you a million bucks she will. And now, if you want to know more, our Visitor Centre is the place to go. Chat with Lisa and many of the reps who – lucky them – live here on Gabriola!
Wouldn't you just love to?

Carol Martin
Coast Realty Group
250-247-9333
Email Carol
Website
See all articles by Carol Martin