Gabriola Lions Club is planning an Open House on Monday, May 8th at the Agi Hall.  You're invited!  6:30 – 8:30pm as is our usual meeting times.  Refreshments provided.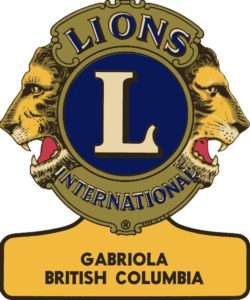 "We Serve" our Lions motto internationally, and to Gabriola, it is ingrained in everything we do.  We have over 40 members, all ages, men and women.  Our club has history:  in 1975, over 40 years ago, Eric Boulton was approached by the Nanaimo Lions Club and they helped form our own club which has grown, and enveloped the almost 5,000 residents living on Gabriola. 
The Lions number more than 1.4 million world-wide, in 200 countries.  It all started with Melvin Jones in 1917.  You so guessed it!  We are in our centenary year – 100 years of Lionism.  To this centennial, we are charged with four significant aspects of what it is like to be a Lion; how do we help in our individual communities.  The aspects of the centennial are environment, youth, vision, and hunger.
We've covered the bases on Gabriola and really, it's easy!  We do what we do, because we love to.  We love our community of Gabriola; we love working together; we love seeing a need and bringing about a great solution. 
My mum and dad said, "Many hands make light work."  For the Lions we are like family.  Each unique; each bringing a passion or expertise to the table.  Or should I say, to the end of a hammer, a rake, a log splitter, a vision screening unit, and so many more that I would offer you our Lions Club on Gabriola's site for a visit into what we do.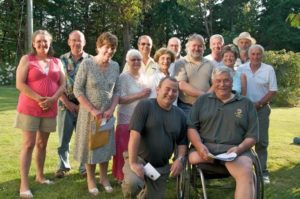 Our club meets twice a month on a Monday night, starting with dinner at Robert's Fine Food restaurant at 5pm, and then we move to Fire Hall #1 on Church Street, for the 6:30 social, followed by our 7:00pm meeting.  The buzz of comradery is a joy to behold in itself.  Starting with Oh Canada sung loud and in various keys.  Moving to say the least.  We are so very fortunate.
Our Open House on May 8th is to showcase to you the many projects we are involved with on Gabriola.  It isn't about a real estate on Gabriola Open House at all!  However, that is my other hat I wear.  I'm sure you were aware of this.  
Lions is where my heart is.  I'm passionate about vision and just plain old helping out, and so this tends to be where I would focus my energies.  Did you know?  65 years ago, Helen Keller received the Lions' Highest Honour.  But, that's not to say I haven't welded a rake, dislodged stones while landscaping for our new Medical Clinic on Gabriola.  We are the jewel in the crown of rural medicine in the Province of B.C.  
The Lions have consistently given monetary contributions plus we landscaped the whole area, seeded and planted deer-free shrubs.  Many Saturdays – Many Lions and friends came to work – Much laughter and big smiles.  That for sure is guaranteed in everything we do.
In August, our Lions on Gabriola host a huge outdoor concert at our golf club's driving range.  Called "Concert on the Green" you can be guaranteed a full afternoon of entertainment, music, dancing and BBQ.  A family event, this brings out friends and visitors to Gabriola and has become the biggest successful fundraiser for the Lions, and guess what?  …. Goes right back into our community funding those projects and those in need.  Wouldn't you say that was more than awesome!
Here's another "Did you Know?"  Each Lion impacts the lives of 70 people per year annually! 
This year being the Lions 100th Annual International Convention, it is held in Chicago, IL where it all started with Melvin Jones?   Imagine the Parade of Nations?  I think it would take my breath away!  International conventions are held throughout the world each year, and though I haven't been to a one, it is something I would like to do.   
"We Serve" our motto.  Mission Statement of Lions Clubs International:  "To empower volunteers to serve their communities, meet humanitarian needs, encourage peace and promote international understanding through Lions clubs." 
And so, who we are and what we do often times without much of a whisper or fanfare is why the Open House on Gabriola was hatched!  You might even find that it suits how you feel about living here, and/or an untapped passion unique to you needs to find an outlet.  Perhaps the comradery of laughter and giving strikes your fancy.
Do come out!  We'd love to show you the myriad of things which help make our island home of Gabriola, a better, safer place to live.

Carol Martin
Royal LePage Nanaimo Realty Gabriola
250-247-9333
Email Carol
Website
See all articles by Carol Martin