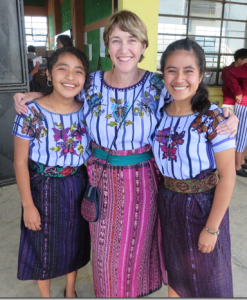 October 28, 2014 was one of the best days of my life. It was the Middle School graduation ceremony for 23 students in Chukumuk, Guatemala.
These students, dressed in traditional Tz'utujil splendor, were so elated and their families so proud; they were one step closer to graduating high school. I am wearing a beautiful guipil (shirt) that was embroidered by the Home Economics teacher as a gift. All the students looked fantastic and so proud in their traditional clothing.
To a Canadian, this does not seem an exceptional feat. However, when one considers that less than 1% graduate high school in the Guatemalan highlands, getting 23 students to Grade 10 is amazing.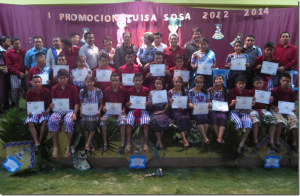 The graduates, some as old as 20, never thought going past Grade 6 was a possibility. Many had been collecting firewood for years and thought their future would be one of abject poverty. Now they have hope. 
Every student received a beautiful graduation gift bag and among the presents inside were personalized granite photo holders … yes, I took 10 pounds of granite to Guatemala!
And now, we need to step back four years to see how the dream of continued education became a reality.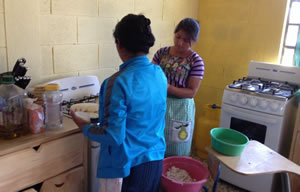 In February 2011, an Aldea Maya volunteer was teaching nutrition classes to the Grade 6 class. When the class ended, she asked the students how many were continuing to Basico (Middle School). You can imagine her sadness when only two out of 30 students had plans on continuing.
A discussion ensued where the students explained why attending Basico was an impossible dream. Many could not afford to purchase supplies at a cost of around $70. The next hurdle was the monthly fees. It cost between $10 to $20 per month to attend school.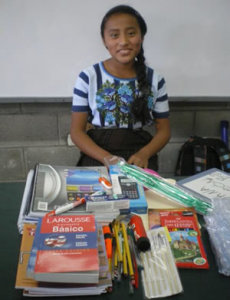 The next problem was the daily cost of transportation at $0.60 per day.  Added to this was the cost of photocopying and research at internet shops. These costs alone made further education out of almost everyone's reach, but Guatemala regulations make the students go to a separate typing school on Saturdays. This school, with transportation, costs another $8 per month.
When one considers that these students are survivors of a massive mudslide and often do not have both parents or parents at all, it is easy to  understand that the cost of further education was just too much.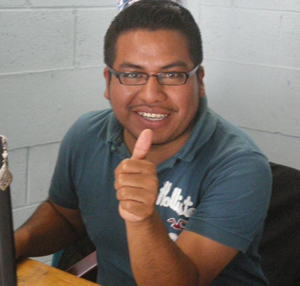 Aldea Maya started working with the elementary school director, David (shown at right), to get a Basico in Chukumuk. David was amazing. He formed parent groups, spent hours filling in forms and met with the government. Everyone told us that it would take a minimum of five years to get approval. Well, they did not know David. Within six months, we had approval.
Then came the arduous task of starting a school and making education attainable for all who wanted to attend. In the first year, the Chukumuk Middle School had one grade which was Grade 7; the next year we increased to two grades and by 2014, the school started operating with all three grades.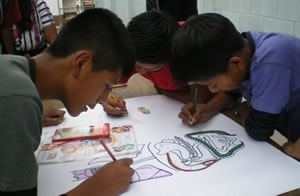 The school offers 15 subjects per year. Now you can imagine that I could not even think of 15 subjects and was a bit gobsmacked when I realized the number of supplies and materials we would need to have.
As we are a small organization, we have had to slowly increase the materials at the school. For the first two years, the Guatemalan government gave absolutely no money. Last year, they gave some money towards teacher's salaries.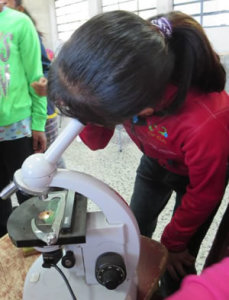 The 15 subjects are: Math, Accounting, Science, Social Studies, Spanish, English, Tz'utujil, Computers, Home Economics, Physical Education, Theatre, Art, Music, Traditional Dance and Industrial Arts (woodworking and electrical).
The students complete Grade 9 with amazing skills and very well educated.  Photo at right shows a young girl using a microscope donated by Vancouver Island University
All students attending the Basico must give 10 hours of volunteer time helping elementary students. This partnership with the elementary teachers is a huge success for everyone involved.
The photo below shows the graduating girls having a spa evening the night before graduation … oh we laughed so much!!!!  It took a wee while to get them to try the facial masks but once they started, they could not stop laughing. All their toes and finger nails were also painted with nail polish. These students work so hard and it was really special to have a fun evening with them.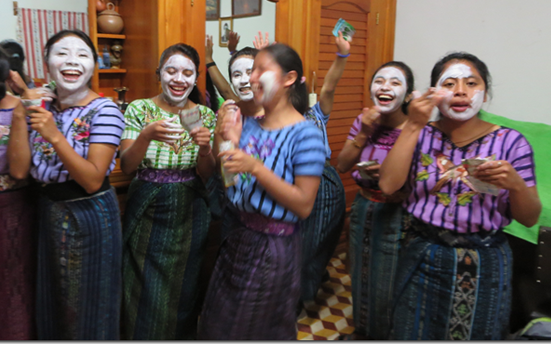 While in Guatemala, we took the graduating class on a field trip to several villages by boat. The students learned about spinning cotton (some even tried it), how to naturally dye cotton, about organic herbs and how to make soap. We visited several art galleries and the university of languages that specializes in Tz'utujil. They are making Tz'utujil a written language and we heard about the difficulties involved in making a language written when every village may say a word slightly differently.
If you would like to know more about the school check out our website.  If you would like to help a student follow their dreams or donate supplies to the school, please contact us via email.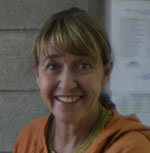 Louise Sosa
Aldea Maya
Website
Email
See all articles by Louise Sosa