White is not one of my favourite wall colours, UNLESS it is paired with bright multi-coloured accessories. There is nothing like a clean white backdrop to showcase a collection of items in bright eye-popping shades of the rainbow.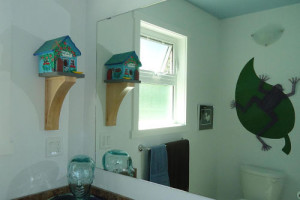 When Redonda bought a new home and wanted it renovated to suit her taste and lifestyle, the upstairs washroom was not first on the list for a complete redo. Instead, we worked with what was already there. This was easy to do since everything was new – just not to Redonda's tastes.
The only thing we changed within the room's bones was the colour of the ceiling, opting for a soft beautiful blue that just looks fantastic.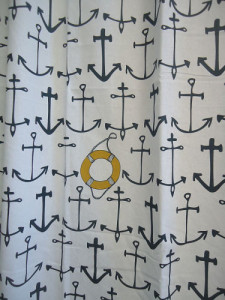 Other than the new colour on the ceiling, we wanted Redonda's personality to shine through, using various accessories to "dress" the room – starting with the much needed shower curtain.
In a bathroom, always start with the shower curtain, keeping your mind open until you find one that is just perfect. It is the one very important item for any bathroom, so cost should not be a factor when choosing.
While I was on the hunt for the perfect curtain, I also kept an internal catalogue of accessories updated in my head so that when the curtain was chosen, I would already know what other items would work with it.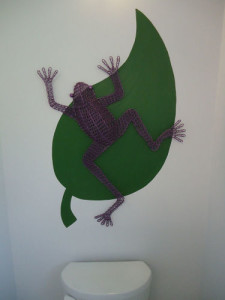 It was the one yellow lifesaver in this anchor curtain that did it for me. It opened the door for an oceanic whimsical theme and bold colours, and I had already seen a purple cage frog elsewhere that now jumped to the forefront of my brain.
In my mind, I was already creating a fun display for over the toilet alcove, with the frog mounted on top of a bold green custom-painted leaf. This kept the oceanic theme from being too rigid and added in a few more pops of bright colour.
With the purple frog decided, the shower curtain hangers became an obvious choice for me. Fun fish in jazzy yellows, blues, purples, reds and pinks – so much fun and so much colour – perfect.
Bringing in yet another colour is the anchor towel holder mounted on the end of the wall across from the tub.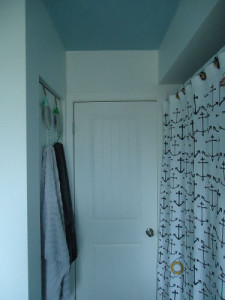 This creates a great place to hang a towel or bathrobe but when not in use, this particular design swings its three arms flat against the wall which is great for the narrow space it is located in.
Since we needed more space for towels and there wasn't any additional wall space, I went looking for an idea that would work with the bifold closet door and I found fish hooks with shaped tails for holding towels. These fish are suspended from rope hooks, which meant I could wrap the ropes to the back of the bifold and mount the hooks without leaving any visible holes in the door – awesome!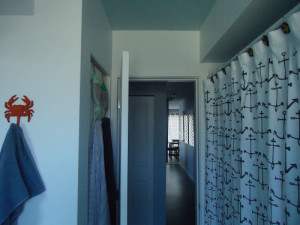 All that was left was to find a hook for the hand towel and that proved to be the most difficult item to source out.
Finally, I found a crab hook that surprisingly matched the anchor hook in colour. It has to be from the same supplier but was found in a completely different store.
With all the fun bits and pieces in place, the bathroom is a joy to be in and does not feel like a separate space from the rest of the home, even though the rest of the walls within the home range from pale to very dark grey.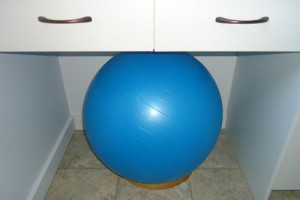 Other whimsically wonderful details added to the bathroom did not require sourcing anywhere other then from the homeowner's own collection of items.
For a void beneath the counter opposite the toilet, we used Redonda's bright blue exercise ball and set it in a bamboo tray so it wouldn't roll around randomly. When she wants to sit down, it is so easy to pull out and it flattens just enough to keep her knees below the two drawers.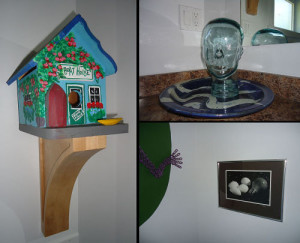 We also used her folk art birdhouse created by Doreen Thompson, an item that she loves but has had in storage for several years.
On top of the counter, a glass head is presented, not on a silver platter but on an pottery plate painted with abstract water waves. Mounted on the wall beside the toilet is a fun black and white photo by Mike Morette featuring an incandescent lightbulb with four eggs in a nest – love it!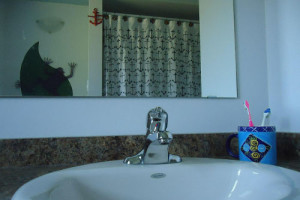 Last but not least, it was important that Redonda keep everything fun within the room, so when I came across this bold and beautiful cup at a thrift store for only 50 cents, I nabbed it, ran it through the dishwasher and presented it as a new toothbrush holder, replacing the more utilitarian ones she already had.
Redonda's whimsical white washroom is a fun space and it brings a smile to everyone who visits the room, but if you prefer a more relaxing and neutral palette you might like Peggy's Zen bathroom.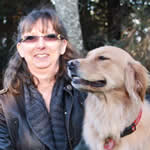 Evelyn M, Associate of Interior Design
250-204-4417
www.EvelynM.com
Evelyn M Interiors/Design House BC
Evelyn M Fine Art

See all articles by Evelyn M