My Gabriola Kitchen.
Who Burnt the Toast in my Gabriola kitchen is really a lead in to the end of this article, however I think you might enjoy the journey sandwiched.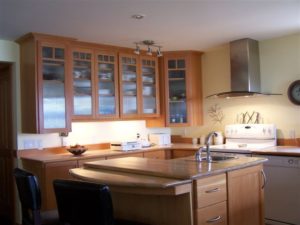 Today my kitchen is quiet.  December 27th.  Cozy, warm, in hibernation mode.  Simmering a pot of smoked sausage soup in a much too large a stock pot for one.  So, I'll share.  Call up a few friends if they aren't too full of the bird, put on the fireplace, candles for atmosphere.  A simple repast. 
No kitchen is too small to create within.  Elbows down, even in my family's kitchen, 3 to 4 of us can harmonize, not collide.  When pleasures and gentle exchange melds, not only does the banquet gleam, so does the carryover to supping, with smiles and nods aplenty.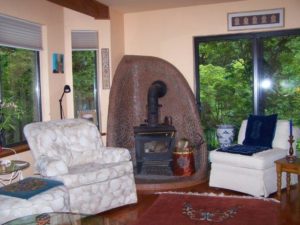 Aromas sift themselves down the hallways, around corners, eek out through the odd door opening and closing as I bring in the wood.  There is nothing I can imagine other than good company and conversation, than the ambient heat of a wood burning fireplace.  I feel so blessed and often curl up in awe as the flames flicker into the late wintery nights.
Most if not all of the ingredients, I've bought on Gabriola either at farmer's stands along North Rd and South Rds, and at Village Foods our grocery store.  This local enterprise is famous for their huge range of grocery and household products, full range deli, convenient opening hours, friendly staff, and their community spirit always giving back.  We are so blessed yet again.   Buying directly from the farmer rounds out my desire to eat fresh and eat local all within a 10+ mile radius.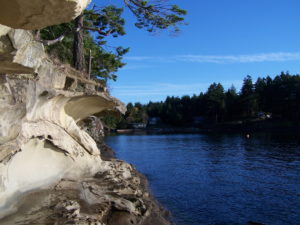 We've had a bit of snow, lots of rain, frost and a bit of ice, but not much really.  Our weather is tempered with being on an island, surrounded by the Salish Sea.  We would call this a temperate climate with annual averages of 0 – 25C; precipitation annual averages of 0 – 100mm in the rainy months; snowfall annual averages of 0 – 80cm in the snowy months and some years there is no snow at all.   Getting out and around is no problem, on foot, bike, car.  Going to Nanaimo is easy and quick on the MV Quinsam.  About 20 minutes and I'm there.  Returning home is exactly where I want to be to my property on Gabriola, far and away from the madding crowds. 
This blog is short and sweet!  But the video will keep you hooked.  Have a peek!   Or, ask and I'll send it to you.
A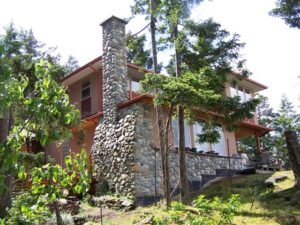 nd, now to the burnt toast?  Damn I hate that when it happens even to me.  Or I burn the porridge because I just wasn't paying attention and thought it just couldn't happen again for the umpteenth time.   What do I do?  Open the windows and doors of my Gabriola home!  Air the place out.  Even for a few minutes at any time of the year we are not that frigid nor that hot, and we're rarely humid. 
So inclined to plan your visit?  Call me, Carol Martin.  I'm happy to put you in touch with Gabriola, even help you find your paradise and move here.  We're but a ferry ride away carrying cars, trucks, bikes, people walking on and off to homes down long driveways where comforts await.  Welcome Home to Gabriola!
Written by Carol Martin
December 27, 2016.

Carol Martin
Coast Realty Group
250-247-9333
Email Carol
Website
See all articles by Carol Martin