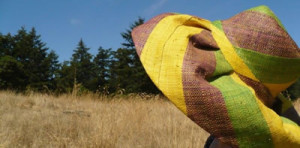 Summer on Gabriola … I love the beaches especially. There must be a dozen or more beaches, and who knows how many beach access paths to lookout points, secret spots for lovers, and book writers.
If you asked me which is my favourite, it would be Drumbeg Park at the south end of Gabriola as my numero uno in beaches.  Second would be Gabriola Sands, or locally called Twin Beaches because the road access is through an isthmus with two beaches either side.  Cool, eh?  Then, if you asked my third and fourth choices, they would be Descanso Bay and Sandwell Beach, with a fifth of Joyce Lockwood, also known locally as Whalebone Beach.
So, there's five of my top twelve!  All of these are a short drive from my home on Gabriola, my little piece of paradise. You might think I know Gabriola properties inside and out, that I know every nook and cranny of houses on Gabriola, and that as a REALTR® I must know everyone who lives here.  But every single day, I am amazed that I find a newness, a uniqueness, and a spot that literally takes my breath away as I walk or drive along this beautiful island
Let me describe.  You have a map of Gabriola, and you might have found it at our Gabriola Island Chamber of Commerce, or perhaps you came into my office at Folklife Village, the Coast Realty office, and I offered you one of our maps as you and I were talking about homes for sale on Gabriola.  I pointed out the properties on Gabriola that you might be interested in and circled the beaches with a yellow felt pen.  Right away, you wanted to see it all and off you went.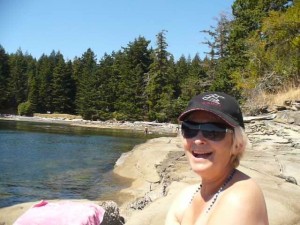 This is only part of the story because I travel these routes every day, and being into Geocache, some years ago I was looking for a special spot, almost a secret location where a treasure hunter in the Geocache sense would not only need their GPS, but a bit of savvy to figure out where I'd hidden the cache.  Driving along South Rd, opposite Mudge Island, I pulled off the road and parked where a metal shelter seemed to say, "Hey!  I'm worth checking out!"  Tentatively, I walked toward the beach escarpment and there was a bench.  It was new, and I thought, "Wow!"  What, where, when and how all blurred together and I sat down.  The view was lovely over False Narrows, with Mudge Island and Ladysmith beyond.  I stood up on my tippy toes, balancing against the split wood fence, when I saw the staircase!  A staircase to the beach with no name, and not on the map.  I felt like "Alice, through the Looking Glass". I balanced my hat on my head and placed my feet one at a time, each step in slight anticipation until I reached the bottom.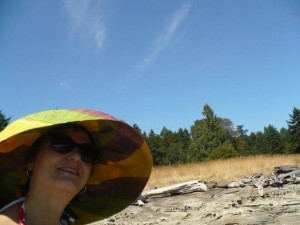 "Where was I?"  It certainly wasn't on the map, but I had arrived at that secret spot … a spot for lovers and book writers.  Doffing my sandals, I waded up to my knees and sat on a rock as the ocean lapped against me.  A wind whooshed, and my hat about lifted but I squished it down further for safekeeping and laughed at the delightfulness of being on an adventure of my own.
It wasn't on the map, and I admit I don't share this location with anyone, but I know you can find these special spots on Gabriola if you really want to.
However, let's stick with the really obvious ones.  Drumbeg is my favourite and "why" is that it is splendid in so many ways.  When a place feels right, it's right.  The view from any part of the path which wanders along the shoreline is not only breathtaking; it is beyond speech.  At night time, drumming up the full moon, it is out of this world.  It's precious.  There is a soft welcoming, an easy of being.  I take my family there for picnics and a swim, and always we wear our biggest and best hats.

Carol Martin
Coast Realty Group
250-247-9333
Email Carol
Website
See all articles by Carol Martin