Conquer your Fashion Fears. One of the most frequent things that I hear as a fashion consultant is "I can't wear (insert piece of clothing), because of (insert problem)." Many women shy away from bold prints and fanciful details for fear of drawing attention to "problem areas," and become stuck in a fashion rut. While there's nothing wrong with sticking to what you know, it can be empowering to step outside of your comfort zone and try something new.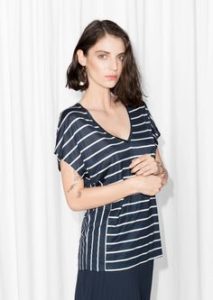 One of the most commonly shunned patterns are the dreaded horizontal stripes. While it's true that they can be tricky to pull off, there are ways to make it work for you. Keep in mind that the wider the stripe, the wider it can make the wearer look, whereas skinnier stripes tend to be more slimming in comparison. If you would rather not take the plunge and wear a full horizontal stripe, you can try wearing a shirt (or dress) with vertical stripes inserted along the side seam to give the illusion of a more streamlined silhouette. Another trick to make it easier to pull off a horizontal stripe is to include something that will break up it up a bit. For example, a wide belt in an eye-catching colour across the waist of a striped dress not only nips in the waistline, it also adds a point of interest and gives the eye somewhere to focus on. You can also wear a vest or jacket overtop to tone down the bold impact of the stripes.
Another style that many women are wary of is the oversized clothing trend. This look takes some finesse to wear, but it's not hard once you understand the oversized-clothing fundamentals. The key is finding a balance with the rest of your outfit by including fitted and tailored pieces to provide contrast by drawing attention to the slimmer parts of your body. If your outfit is entirely composed of oversized pieces, it's just going to look sloppy. For example, one popular member of the trend is the boyfriend jean. The right way to style a pair of boyfriend jeans is to balance out the bagginess and casual feel with a slim fitting top—I also like it to be half tucked—along with a petite shoe. Add some luxe-looking jewelry to dress it up: a statement necklace or some dainty layered necklaces. I also love the look of a blazer overtop for a more professional feel.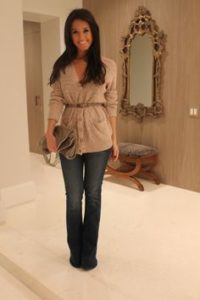 The baggy cardigan is another popular item which, again, can easily swallow up your figure and make you appear larger than you are. The simplest remedy to this is to cross the front portions over each other and add a thin belt to show that, yes, there is a waist under all that sweater! And, remember to wear a slim-fitting pant, such as a legging, to give enough contrast to balance out the bigger look of the cardigan.
These are a few examples and solutions for two of the most commonly "feared" styles. As with most hard-to-pull-off looks, there's almost always a workaround to make it more wearable. Don't force yourself to wear something that you don't feel amazing in, but, remember, a little experimenting and you might be surprised to find pushing yourself out of your usual style is a wonderful confidence booster.
And, who knows? You might just find your new favourite style!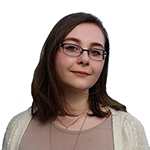 Emma Newton
Patryka Designs
http://www.patrykadesigns.com/
See all articles by Emma Newton