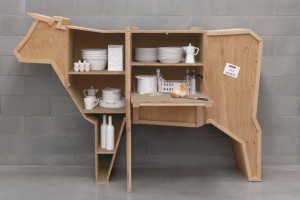 Living on Vancouver Island, all of us are very aware of nature and most of us are animal lovers, so how much fun would it be to fill your home with furniture inspired by animals? Recently, I wrote an article on 20 fun-shaped designs that range from this pretty awesome cow cupboard (by Marcantonio Raimondi Malerba) to an owl partition screen.
The 20 designs include birds, animals, and even a whale design, all incorporated into animal-shaped or painted furniture – you should see the goth-looking hand painted pink flamingo chairs. There are so many designs that I even managed to do a separate article just on animal-shaped lamps for nature lovers. While not all the animal pieces relate to our local wildlife, it doesn't matter … so what if we don't have a hippos here; the pair of hippo "Friends" coffee tables would still rock an Island home.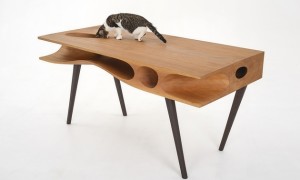 Animal inspired furnishings don't have to come in the shape or look of an animal; they might just be for an animal, or in the case of this workstation called the CATable by Lycs Architecture, a place both you and your cat can enjoy. Designers everywhere are realizing that we want beautiful places for our pets to enjoy, and even though I don't share my life with a feline friend, I certainly enjoyed writing my article on 20 chic and cozy cat beds.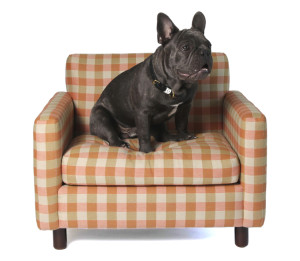 It was equally as fun writing about 20 uber chic dog beds, from this plaid pop of orange Yark Dog Lounger to the geometric Dog Cave by Pup and Kit. If this traditional pattern doesn't fit with your aesthetic, no worries; there are four different versions and patterns of Yark Dog Loungers, two of which are not patterned at all but rather solid colours. Can you imagine how excited your pooch would be to have her or his very own upholstered accent chair?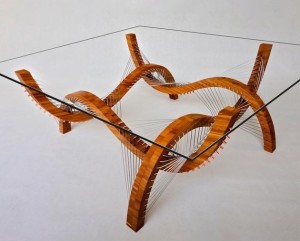 As much fun as animal-inspired furnishings are, so too are suspension designs, and this coffee table is the ultimate feat of engineering when it comes to suspension. Many furniture designers don't use glues or screws when it comes to their creations, but Robby Cuthbert doesn't even let the pieces of wood touch each other.  Instead, he uses stainless steel cables and tension to create his Suspension Furniture.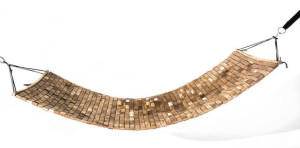 The Para Hammock is another suspension design, but in this case the suspension is in the installation and not in the hammock itself. The Para Hammock is a 4th Period solid wood extravaganza made from over 700 pieces of solid wood, and that is not a typo; it is actually over 700 pieces all strung together with paracord. Wow!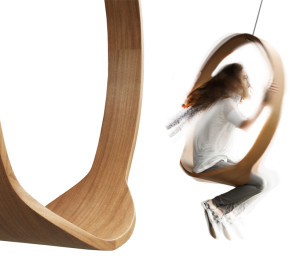 Swinging in a hammock or chair is fun no matter what age you are, and when that swing is also in the form of a simple "O" with a widened seat, even the visual is fun. Who wouldn't want a beautiful Swing Chair by Iwona Kosicka in their room; the only question would be which room. Luckily, it doesn't matter because Swing is at home in just about any room of the house which makes the decision even harder. Maybe the only answer is to have one in each room!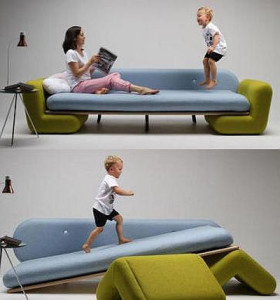 For a totally different kind of fun, I present to you the amazing Inclusion Couch, which was specifically designed by Marvin Reber to be a piece of furniture to foster imagination in children. The muse for this multi-use modular design was Marvin's childhood forts made out of his parent's living room furnishings. But while those forts were the result of forced creations, the Inclusion Couch is designed to be pulled apart and reconfigured into a myriad of fun shapes and the modules are all hardy enough to withstand childhood punishment. This couch is so much more than a place to rest – it is a place of fun, frolic and serious imagination.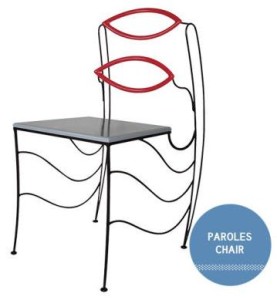 Guy Bucchi also creates furniture that is filled with imagination, only this type of imagination has nothing to do with children and everything to do with art. Just take this Paroles sculptural art chair. The world Paroles means lyrics or words, and the chair back represents two mouths with the wavy lines beneath the seat representing sound waves. Even without knowing the name of the chair or the meaning behind it, the sculpturally abstract composition is so artistic that it makes a huge statement all on its own, and with the bright red lips on the back, that statement is also seriously fun and exciting.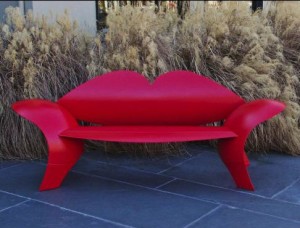 Another seat that features a fun pair of lips is this Colin Segal eco-friendly public seating design made from an old propane tank. Colin studied metal sculpting while finishing his Philosophy degree and his propane seating is a combination of these two passions – the philosophy of healthy and sustainable living mixed into upcycled metal furniture designs. This is amazing all on its own, but how he turned his creative imagination to an old oil tank on his property is what makes his designs extra special – and extra fun.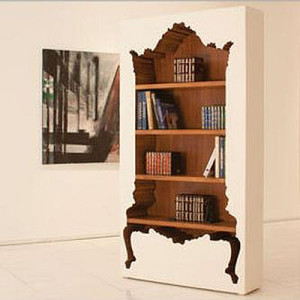 If you are a lover of books and are tired of the typical rectangular box lined with rows of shelving, then this inside out version of a Victorian Hutch might be just what the furniture doctor ordered for you. Could you imagine if this shelving unit was filled with psychology books and a sign up top said "reverse psychology"? That would be a fun visual pun don't you think? Either way, the shelving unit is both modern and traditional with its clean box shape and intricate interior, and would work in practically any décor, from uber modern to elegantly sophisticated. I personally would line the shelving with small art pieces rather than books, but that's just me.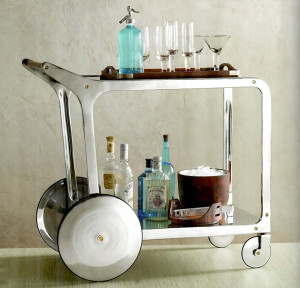 Sometimes fun furniture designs have nothing to do with the furniture itself but rather with the function of the piece. Take bar carts for example. The bar cart instantly conjures up images of fun get-togethers. Bar carts are once again making their appearance in interior design due to the shrinking of living spaces. Without the ability to have a built-in bar or wine cellar, what better way to create a mini-bar than with a bar cart. This Circa Bar Cart is just one of 12 designs that I featured in a recent article on Bar Cart Designs for Entertaining in Style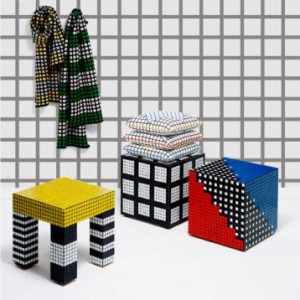 Sometimes all you need is a great pattern and power-packed colours to create a spot of fun in your home, and this eye popping Off the Grid Furniture Collection by Darkroom is about as colourful as you can get. The grid design is not created with any paint but rather with glass tiles, so these designs would be just as happy in a bathroom as they would be in a bedroom or living room.  I really would like to use these outside, scattered around a large landscaped backyard, for some extra fun in the sun.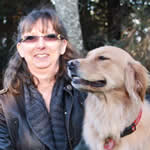 Evelyn M, Associate of Interior Design
250-204-4417
www.EvelynM.com
Evelyn M Interiors/Design House BC
Evelyn M Fine Art
See all articles by Evelyn M