Most dog beds are made for small to medium sized beds – not any more.  The Xena-Bed by Design House BC is customizable to the size of your dog. Made from Douglas-fir it comes with either Purple Heart or Walnut wood detailing and while the bed size is a variable, the one pictured here has a 46"L x 30"W sleeping area and an overall size of 49-1/4"L x 33-1/4"W x 9"H.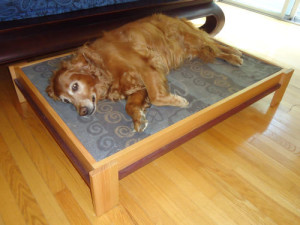 We came up with this dog bed design for Xena, our 10-1/2 year old Golden Retriever. She is still as active as ever – bombing through the forest on our hikes (with Dax, our 4 year old Golden Retriever) and still swimming faster then Dax when we are at the beach, but the reality is she is a senior dog and is not as agile or limber as she once was.
Xena and Dax both like to sleep under our bed – it's a king sized platform bed so there is plenty of room for the two of them at almost 8 ft square.  The only issue is the height. We have had to raise our bed on blocks so they can scramble in and out with ease.  These days though, after sleeping all night, Xena's scrambling out is not so easy for her to do.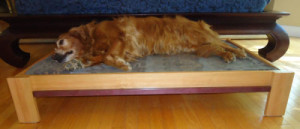 A dog bed from the store is out of the question – Xena simply does not like them. We bought one once and could not get her to stay on it for more then a couple of dutiful seconds.  Also, she likes to stretch out and most dog beds are only designed for larger dogs to be in a curled up position. Then there's the ease of cleaning.  We like to wash Xena and Dax's bedding once a week and prefer easy to remove sheets over tightly fitted covers with zippers.  With regular sheets I can co-ordinate Xena and Dax's bedding with our own rather then just making do.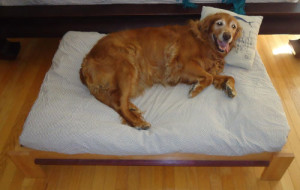 The Xena-Bed is Island Made by Us
With Xena not liking store bought beds and since we have our own woodwork shop, the solution was pretty easy. We measured Xena to see how much space she liked to use when she was stretched out and designed her bed according to those measurements. We created the bed so that it would work with just a piece of carpet on those extra hot summer nights, or with quilts in the winter. Bruce, my husband, being the amazing cabinet and furniture maker that he is, built the bed out of Douglas-fir and added Purple Heart detail around the bottom edge of all four side rails. There is a centre support that runs beneath the bottom slats so the bed is sturdy enough to hold up to 500 lbs. The slats are spaced to allow for excellent ventilation. We set the Xena-Bed up with one of Xena's sheets and called her over. No coaxing necessary, she jumped on board and lay down immediately.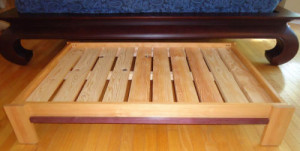 We realize that we can't be the only ones looking for a better option when it comes to dog beds and for this reason we have decided to make our design available for purchase. The Xena-Bed is made from Douglas-fir and can have either a Purple Heart or Walnut wood detail around the bottom of the side rails. If you would like a custom Xena-Bed for your own pooch or kitty, you can find out more through the NEW PRODUCT PAGE at Design House BC, or contact me Design House BC.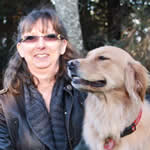 Evelyn M, Associate of Interior Design
250-204-4417
www.EvelynM.com
Evelyn M Interiors/Design House BC
Evelyn M Fine Art
See all articles by Evelyn M