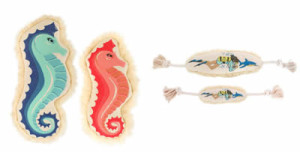 There's no denying it; summer is here and we are firmly entrenched in the dog days of summer. With the heat of the season comes the opportunity to "fun up" the look of your home in a way that doesn't just focus on us humans. We all know about bringing in fun pops of colour in vases, pillows, towels and so on, but what about the floor and all of your pooches toys? These beautiful Harry Barker dog toys are a great way to add a bit of beach flavour to any room in the house, and your dog will thank you for it too.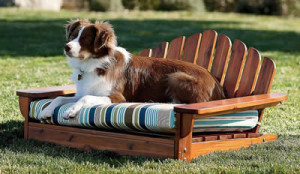 On the deck or in the garden, The Company Store pet Adirondack lounger would look pretty paw-some next to a pair of human loungers, and the fun sunbrella fabric on the seat cushion is a comfy cozy place for either a dog or cat to catch a few zzzs in the shade.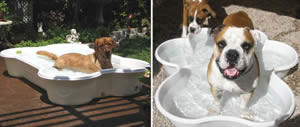 When it's really hot outside, a great way to let your pooches cool off is with a hard-edged pool and if the pool is a dedicated canine zone, having a Cozywinter dog bone-shaped pool is a sure way to let everyone know whose domain this water station is.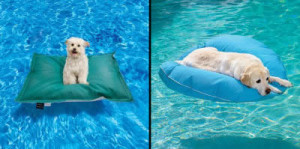 Of course if you're lucky enough to have an actual swimming pool on your property, one of these Frontgate Pet Pool Loungers means Fido can hit the water without actually having to swim. What's great about these loungers is that they get wet and therefore cool which in turn keeps Fido from feeling too hot AND they can be used on a deck and kept wet with a hose as an alternative to floating one in a pool.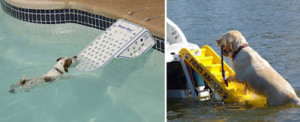 For those dogs that love a good swim, whether in a pool or in the ocean, Cozywinter's Water Ramps and Ladders are a safety feature that means even the strongest swimmer can exit the water safely, either onto your pool deck or back in your boat.  It's not just dogs that will be able to exit safely – any animal that accidentally ends up in the water will now have safe passage to a dry deck.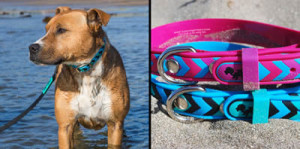 With all this talk about water frolicking, I would be remiss not to include these amazing and oh-so-stylish Wet Dog Collars by The Dog Street. Made from hard core PVC and stainless steel, they are a fur-riffic accessory for any water loving pet. If fun and bright is not your thing, they come in more subdued colours and colour combos as well.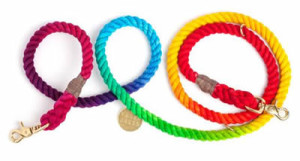 Speaking of fun and bright, these tail wagging Prismatic Rope Dog Collars by Found My Animal are definitely summer inspired with their marine grade rope and whipped end design. They even have a solid brass closing system. As with the uber bright dog collars, these leashes also come in solid colours and even a natural rope colour with a Buffalo plaid handle – now that's fun.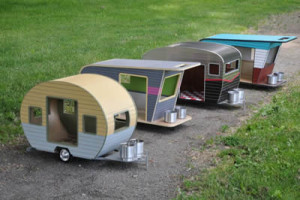 If your idea of a day in the sun is not water-inspired and you are more of a trailer park kind of gal (or dude), these four-paws-up campers for dogs by Straightline Designs are just the answer – they even come with their very own water stations at the hitch. Best yet, Straightline Designs is a Vancouver, BC business so while it's not an island design, it's still local.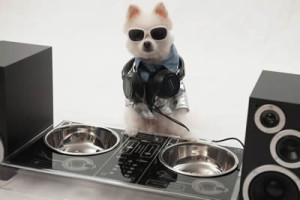 Speaking of a water station, I don't want to neglect the all-important feeding station and since summer is all about music fests, I thought a great way to embrace the season at dinner time is with one of these super modern DJ pet-feeding stations by Melissa Rivera – your pooch is sure to "RAVE" about it.
With all these fun in the sun activities and designs, dogs need a super soft, comfy and right-sized place to sleep, and our Xena Bed and Dax's Deluxe Dog Bed are just the ticket with their customizable sizes. Made with clear finished local Douglas-fir, they bring a bit of the Island outdoor life indoors.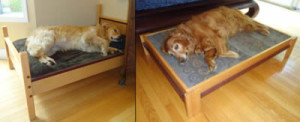 Bringing the outdoors inside is THE latest trend in interior design, so these dog beds are not only functional and beautiful but on point as well.
These are my top 10 dog designs for these dog days of summer.  If you want to check out more designs for dogs, I have previously written Dog Décor and Designing for Dogs for Island Woman and also write regular articles for Dax's Dog Spot.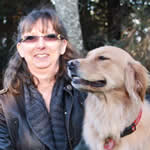 Evelyn M, Associate of Interior Design
250-204-4417
www.EvelynM.com
Evelyn M Interiors/Design House BC
Evelyn M Fine Art

See all articles by Evelyn M