Even when your thumb is not particularly green, you can have an intriguing garden– certainly one with more personal, perhaps nostalgic, history behind it than the heirloom rose in the corner. Not to knock the roses though, because my robust and invasive Rugosa, covered with scented blooms, carries with it a story of the Alaska Highway.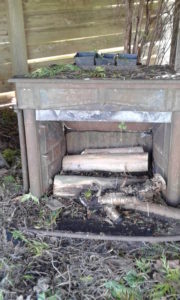 But back to those garden specimens that have sprouted without roots and need no pruning or fertilizing. Probably the first of these is an ancient cast iron Franklin fireplace. While directing its placement in a corner by the hedge of my present yard, my husky boys (the movers) shook heads and rolled eyes. 'Why would she have saved this derelict, anyway, when it's long been replaced by an airtight wood burner? Why on earth did she want it moved here?' … were likely the most printable of their thoughts?
The husky boys had never spent winter evenings in front of that fireplace while my late husband patiently grilled steaks or salmon fillets over its coals. Little did they know that I planned to plant fiery red impatiens in its firebox and smoky white Dusty Miller where the chimney would sit!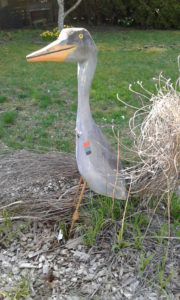 A true piece of art from my previous yard is an alert, wooden blue heron, waiting in vain for a fish to show up in the birdbath. He conjures up fond memories of the bay where his genuine models spent immobile hours watching for their prey to swim by. His blue has faded over the years, the flowing white breeding plumes have fallen from his chest, and just last year the circle of wood that indicated his knee on a rebar leg, cracked and fell off. This past winter's snow gave him a daunting, belligerent crest that led me to think of him as 'the great blue cassowary'.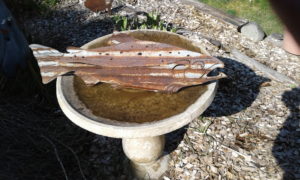 A hooked-nose salmon cut from a piece of corrugated tin, now with a rusted patina to give him a spawning aspect, I picked up from one of those plant nurseries with irresistible gift shops. Lacking a pond where he could swim, he sometimes straddles the birdbath. A certain chunk of my life having been devoted to things salmon, this rusty piece of décor generates its own fishy memories … days afloat in the sun … or in the fall chill, waiting for a coho to investigate a bucktail.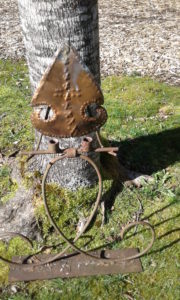 At that same nursery where I reeled in the salmon, on a later visit, I found a piece of iron and copper garden art for which, to this day, I have no name. It has moved around my garden hither and yon and presently leans against a maple's trunk. It's a kind of upside-down heart with two eye-like holes, a narrow platform with holders for … candles?? … and a quick twist of rebar body all mounted on a flat piece of iron. A garden imp to be sure.
A truly well travelled piece of memory rests against the fence. To my knowledge, it started life on a Northern Ontario lake where my family spent summer weekends and holidays. It's a conical, faded black hollow of metal topped by a little white metal flag. It was the buoy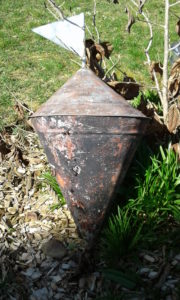 which my Dad had anchored to the underwater rocks just out from our dock … this so the long sleek launch, known as our 'milk boat' would not ding its prop on said rocks when delivering its weekly order of milk to our island. When a friend and I visited the island years later, the current owners willingly gave me the old black buoy. It then rested on the floor in the back of friend's car all the way to Stratford where we met her husband (who uttered a few words when he could not adjust the car's seat to his long legs.) In due course, we and the buoy made our way to friend's Halifax home. From there her husband had it boxed and shipped to Vancouver Island.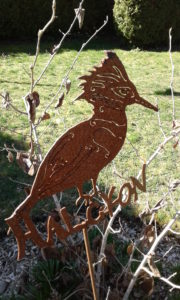 Standing amidst the leaves of a witch hazel is the elegant two-dimensional carving of a kingfisher, cut from an old propane tank. I had it made for a dear friend who called his home 'Halcyon' (that peaceful  Greek name for a kingfisher); now that he no longer lives in that home, I've brought Halcyon here to roost where my friend can occasionally visit him.
And this year the Franklin fireplace moves from its half-hidden corner to its position of honour. After a coat of refurbishing black paint and a new flue, he will rest on a concrete pad, front and centre, where on balmy summer evenings, family and friends can slowly turn their hot dogs and marshmallows over  Franklin's toasty embers.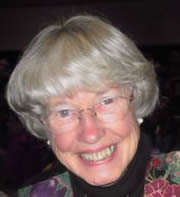 Nancy Whelan
Email Nancy Whelan
See all articles by Nancy Whelan