I have to thank Peggy Grigor and her Island Woman piece of March 23rd, "Lessons in My Garden" for finally getting me busy on this article! Her thoughtful thoughts remind me of that line from the Prophet Muhammad: "If I had but two loaves of bread, I would sell one of them and buy hyacinths for my soul."
In the interests of keeping body and soul together, I want to offer some tips to help us enjoy not only the planting of those hyacinths (and peonies, and asters …) but their bloom to come. Gardening is fun, but it's also work, and it can nag at us if we get behind in the caring for it. So, some tips to keep in mind while yanking the weeds, turning the compost, or gently patting the soil around a precious transplant, and hurrying to get caught up.
• Walk completely around/through your yard and garden.
• Make yourself look for possible hazards … varying levels, rocks or other obstructions, garden hoses, uneven brick or stone walkways, sharp plant supports, trailing/tripping vines or branches, plant or bird and deer netting ( almost invisible on the ground), anything that could cause a trip, a fall, a painful jab. In other words, be your own very critical safety inspector. (My own hassle with said netting was putting a tent-like barrier of the stuff all around my blueberry bushes to defeat the robins … upon attaching the last bit of netting to the last wobbly post, I found myself enclosed with the blueberries!)
• Having noted any hazards, be aware; work at keeping a map of those hazards in your head for the area where you are working. Even better, when possible, eliminate as many hazards as you can.
• Take your time! Hurry itself is hazardous. The weeds will still be there tomorrow and even more visible! Try some sense of humour with those weeds! A Mrs. Gatty, a couple of centuries ago, had this to say about them: "A weed is a plant out of place." And an even keener observer might respond that "A weed is a plant with an innate disposition to get into the wrong place … the very essence of weed character – in plants as in men."
• Select the best tools for the job. Keep them handy, but not in a position to bite you (think rakes and such).
• Work within easy range of your body, whether standing or kneeling; don't stretch overly far – move you and your working circumference closer to the plant or the weed.
• When you've been bending or kneeling for a while, stand up slowly and pause for a few moments; let your blood, your head, and your body get used to the new position before moving on, down or up. Get your balance … then move.
• Have a chair, a bench (a hammock?) handy where you can take a break, ease the back, or rest the arms; frequent breaks will restore some energy and give you time to enjoy and admire the work you and nature have accomplished.  Also, unfortunately, those time-outs give us time to look around, see the spots we've missed, or the mulch yet to be spread!
A few items you want might want to keep beside your chair, besides a jug of cool water, are some inspiring gardening books. A couple of my favourites are a gardener's memoir, with notes for the novice, titled "Tottering in My Garden" by Midge Ellis Keeble. (Sometimes 'tottering' is exactly the way I feel after a day in the yard!). Another one is "An Island Garden" by Celia Thaxter, first published in 1894 (!) and again in 1988. Among the joys of this book are its warm, gentle paintings/illuminations by Childe Hassam.
Love your garden, be careful when you work in it, but don't forget to enjoy it!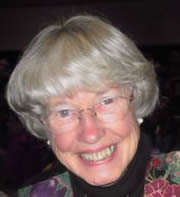 Nancy Whelan
Email Nancy Whelan


See all articles by Nancy Whelan